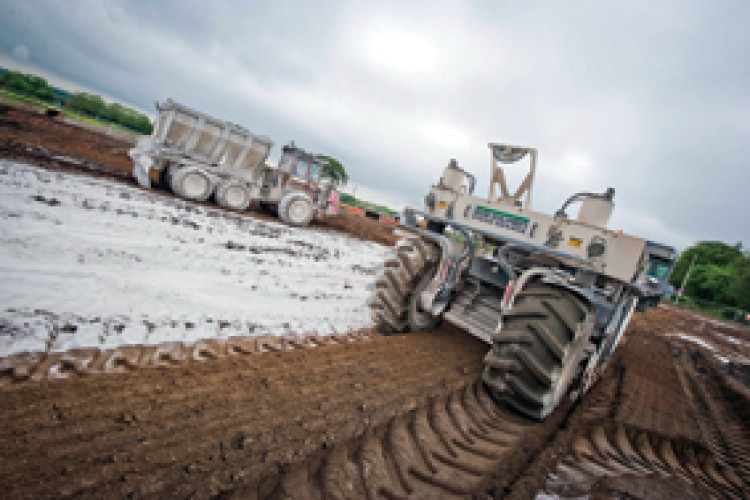 Since the introduction of the Landfill Tax and the Aggregates Levy more than a decade ago, the disposal of excavated material – and the importing of granular fill for construction use – have combined to push up the cost of earthmoving contracts substantially.
On most projects now it is standard practice to seek to re-use arisings from excavations elsewhere on the site, often as noise bunds or in other landscaping features. But due to its cohesive nature, it is not usually possible to re-use this material as fill in a load-bearing role – unless, of course, you modify it in some way. Soil improvement, through the use of lime or cement-stabilisation, is a well-known technique and is widely used to improve material in situ; but it is not normally used to modify poor soil excavated in one location for re-use elsewhere. If you're going to import fill, you might as well use crushed concrete or some other material that's already fit for purpose.
But Scottish contractor Ground Developments has found that there can be savings by recycling material from one site on another site for the same client.
The company, headquartered in Livingston, West Lothian, is currently nearing completion of phase one of a large-scale earthworks and soil stabilisation contract at Taylor Wimpey's Seton Park development at Winchburgh Village, a £1bn, 347ha development just a few miles from Edinburgh airport.
Taylor Wimpey is one of five house-builders working on the scheme, which is co-ordinated by Sigma Capital Group. Its Seton Park site, which will eventually contain 153 new homes, is perhaps not the best parcel of land from a developer's point of view, sitting as it does in a natural declivity several metres below the level of the surrounding ground.
"The site is in a sort of bowl and it needs to be levelled-up to allow for drainage falls and so on," says Kevin Mackenzie, commercial director with Ground Developments. It is Ground Developments' job to raise the level of the site, for which it needs to import some 28,000 tonnes of material.
Normally, this would be done with imported fill, either quarried stone or crushed and graded demolition waste, brought in at extra cost. But Ground Developments had another idea.
The company is a specialist in ground improvement using lime and cement stabilisation and had sufficient material been available elsewhere at Winchburgh Village, Ground Developments could have processed it and used this to level the Seton Park site. But there was none.
On the other hand, Ground Developments is currently active on a number of Taylor Wimpey sites elsewhere in Scotland and several of these do have a surplus of excavated soil that needs to be removed.
So why not haul this material to Seton Park for re-use? The main obstacle is that, as in England and Wales, there are regulations in Scotland restricting the handling of materials normally classified as waste.
The appropriate legislation here is the Waste Management Licensing (Scotland) Regulations of 2011 which require operators to apply for a licence from the Scottish Environmental Protection Agency (SEPA) authorising the deposit of controlled waste to land.
However, paragraph 19 of the Regulations outlines certain exemptions, one of which is excavated soil.

So for this project, instead of having to get a licence, Ground Developments was simply required to fill in a Paragraph 19 exemption form declaring its intention to re-use the excavated material.
"Once you've finished excavating soil it's classified as waste," says Mackenzie. "But Paragraph 19 lists 20-odd different exemptions that you can apply for. In this case, the fact that the donor and the recipient of the material were the same made everything a bit easier."
Also helpful was the fact that Taylor Wimpey already had detailed planning permission for the Seton Park site. "SEPA tells them what they can and can't do. You can't pull a fast one; because of the detailed planning, SEPA knows you can demonstrate that the material is required and you're not just trying to get rid of it," explains Mackenzie.
The material for this first phase of the project was sourced from a single donor site, Arniston Vale in Gorebridge, just a few miles from Winchburgh.
Ground Developments has excavated 16,000 tonnes of soil from this site and is now in the process of transporting it in batches for pre-treatment at Winchburgh. Material for the second phase has been earmarked at other Taylor Wimpey sites in the Central Belt region. At Seton Park, Ground Developments has set aside a mixing area where the soil can be modified before re-use. The soil is spread over this area, measuring about 1,000m2, to a depth of about 500mm. "We then level it, mix in the lime and rotavate it before carrying out on-site tests. Then we lift it and take it up to fill," says Mackenzie.
Lime or cement is often added to soil in order to transform it from a cohesive material into a granular one that can be compacted to provide structural stability. But at Seton Park, Ground Developments' approach is not in fact to stiffen or granulate the soil it is mixing.
The main purpose is to simply reduce its moisture content. "We don't need to increase the strength of the material; only dry it. The fill-drying process is what we're interested in here," comments Mackenzie. Taking excavated soil from one site for re-use on another is essentially a single solution to two costly problems. Taylor Wimpey doesn't have to pay the Landfill Tax on 28,000 tonnes of waste and it doesn't have to buy expensive quarried stone with the Aggregates Levy on top. Mackenzie estimates that this solution has saved Taylor Wimpey something in the region of £500,000.
There is also a significant reduction in lorry-miles and an overall reduction in environmental impact, both in terms of emissions and land-use.
"Using our specialist soil stabilisation methods we have ultimately saved 28,000 tonnes of upfill material Lime is mixed into the soil to dry the material heading for landfill by finding a home for it in Winchburgh," says Mackenzie. The quality of the material has also convinced the NHBC to give Ground Developments the thumbs-up, he says:
"We now have NHBC approval for use of the materials under house foundations." Taylor Wimpey is equally pleased with the solution. "Ground Developments [is] one of our preferred suppliers in Scotland across a number of our developments," comments Steve Fowler, commercial director for Taylor Wimpey East Scotland.
"We engage with them as early as possible…and they have consistently demonstrated an ability to focus on optimum engineering solutions for some or our more challenging sites.
"[At Winchburgh] they have saved around 28,000 tonnes of materials from some or our other developments heading for landfill. It's an approach that we are keen to explore further," adds Fowler
Got a story? Email news@theconstructionindex.co.uk