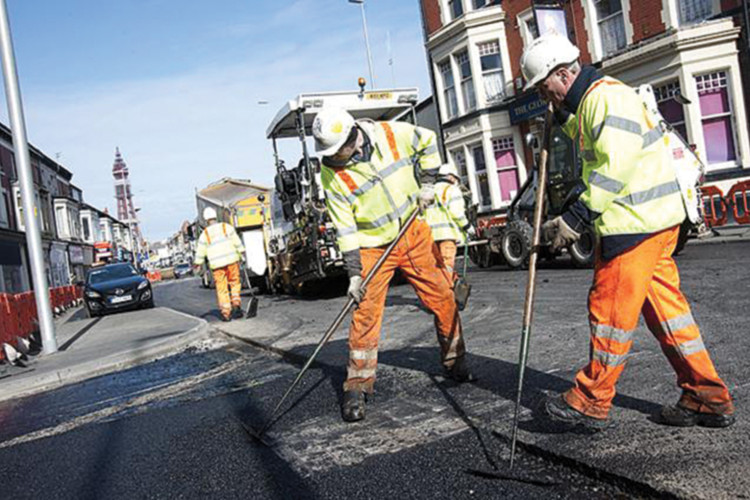 The aptly-titled ALARM survey, published every April, rarely makes for happy reading. Commissioned by the Asphalt Industry Alliance (AIA), the survey (the acronym stands for Annual Local Authority Road Maintenance) invariably reveals a backlog of repair work. But what stands out most from this year's is that instead of gradually working through this backlog, local authorities are falling further behind.
The total cost of bringing the country's roads back into a reasonable state is estimated at £12bn – up £1.5bn on 2013. Little wonder the UK's roads network is described as "not fit for a modern economy" by Civil Engineering Contractors Association chief executive Alasdair Reisner. But what, realistically, is likely to change at a policy level to address this?
"There has been massive underinvestment at local government level, and big pressure for five years for contractors to do more for less," says Reisner.
"A big problem is that the funding is not ring-fenced. We find that roads funding too often gets diverted to social issues. So we end up with a 'make do and mend' approach."
This was also identified by a National Audit Office report on maintaining roads, published on June 6th. "Stop/start funding makes long-term planning more difficult for highways authorities," said Amyas Morse, head of the NAO. It also noted that ring-fencing of funding for the Highways Agency's replacement (a new Government- Owned Company, or 'GoCo') would not address the problems faced on local roads, which make up 98% of the network. CECA and other industry trade bodies are pushing for longer-term settlements for highways maintenance funding.
"We need consistency of funding," says Geoff Allister, executive director of the Highways Term Maintenance Association. "Businesses need to plan for a 10-year period going forward; big investment decisions - plant, materials – require a degree of certainty."
Some forward-thinking councils have tackled the issue by financing a one-off hit to clear their backlog completely – which apart from better roads, also saves on the absurdity of insurance claims from injured motorists and pedestrians (a £30m annual cost). The maintenance industry would like to see others follow suit.
"A one-off up-front investment would take billions out of day-to-day maintenance - so you 'invest to save'," says Reisner. "Blackpool has used prudential borrowing to fund this, and other councils have used PFI. The quality of carriageway in these areas is very good, and they are very popular locally."
Blackpool Council is in the final year of a four-year programme to replace 40 miles of its busiest roads, and a spokesman says the "vast majority of locals" are happy with what's being delivered.
AIA chairman Alan Mackenzie also believes the Blackpool approach works "extremely well".
PFI is less in favour these days, partly due to the cost, though Mackenzie observes that "as a longer term model, it offers the opportunity to exercise best practice".
He adds: "Local authorities need support to allow them to borrow more in order to put longer term plans into place."
But a concern at local government level is the lack of expertise in the sector – a consequence of the swingeing cuts post-2010.
"There are undoubtedly some skills gaps," says Mackenzie. "Some skills and experience have been lost as a result of cuts made to personnel, recruitment, training and apprentice schemes during the recession."

One highways maintenance business says "a tremendous problem for us is the lack of informed clients. The major groups like the West Midlands Alliance know what they're doing – but others haven't got a clue."
The industry has tried to work with councils to develop their highways strategies.
"Collaborative working is very important," says Allister. "Contractors work with local authorities to look at what's feasible when they have downward pressure on their budgets, to ensure they use the money they've got well."
Mackenzie stresses the need for longer-term planning. "Planned preventative maintenance, for instance, is at least 20 times more cost effective than filling potholes," he says.
"Also, having an effective asset management plan allows councils to demonstrate the need, to councillors and the Department for Transport, and create a plan to effectively deal with the backlog." The DFT, to be fair, appreciates the lack of long-term planning in highways maintenance. It is currently consulting on suggested mechanisms for distribution of funding for local highways maintenance for the period 2015/16 to 2020/21. It reports back in the autumn.
The department has also sponsored – to the tune of £6m – the Highways Maintenance Efficiency Programme to drive and share innovation and efficiency improvements across the sector. One of these innovations may be the increased use of BIM for asset management of highways which Skanska, among other contractors, is already using. "We held a highways maintenance forum for clients earlier this year and showed how BIM is used in building projects - and can also be used in other asset/life cycle management," explains infrastructure services managing director Gregor Craig.
However, a barrier to the adoption of innovative thinking may be the reluctance of local authorities to take risks. And this is likely to be exacerbated by the hollowing-out of skills in council road maintenance departments during the past four years.
"Innovation carries a risk," says Allister, "so councils can be reluctant, which is very sensible. But trials of new products and methods do happen, and there are controlled procedures to allow these trials to take place in the proper environment." But there is only so much innovation the industry can introduce to stop the backlog getting longer. Ultimately, there is a need for a short-term funding solution – which inevitably means a political solution.
"Roads maintenance is a very big issue at a local level, but is less so at national level," observes Reisner.
Blackpool has been championed by many in the industry as the model for other councils to follow. According to a council spokesman, the main tipping points for their new approach were "bad winters, insurance claims, and the general poor state of the roads". But another source says that it was political pressure that heralded the changes, and more specifically, the council election of 2011, which brought in a Labour majority.
If the UK is to get "a road network fit for a modern economy", it may be that a political solution will be required.
This article first appeared in the July 2014 issue of The Construction Index magazine, which can be viewed in full at: http://epublishing.theconstructionindex.co.uk/magazine/july2014/
While the magazine is free to view online, a subscription is required to receive you own hard copy every month. This can be purchased for just £35 a year at http://www.theconstructionindex.co.uk/magazine
Got a story? Email news@theconstructionindex.co.uk