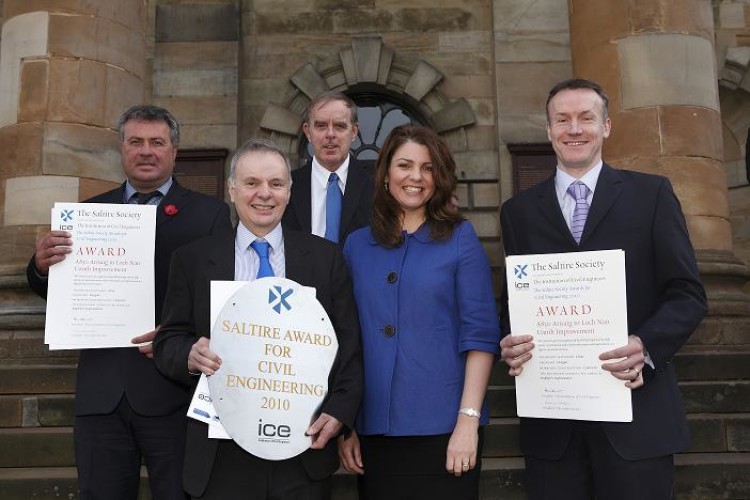 The recent ceremony at St Andrew's in the Square, Glasgow, saw the civil engineering contractor collect an unprecedented six awards including the main honour for its improvement work on the A830 Road to the Isles between Arisaig and Loch nan Uamh. 
The project, which was opened in April, last year, involved upgrading the 4.6 mile single-track road to a two lane carriageway and is the first trunk road in Europe to be constructed through a Special Area of Conservation.
The Saltire Society in association with the Institute of Civil Engineers selected A830 for their Construction Award 2010, in recognition of the skill and design and the high quality of construction used to deliver this major road improvement in a difficult and sensitive terrain. The project also won a Commendation in the Environmental category. 
The contractor's further four awards were two each for its Forres Flood Alleviation Scheme and Whitelee Wind Farm.
Fifteen projects across Scotland had hoped to win the coveted award or be recognised with a Commendation.
Stuart Higgins, Construction Director, Morrison Construction Civil Engineering, Scotland, accepted the award from The Rt Hon Lord Cullen of Whitekirk KT, President of the Saltire Society.  Also at the presentation were the President of the Institution of Civil Engineers Professor Paul Jowitt and the Council of the Saltire Society.

Commenting on the award winning project Stuart Higgins, said: "I'm extremely proud of the quality of work we produced at A830 Arisaig and, I'm delighted that our efforts and commitment to maintaining the highest standards of environmental management have been recognised by the Saltire Society.
"I pay tribute to the team-work, skill and honest endeavour of our Morrison workforce in successfully completing this award winning project.
"I would also like to acknowledge the positive role of our Designer Grontmij, The Highland Council and Transport Scotland who with the support of the local community and the co-operation of the travelling public enabled these major works to be completed to such a high standard."
Alasdair Fowler, Grontmij's Project Director for the design and supervision of the scheme said; ''this was an extremely challenging project and I would like to thank all those who worked throughout the project to ensure its successful completion. I think we should all take pride in the engineering achievement on the design of the scheme. The project demonstrates how major infrastructure can be designed and executed in a sustainable and sensitive manner – to the benefit of the local communities it serves."
Morrison Construction operates from five regional offices (Inverness, Aberdeen, Dundee, Grangemouth and Edinburgh) and employs more than 650 staff in Scotland.
Got a story? Email news@theconstructionindex.co.uk