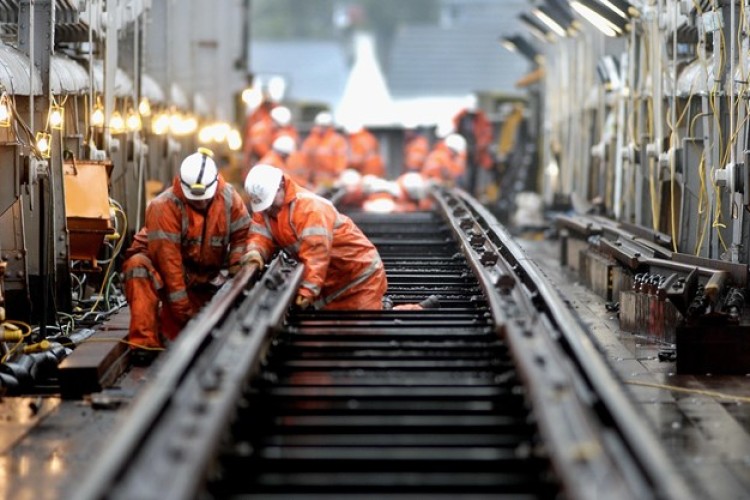 It has also revealed that it is bringing its high output track programme in house when the current contract with AmeyColas expires next year. This programme accounts for two-thirds of all track renewal.
Over the current funding period, which runs from April 2014 to March 2019, Network Rail plans to renew more than 7,000km of track. The work is split into three specific work streams: plain line (conventional); switches and crossings; and plain line (high output).
Babcock, Carillion and Colas have been selected across seven geographic lots to deliver conventional plain line track works worth around £375m in total over the five year period.
Switches and crossings (S&C) renewals will be delivered using an 'alliance' approach, combining the skills of designer, installer and Network Rail. Tenderers bid as pre-formed alliances with two – Amey Sersa and Colas URS – each winning work on one of two larger alliance areas worth up to £400m over the next 10 years.
Network Rail track programme director Steve Featherstone said: "Today, there are a million more trains on our network than a decade ago and that number increases every year. Working with our delivery partners, we will deliver a massive programme of work to maintain, renew and enhance thousands of miles of track over the next five years, with the goal of providing a more reliable railway for passengers and freight."
Also today Network Rail has announced it will not be re-tendering the contract for the delivery of its national high output track renewals programme. Instead it will be bringing in house the high output team currently employed by AmeyColas to take direct control when the existing contract expires in March 2015. High output track renewals allow Network Rail to replace more and more track while trains keep running on adjacent lines, minimising disruption to services.

Network Rail said that bringing the high output team in house would "create a less complex organisation with greater stability" and enable long term investment in people and machinery to support the track renewals programme. Around 1,200 people work on the high output programme, around half of whom are affected by this announcement.
Steve Featherstone continued: "Our full-time, professional high output track renewals workforce is fundamental to delivering a safe, reliable railway. By creating a single team within Network Rail we can make step changes in training and development in order to further improve safety and productivity within this key part of the industry."
High output track renewal involves large, automated 'factory trains' which are owned by Network Rail and typically each work five nights a week on the network. The renewals are completed overnight with regular trains passing on adjacent lines. Network Rail's operation comprises five ballast cleaning systems and two track relaying systems. Around 65% of all track replaced on the network is completed by the high output team.
Network Rail said that it will work jointly with AmeyColas to deliver high output track renewals up to the point of transfer and is working with both the RMT and TSSA unions to manage the transfer of the people affected.
Preferred bidders and approximate contract values – plain line (conventional):
Babcock: Western, Wales and Wessex / Scotland / LNW South – c.£200m over five years
Carillion: LNW North / LNE and East Midlands – c.£100m over five years
Colas: Kent and Sussex / Anglia – c.£75m over five years
Preferred bidders and approximate contract values – switches & crossings:
Amey Sersa: North alliance (Scotland / LNE and EM / LNW North) – up to £400m over 10 years
Colas URS: South alliance (Anglia / Kent and Sussex / Western, Wales and Wessex / LNW South) – up to £400m over 10 years
Got a story? Email news@theconstructionindex.co.uk