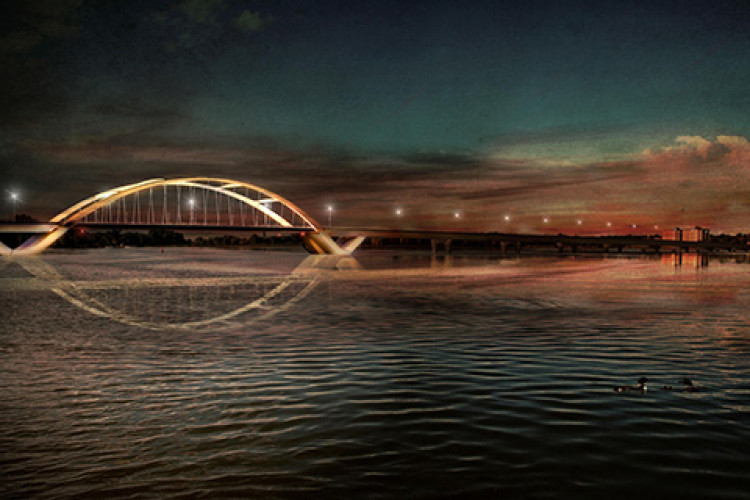 Peter Kiewit Sons, Hatch and Systra International Bridge Technologies have been named as the preferred proponent for the detailed design and building of the Third Crossing project in Kingston, Ontario.
The 1.2km bridge will extend over the Cataraqui River, connecting communities on the east and west sides. The city says that use of IPD will deliver the bridge on time and on budget. The model is similar to a design-build model with the exception that the city of Kingston, along with its design and construction partners, will work within the defined CA$180m (£107m) budget and share the risk and reward to deliver the best possible bridge. The four teams develop shared goals and accept responsibilities as equal partners.
Kiewit project director Mark Mallett said: "We've been following the evolution of this project for several years wanting to ultimately be the final team standing here today. We're excited to be working on the Third Crossing project, the first IPD bridge in North America, and ready to get to work."

The Kiewit, Hatch and Systra team was one of three shortlisted proponents to submit a proposal for the bridge project. Seven international teams had initially applied for the job when requests for proposals were issued in February 2018.
"After a comprehensive and competitive procurement process, we're happy that Kiewit, Hatch and Systra are joining the Third Crossing project," says Mark Van Buren, deputy commissioner and project director. "We started this process with seven exceptional international firms interested in coming to Kingston to work on this job and today we've selected the top proponent team. Having this collaborative team will ensure we build the best bridge possible for all residents while helping meet our longoterm transportation goals."
From September 2018 through to December 2019 the new project team will be doing early site preparation, conducting additional environmental and geotechnical investigations and working through design validation. Construction of the bridge is expected to begin in summer 2019.
Got a story? Email news@theconstructionindex.co.uk