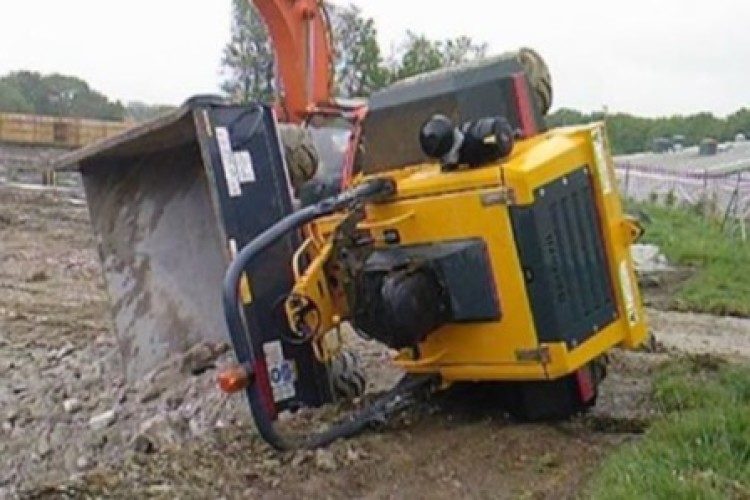 The publication has been compiled following several fatalities on site in the past couple of years, where operators have been crushed by overturning dumpers or have run over infantry due to full loads impairing their view.
Some organisation that have borne witness to the dangers of dumper trucks have advocated banning driving on spoil heaps. They also want cabs to be mandatory for larger forward tipping dumpers.
Tony Iles, managing director of Swindon-based groundworks contractor Tonic Construction, has been among those taking a lead on the issue. A 29-year-old Tonic employee, Shaun Carter, was killed on site in May 2016. He drove a dumper onto a spoil heap on a David Wilson Homes site and the machine overbalanced. Carter instinctively tried to jump clear but the machine landed on him and he was declared dead at the scene. Tony Iles has subsequently bought only dumpers with full cabs to protect the operator.
However, the new Construction Plant-hire Association (CPA) guidance, Staying safe when operating forward tipping dumpers, appears to pull up short of banning driving on spoil heaps and makes no suggestion that open top dumpers should be banned.
It says that it is perfectly acceptable for dumpers to be supplied with just a roll over protective structure (ROPS bar).
It highlights the risks of driving on spoil heaps, but seems to say that it ought not be done, rather than it must not be done.

"Travelling on stockpiles is extremely hazardous as the surface may not be fully compacted, which can cause the dumper to both lean excessively as a void is encountered and creating a risk of overturning. In principle, dumpers should not travel on stockpiles and only discharge the load at the foot of the stockpile," the document says.
It continues: "Spoil heaps are un-compacted ground which are a cause of instability as severe levels of tilt can be produced, creating overturns. Industry safety initiatives are advocating banning or strongly controlling the travelling of dumpers on spoil heaps. If there is a need to travel on spoil heaps, designated routes that have been pre-compacted and are away from the edges of the spoil heap must be provided."
CPA chief executive Colin Wood said that this document was just a first step, however. "The issue around dumper safety has become a major topic for our members as well as the industry in general. Because of this, we are co-leading the forum along with CECA [the Civil Engineering Contractors Association] and as part of our commitment, we pressed ahead to devise this operator-based safety guidance. This will go some way towards helping industry address the issues, but it is only the first step that we're taking in setting out guidance for safer dumper operations."
CPA director Kevin Minton, who co-chairs the industry forum of dumper safety, added: "We are seeking a range of solutions to ensure the operator and others stay safe. As part of the forum's action plan, the Stay Safe guidance will be the first of a number of documents that will be published through the CPA. Others will include a Good Practice Guide on Forward Tipping Dumpers which will be devised by the Strategic Forum Plant Safety Group, and an update to the Plant Safety Group's work on Ground Conditions. This update will provide guidance and recommendations for the operation of dumpers on spoil heaps."
The CPA's guidance can be downloaded free at www.cpa.uk.net/publications.
Got a story? Email news@theconstructionindex.co.uk