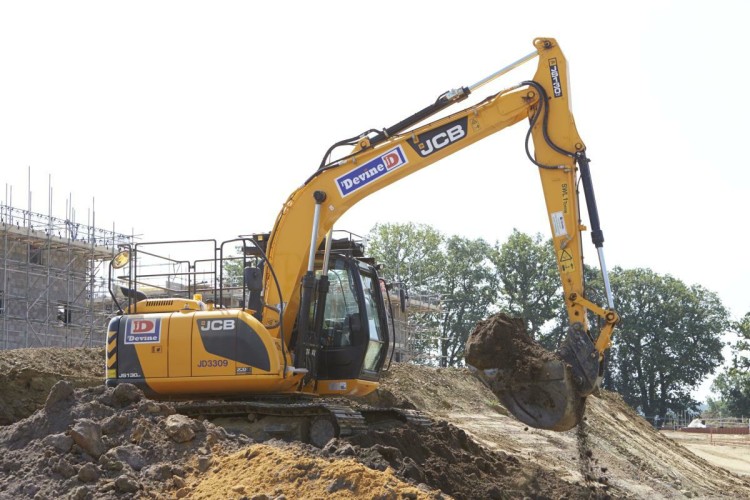 The civil engineering firm has just purchased three JS130 models and said that it is already impressed by the machines' fuel efficiency and reliability on its house-building projects.
The JS130s are fitted with the T4i-compliant, 91hp (68kW) JCB Ecomax engine, developed as part of the company's fuel efficiency and emissions reduction drive. According to JCB, the drive has seen customers worldwide save more than 750 million litres of diesel since 2010.
In addition, the machines - which are fitted with the JCB LiveLink telematics fleet management system - can be monitored remotely to enable J Devine to analyse every aspect of performance.
J Devine plant manager Tim Brackley said: "We purchased the JCB machines following a successful demonstration period during which they proved extremely reliable and their fuel consumption was impressive. The spec was exactly what we needed and the feedback from the operators was excellent so we placed the order.

"Since the machines arrived, nothing has changed our minds. With diesel prices as they are, fuel efficiency is massively important for us. To date the three machines are averaging between 6.5 and 8.1 litres per hour. If they maintain those rates we will be absolutely delighted. No one is quite sure what the future holds regarding carbon emissions, but the figures on these models are also good and we are pleased to have invested in machines at the forefront in technology to keep us ahead of the game.
"LiveLink is also a huge benefit. It allows us to continually monitor every aspect of the machines performance. With the click of a mouse I can send reports to the board of directors who can assess the latest status and ensure our investment is being maximised.
"We decided to choose JCB as the company has a great heritage and the products are cutting edge. We have not been disappointed and the service from the dealer, Greenshields JCB, has been first class."
Got a story? Email news@theconstructionindex.co.uk