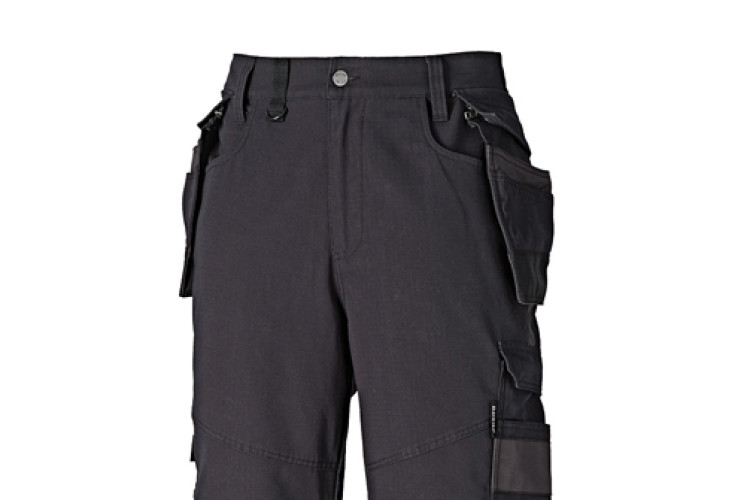 Workwear specialist Dickies has introduced several new items to its PPE range for Spring 2015.
The impressively-named Eisenhower Premium trousers are made from 'ripstop' material that makes them resistant to tearing. They have inserted knee-pads and repositioned zip-off pockets to allow optimum comfort for 'kneeling and crouching while on the job'.
The two back pockets are reinforced with Cordura, as are the hammer loop and rule pocket. Dickies says the Eisenhower Premium trousers are designed for those 'who need increased movement, convenience and comfort'. But despite the name, don't expect them to make you look or feel like the 34th President of the United States of America. Similarly, the Eisenhower Atherton jacket will neither bestow presidential qualities upon you, nor improve your batting average. But Dickies says it will keep you dry and warm. Both water-resistant and breathable, the new jacket holds a number of pockets including zip pockets on the front as well as chest pockets and an internal pocket.
In the footwear department, Dickies has introduced the Haxtun safety trainer which is ESD safety-rated. This means that it has the ability to discharge static electricity, accumulated in the body in a safe and controlled manner. This feature is becoming a new standard feature for all Dickies PPE. Also new is the Anvik shoe, designed for durability and comfort. This shoe has a composite toe-cap, non-metallic antipenetration midsole and removable EA footbed. 

This article first appeared in the April 2015 issue of The Construction Index magazine. To read the full magazine online, click here.
To receive you own hard copy each month in traditional paper format, you can subscribe at
http://www.theconstructionindex.co.uk/magazine#
Got a story? Email news@theconstructionindex.co.uk