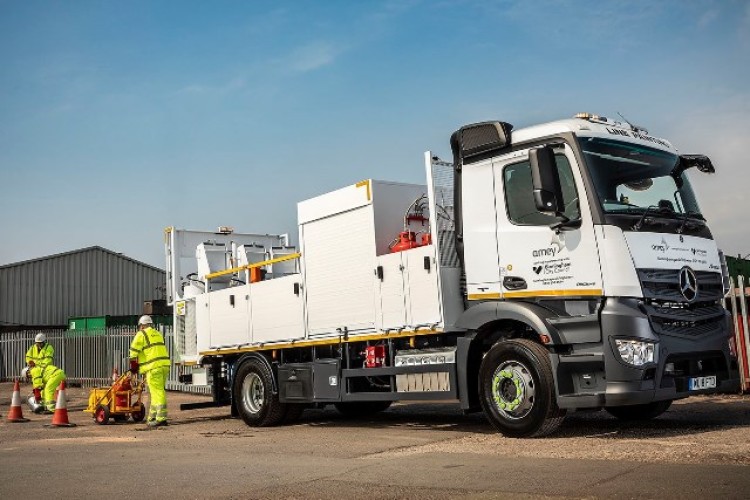 Amey's new truck was delivered by dealer Rygor Commercials and is fitted with a bespoke body by specialist builder Somerford Equipment.
The Antos has an extended M- ClassicSpace day cab with optional centre seat. It employs a high-torque, 7.7-litre straight-six-cylinder engine, which produces 175 kW (238 hp), and is paired with a Mercedes PowerShift 3 automated transmission.
The truck is equipped with three fixed oil-fired units for heating the thermoplastic material used to mark roads – one each for white, yellow and a third colour, usually blue or red. A fourth, demountable preheater is allocated to the high friction surfacing material typically laid at junctions.
The insulated preheaters have hydraulic paddles that are driven by the truck's power take-off (PTO) system, rather than a separate diesel engine; this contributes to quiet operation.
Amey has a fleet of around 300 HGVs and approximately three-quarters of them are Mercedes.
Amey supply chain manager Jason Clement said: "Not only do Mercedes-Benz trucks offer the well-proven reliability which is crucial to our operations, but they are also fuel-efficient and cost-effective to run, and impressively equipped in terms of safety systems.
"The opinions of front-line colleagues are important, too, and our Mercedes-Benz vehicles are very popular with those who use them. That applies particularly in this case. The road marking team in Birmingham are delighted with their new truck, not least because we involved them in its design – we listened to what they had to say, then built them the truck they wanted."
Got a story? Email news@theconstructionindex.co.uk