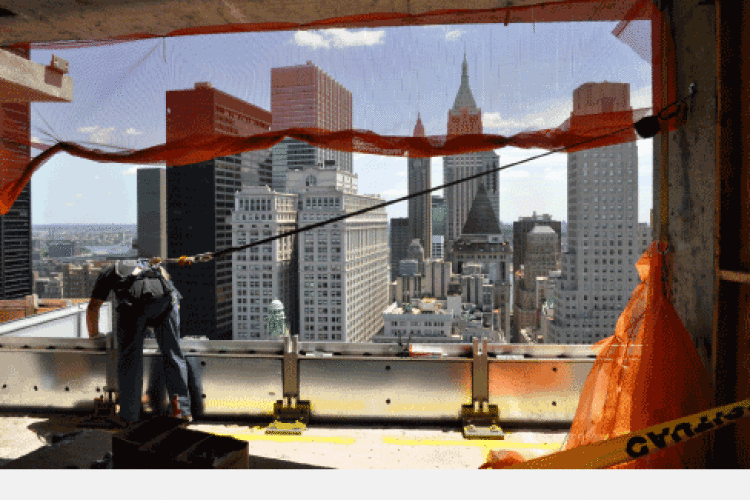 The results for Operation: Low Rise were issued at a conference marking the start of the city's ninth annual construction safety week.
The two-month inspection sweep of construction sites of up to nine storeys throughout the city resulted in inspectors issuing full and partial 'stop work orders' at 12% of the locations. In total, nearly 900 safety violations were issued, including US$954,450 in penalties.
As a part of a multi-lingual safety campaign, 'Experience is not enough', inspectors are also distributing more than 10,000 educational flyers at hundreds of low-rise sites, encouraging workers to take proper precautions on site. In 2012, construction-related fatalities increased from five to eight, and seven of these deaths occurred on low-rise sites.

"As development increases across the city, so must our focus on construction safety," said buildings commissioner LiMandri. "Any construction operation presents certain risks, and we are working closely with industry members to mitigate those risks so every worker goes home safely at the end of each shift. With new programmes such as the acceptance of 3D site safety plans and distribution of educational flyers, we are introducing new methods – and challenging traditional ones – in order to make constructions sites safer than ever before."
As a part of Operation: Low Rise, inspectors issued a total of 879 environmental control board violations for a variety of conditions, including missing fences, missing guardrails and work without proper permits. At sites where conditions presented an imminent threat to safety or work had not been approved by the Department, inspectors issued 34 full stop work orders and 75 partial stop work orders. Common violations issued included failure to safeguard, failure to provide protection for adjoining buildings and work not conforming to plans.
During their inspections, inspectors focused on enforcing against unprotected openings and improper lightweight steel construction – conditions that contributed to the deaths of two workers at two Brooklyn construction sites in 2012. The Department's new educational flyers, which were translated into Spanish and Russian, also addressed these conditions, outlining what workers should do when working near shafts and installing lightweight steel at a construction site.  
Got a story? Email news@theconstructionindex.co.uk