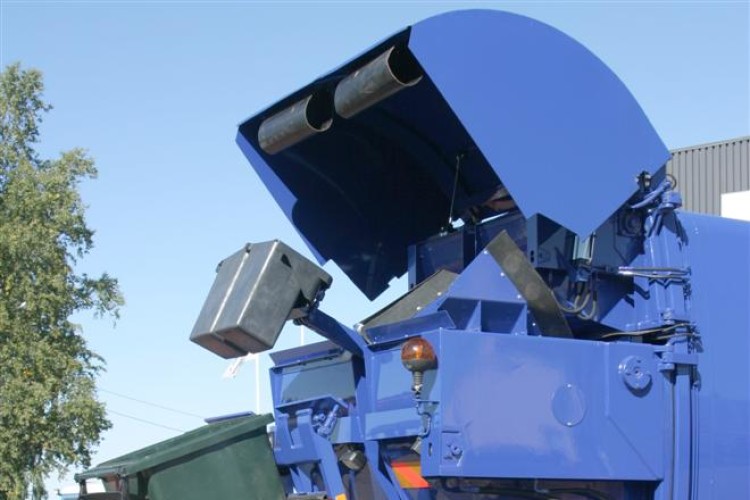 In the UK market NTM is predominately known for its range of compact compaction bodies for 7.5 to 15 tonne chassis, and can quite rightly claim to be leaders in the 4 – 15 cubic metre sector, however,  things are set to change as the company is about to shake up the UK market with the introduction of its Quatro 4-compartment compaction body, which will be making its UK debut at the RWM (Recycling and Waste Management) exhibition, the UK's premier recycling and waste event, at the NEC Birmingham from 14th -16th September. The Quatro on display will be mounted on a 26t Dennis chassis complete with a NTM bar lift.  (Stand OA142 Outside)
What is the Quatro System?
Unique in its design, the 4- compartment Quatro system is designed to pick up four waste streams separately in a single lift with zero cross contamination. Paul Westley, NTM– GB's managing director said, "Five years ago the company unveiled the Quatro, which is currently being sold across Scandinavia.  The efficiency of the product has resulted in exceptional success in the Nordic regions; we are now launching the system in the UK, where we feel that we will fill a gap in the market as we are the only manufacturer able to provide a single product to compact four individual waste streams with each vehicle pass. " 
Westley went on to explain just how the system operates, "The Quatro is designed to achieve maximum collection efficiency in separation at source collections.  It operates with specifically designed 4-compartment bins, loaded at the rear; and utilises the NTM space efficient 'pendulum' principle.  This translated means that compaction in all compartments is achieved, with a cycle time allowing for all bin compartments to be emptied simultaneously within 20-seconds."

With the Quatro, each of the four  waste streams can be unloaded precisely where wanted either directly on the tipping floor, or directly into specific containers – which permits the system to stake its claim as the only alternative to the 'dedicated waste stream' collection ability which is only normally associated with underground bin collection processes. Although, it is worth pointing out that NTM manufacture RCV's which are able to accommodate underground systems too!
2/ NTM – GB Ups its Game at the RWM with the Introduction of the Quatro 4-Compartment RCV
There are 50 of the Quatro units operational in Europe and it's the system of choice for numerous Scandinavian councils. 
To get the 'full sp' on the Quatro then a visit to the RWM next month is a must – you'll also see the KG-2B 70/30 split 2-compartment compaction body and last but by no means least, NTM manufactured RCV's designed for food waste, which prevent liquid spillage and leachate options.
Got a story? Email news@theconstructionindex.co.uk