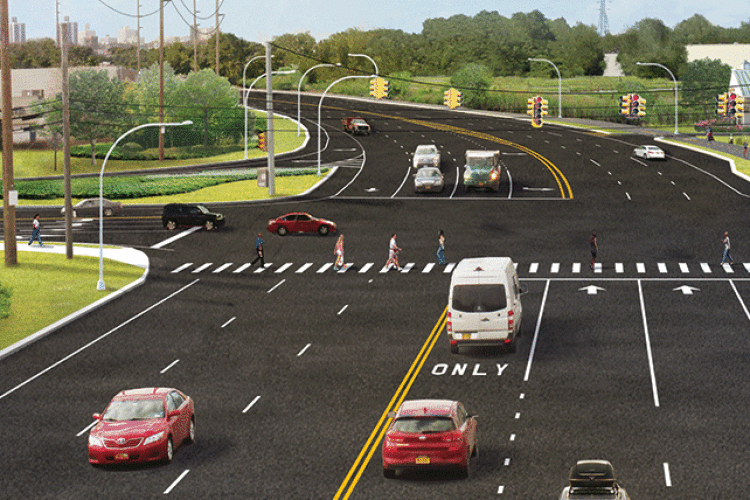 State governor Andrew Cuomo announced the start of work on the US$130m (£98m) State Route 878/Nassau Expressway Improvement.
The road will be raised and new drainage will be installed to prevent flooding in a project aimed at making the coastal evacuation route resilient against weather extremes.
Work is slated to be complete in December 2019, six years ahead of the original schedule
More than 400,000 people rely on Nassau Expressway as an emergency evacuation route; it was used during Hurricane Sandy. The road is approximately two-and-a-half feet below the 100-year floodplain. As well as raising the road, there will also be improvements to the aging drainage system and soil underneath.
"Nassau Expressway is a vital artery that connects both residents and visitors with Five Towns, Long Beach barrier island, JFK Airport, and nearly every major roadway in the area," said Cuomo. "This investment will help harden Long Island's transportation infrastructure to withstand future storms, provide safe travel in and out of Nassau County, and further strengthen the region's economy."


The road, which was originally built in the 1970s, now carries more than 56,000 vehicles each day. The section between Rockaway Turnpike and Burnside Avenue is susceptible to flooding and has been closed during severe weather events, creating a bottleneck within the area's evacuation network. There is also recurrent congestion in the area. The soil conditions in the project area are also poor and have contributed to the continuing failure of the pavement.
The enhancement project, which was developed with community input, will involve raising the road to three to four feet above the floodplain and building new drainage structures to prevent future flooding and provide a more resilient evacuation route. The new roadway will be constructed on a load transfer system via timber piles and special lightweight fill. Approximately 4,500 timber piles will be driven to a depth of 55 feet. In addition, a new shared-use path will be built to provide safe passage for bicyclists, runners, and pedestrians. Each intersection along the road will be upgraded with new traffic signals and the addition of turning and auxiliary lanes to improve traffic operations and safety.
The project will also include removal of the Debris Mound, locally known as the Inwood Mound - a large mound of construction debris southwest of the Nassau Expressway and Bay Boulevard intersection. The Debris Mound rises 30 feet to 50 feet above the Nassau Expressway corridor. The removal of the Debris Mound will provide an on-site area for improved drainage, stormwater treatment and wetland mitigation.
This project is part of a sustained effort by DOT to implement the recommendations of the NYS2100 Commission, which was appointed by Cuomo after Superstorm Sandy. The report included recommendations to strengthen and make the state's infrastructure more resilient.
Got a story? Email news@theconstructionindex.co.uk