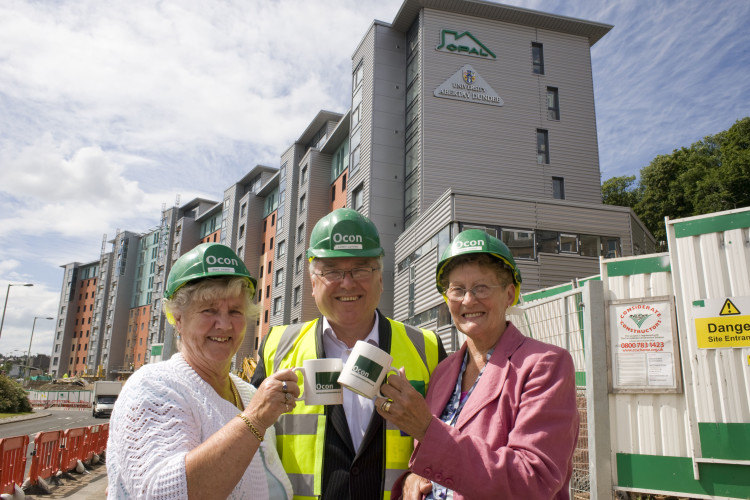 But that's exactly what Ocon did at its Opal 1 Dundee student accommodation site last week, when 59 year old Doris Mays and 71 year old Wilma Scobie met up with site manager, Bert Mensinga, at the £ 21 million scheme.
In this case, Doris and Wilma's interest in the scheme was more than the usual casual curiosity, however.  The 498-bedroom student accommodation scheme is built on the site of the former jute industry workers' tenements where both ladies lived and played together as children.  The tenements were demolished in the 1960s, robbing Doris and Wilma of the chance to see the view from the top storey ever again.  Until, that is, Ocon arranged for them to tour the new development and see the view again for the first time in 50 years!
Explains Wilma: "I lived with my grandmother in the top storey tenement and we used to love the view from the window.  I moved away as a teenager and never got to look at the view again.  I have remained local to the area all these years but being able to see that view again with Doris, who has remained my close friend since we played together all those years ago, is really something special."
Doris and Wilma were able to share their memories of the tenements with the project team, reminiscing about the community spirit and the cramped conditions.  The pair were impressed by how much things have changed, with comfortable en-suite rooms especially designed for Dundee's growing student population.
Bert Mensinga added: "We're delighted that we've been able to help Doris and Wilma take a trip down memory lane.  It's been fascinating to hear about their memories of the area and I hope that they enjoyed their visit as much as we did."
Got a story? Email news@theconstructionindex.co.uk