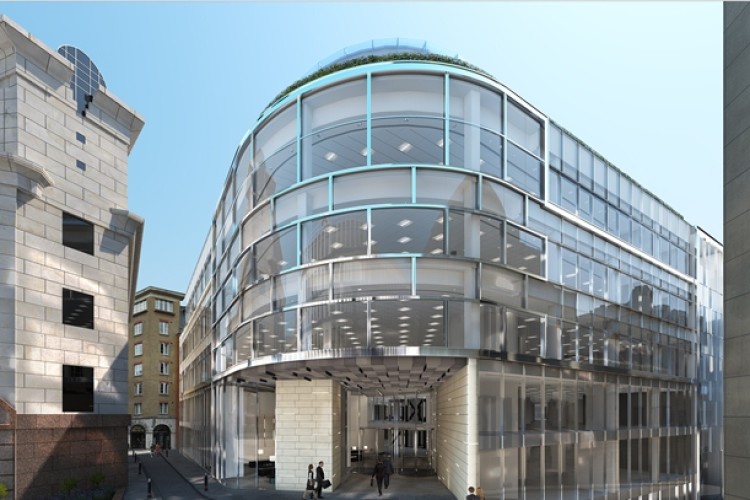 After several years of recession and the near-collapse of the UK building industry, cladding contractors and suppliers are daring to suggest that the market is showing signs of recovery.
A number of commercial building projects that stalled, or were mothballed, following the onset of recession are now getting back on track and the long-awaited cladding packages  are being let.
However the recovery, if it has indeed begun, is expected to be slow and faltering, in stark contrast to the steep and rapid decline. A report published last year by market analyst AMA Research* estimated that the UK wall cladding market, by area installed, shrank by more than 25% in the three years from 2007 to 2010 – from more than 51 million square metres to 37 million square metres. No improvement is expected until next year.
Cladding as a category covers a huge range of products and just about every form of building construction. The AMA study, therefore, embraces everything from high-tech glass curtain walling to clay facing bricks.
Different products are favoured in different sectors and some have been affected by the downturn more than others. The largest single "cladding" product category by far is the humble facing brick – it accounts for about 37% of the market, according to the AMA study. And of course, these products are strongly associated with the house-building industry, which was especially badly hit by the recession.
After bricks, the biggest product sectors in the cladding industry are the steel and aluminium profiled and composite wall panels commonly used for out-of-town retail sheds and warehousing developments. This sector is dominated by companies such as Kingspan, Tata Panels & Profiles, Euroclad and Coverworld.
But it is the commercial building sector – for prestige offices, public buildings and high-rise residential developments – that tends to attract most attention. Major landmark buildings built in London and other city centres are widely seen as a barometer for the UK building industry and the gleaming glass and metal cladding is itself regarded as a symbol of economic prosperity.
One sign that this sector might be about to recover is the recent arrival on UK shores of two ambitious Chinese-owned cladding companies.
First on the scene was Yuanda, part of the Chinese CNYD group, which established a European base in Basel, Switzerland, in 2008 and completed its first UK cladding contract – on the Park Plaza Westminster Bridge hotel – just two years later.
Since then, Yuanda has gone on to secure a number of prestigious contracts, its two largest and most high-profile to date being the Richard Rogers-designed 122 Leadenhall Street, better known as the Cheesegrater, and the 40-storey 100 Bishopsgate development near Liverpool Street station.
Yuanda's parent company was formed only 20 years ago but is already among the world's leading cladding contractors with an annual turnover in excess of £1bn. According to Yuanda managing director Alistair Lazenby, the company's Shenyang factory manufactures high-quality systems to European standards but while its products are as good as anything manufactured in Europe, its low material and labour costs give the company a competitive advantage.
Yuanda's arrival in the UK was followed closely by another fast-growing Chinese cladding specialist, Far East Façades, which set up shop here in May 2012 and has just landed its first UK contract – to clad the new commercial development at 71 Queen Victoria Street, London, for main contractor Bouygues.
Though ostensibly a new company, Far East Façades – like Yuanda – is part of a large Chinese-owned group, in this case the £1.5bn Far East Global. The company's UK managing director Peter Walker explains that pigeon-holing a company like Far East Global as Chinese is misleading. "The Chinese market is actually quite insignificant for us. We are a global company," he says.
In fact the company has its roots in British colonial Hong Kong and, although now Chinese-owned, it has always been an international player. Having recently bought a large US cladding company, it has three factories in the USA as well as two in China. Its track record is also impressive, with the world's tallest building, Dubai's Burj Kalifa, in its portfolio.
Despite the effects of the economic downturn, Walker believes the UK cladding market is in relatively good health. Furthermore, he says that Far East Façades' particular brand of bespoke unitised curtain walling gives the company a competitive advantage in the current market.
"Our main expertise is in high-rise residential developments – quite different from the commercial office blocks of Canary Wharf and the City," he says. Residential tower blocks tend to have more openings – windows, balconies and so on – which complicate the façade design. "This is a sector that's fairly new to the UK," Walker says.

Despite the fact that Far East Façades' first UK contract is on a commercial office development, Walker expects more mixed-use and residential projects to come on stream in the near future. And he believes that the company's ability to design and engineer complex facades for residential buildings will help, as indeed will the low materials and labour costs at its Chinese factories.
Though Yuanda and Far East Façades are sounding fairly enthusiastic about the UK cladding market, the recession has had a profound effect on domestic suppliers.
Before the global credit crunch of 2007/8, suppliers of precast concrete cladding systems were enjoying unprecedented workloads and forecasting a rosy future. Popular in low-rise commercial and public sector projects, concrete, natural and reconstituted stone is attractive to architects looking to create a feeling of quality and solidity. Unfortunately the market has displayed considerably less solidity, with one of the leading players, Trent Concrete, going into receivership in early 2010.
The sector's trade body, the Architectural Cladding Association (an offshoot of British Precast), now has only three members and is effectively dormant. But spokesman Dr Hafiz Elhag says that although the ACA has not met for over 12 months, the three remaining members – Techcrete, Thorp Precast and Belgian manufacturer Decomo – continue to be active.
Demand for precast concrete cladding was sustained somewhat during the preparations for the London 2012 Olympic Games, though overall demand has declined significantly and Trent Concrete actually went to the wall part-way through an Olympic contract. Now, the ACA members are developing new products in anticipation of demand returning.
Energy efficiency is still a big issue with air permeability and thermal resistance high on the agenda, says Elhag, and ACA members are working with researchers at Nottingham University to develop cladding systems designed to harvest and recycle heat energy from buildings.
One popular school of thought is that a recession kills off an industry's weaklings, leaving the sector leaner but healthier in preparation for the recovery. Whether Trent Concrete could be called a weakling is up for debate, but the brand could yet return, having recently been bought by London-based concrete frame contractor J Reddington, which intends to restart production at the firm's Nottingham factory in due course.
As Far East Façades' Peter Walker predicts, any growth in the cladding sector is likely to involve a high proportion of residential and mixed-use developments. This is confirmed by AMA Research, which acknowledges a number of "large-scale, high-end residential/mixed-use high-rise schemes in and around Greater London" are scheduled for development over the next few years.
"However, these are likely to favour the use of windows, while demand for cladding will possibly be limited to infill panels," the AMA report says.
This strikes a chord with Danny Phelan, sales manager with composite panel manufacturer Panel Systems. Panel Systems reports growing demand for its Aluglaze composite aluminium infill panels for both building refurb and new-build.
"Aluminium is one of the most widely specified materials for architectural panels, with composite panels being increasingly used as infill panels within windows and curtain walling to create a contemporary or authentic appearance," Phelan says.
But he cautions against reckless optimism. "The increase in sales is not necessarily market-driven," he says. "We're quoting for dozens of jobs all the time and we only need to win one or two big contracts to see our business pick up. In terms of the level of business, there are always some good jobs out there and, because we're a relatively small fish in a big pond, we can do pretty well."
So whether you're a Chinese multi-national offering high quality at low cost or an independent panel manufacturer with a canny business development team, you can succeed even in today's depressed market.  The biggest obstacle to recovery is probably not lack of opportunity, but confidence in the supply chain.
One cladding supplier (who understandably asked not to be named) complained that "in the first quarter of 2013 there have been a number of significant jobs coming on-stream which we've had to steer clear of. We simply can't get any credit insurance due to the level of contractor risk".
From a sales point of view, this is very frustrating. The work appears to be out there, but who wants to risk being tipped into insolvency by one bad debt just as things are beginning to look up?
* Wall Cladding Market Report UK 2012-2016 is available from AMA Research Ltd, Montpellier House, Montpellier Drive, Cheltenham GL50 1TY. Email sales@amaresearch.com
Got a story? Email news@theconstructionindex.co.uk