Of all infrastructure sectors, it is rail that seems to have offered the construction industry most cause for optimism in recent years. Schemes like Crossrail and HS2 – big, high-profile, highvalue projects – are guaranteed to have civil engineering contractors champing at the bit. But there's been a lot more on offer besides, in the form of mainline upgrades and improvements.
However in June the government announced its intention to delay or cut back a number of modernisation projects planned for Network Rail, with transport secretary Patrick McLoughlin blaming rising costs and missed targets for making the £38.5bn plan undeliverable.
McLoughlin also said that Network Rail's chairman, Richard Parry-Jones, would leave the group after his three-year term at Network Rail to be replaced by Sir Peter Hendy, currently commissioner of Transport for London.
Chief executive of Network Rail, Mark Carne, now says that the five-year programme of investment, which was launched in April last year as the "largest modernisation of the railways since Victorian times", was too ambitious. The projects at most risk of being delayed are the electrification of the Great Western Railway to Swansea, as well as the electrification of the Midland Mainline.
Carne says the pressure of simultaneously keeping the network operational seven days a week while delivering such a large number of improvement projects was overwhelming. He said that it had become obvious that some of these 'extraordinary projects' would cost more and take longer than originally thought so Network Rail would re-evaluate the extension of the programme with the Department for Transport over the summer and would not comment upon the impact of the delays on the final cost.
The decision came as a shock to many for whom the rail industry seemed to be caught up in a virtuous cycle of increasing passenger numbers and increasing investment. The latest statistics from the Office of Rail & Road (ORR), published only days before the government announcement, showed that the number of passenger journeys on franchised rail services in Great Britain reached 1.654 billion in 2014-15. This is the highest recorded figure since the series began in 2002-3, an increase of 4.2% (67.3 million) on the previous year and more than 69.5% more than when the ORR first started measuring passenger numbers in 2002-3.
This pattern of rising demand was reflected in an ambitious programme of expansion and investment. Network Rail's £38bn programme of investment for CP5 (its investment is in five year cycles called Control Periods and CP5 is the period 2014-2019) was to be one of up to five tranches.
Then there is the ever-controversial HS2, now quoted as costing £50bn. This megaproject is expected to deliver approximately 350 miles of new track and nine new stations in two phases, increasing capacity from London to Birmingham by 143%. Actual construction work on HS2 has yet to begin – that is scheduled for 2017 – but already plans for HS3 are being put forward, as the then coalition government announced in September 2014. As part of the government's long-term economic plan for the north, the prime minister and chancellor gave their backing to develop HS3 – a high-speed rail link connecting the North's largest cities that could significantly reduce journey times across the region.
Afterwards, Transport for the North (TfN) was set up to bring together northern transport authorities and was tasked with working with government to create the first-ever comprehensive transport strategy for the region.
TfN's first northern transport strategy report, entitled The Northern Powerhouse: One Agenda, One Economy, One North, built on the concept of HS3 and set out a long-term strategy to connect the cities of the north with a network of high-quality rail connections.
More pertinently, the report also estimated the costs for a variety of options to upgrade the North's rail infrastructure. For instance, it advised that cutting Manchester-to-Leeds journey times to around 34 minutes could cost between £4.5bn and £7bn while reducing travel times between Liverpool and Manchester to around 23 minutes could cost between £4bn and £7bn.
But the commitment to HS3 has been questioned, particularly since one of the main victims of the government's moratorium on rail improvements was the electrification on the route between Manchester and Leeds, which extends to Newcastle, Middlesbrough, Scarborough and Hull.
This has been 'paused', which came as a surprise to Transport for the North, which was discussing the project just the day before the 'pause' was announced, according to Keith Wakefield, a former leader of Leeds city council and now a board member of TfN. Another victim of the 'pause' is the electrification of the route between London St Pancras and Sheffield, which passes through Leicester, Loughborough and Derby.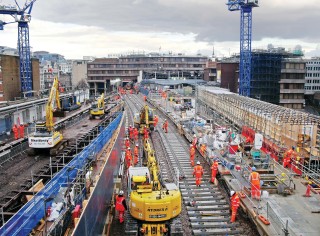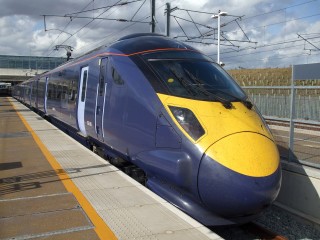 But while HS2 and HS3 have yet to become a reality, the Crossrail programme to provide services across London from Reading to Shenfield and Abbey Wood is now more than 65% complete and is on time and on budget. In fact, both Crossrail and Thameslink (the upgrade of the northsouth London line running from Luton to Brighton, including the rebuilding of London Bridge station) are both unaffected.
Government support for Crossrail was underlined when both the prime minister and mayor of London Boris Johnson turned up to Farringdon just two weeks before the Network Rail announcement to celebrate the completion of Crossrail's tunnels, with Johnson using the occasion to urge support for Crossrail 2.
The mayor's 2050 Infrastructure Plan recently set out London's overall infrastructure needs; for rail, key long-term infrastructure schemes could include:

• Crossrail 2 – this is the Mayor's top priority for new rail infrastructure and would deliver a high-frequency north-east, south-west service and enable 100,000 new trips into central London;
• 4-tracking of the West Anglia main line – to enable faster services to destinations like Cambridge and Stansted and more frequent services at local stations in London;
• An outer orbital railway – to better connect outer London town centres, provide additional orbital capacity and relieve pressure on central areas;
• Improved interchange stations – new or improved stations (e.g. East Croydon, Brockley and Streatham) to provide better connections;
• Extension of the Bakerloo Line – tunneling and new stations beyond Elephant & Castle towards Lewisham;
• Extension of Tramlink – a new connection across Sutton and Merton to support new homes and boost the local economy;
• Extension of the Northern Line to Clapham Junction – building on the Northern Line extension to Battersea, a further new link to relieve congestion at Clapham Junction and improve access to central London.
Of these, Crossrail 2 is already well on its way towards the starting blocks. Back in March this year the government published updated plans to protect land for its route from conflicting development. Although part of the line between Chelsea and Hackney has been safeguarded for the proposed project since 1991, TfL changed the route of the line after assessing the capital's future transport needs. TfL managing director for Crossrail 2 Michele Dix said the confirmed safeguarding marked a "vital step forward" in progressing Crossrail 2.
The new safeguarded route extends from Wimbledon in the south-west to Tottenham Hale and New Southgate in the north-east and will ensure new development does not affect the ability to build and operate Crossrail 2 in the future. Crossrail 2's route now passes through the City of Westminster, the London boroughs of Barnet, Camden, Enfield, Hackney, Haringey, Islington, Merton and Wandsworth, and the Royal Borough of Kensington & Chelsea.
For the construction industry, it is important to know which projects are definite and which could "pause". An easy conclusion to reach is that if it affects the south then it will proceed as all the projects that are to continue, such as the electrification of the south-west route, Crossrail and Thameslink, have little to do with northern Britain.
But that would ignore the importance of procurement and delivery. Network Rail was already under pressure from an investigation by the Office of Rail & Road for its performance in the first year of CP5. At the end of 2014-15 Network Rail had missed 30 out of its 84 planned milestones, with some projects facing delays or rising costs. Crossrail, by contrast, is a model of budget control, delivering a programme on time and on budget.
The future for HS2 may well depend on whether it can work to these same disciplines – and escape the political flak. Martin Kelly, strategic business development director at steelwork fabricator Severfield speaks for many when he says: "Although there is a lot of confidence that HS2 will happen it's difficult to convert that confidence into projects.
"All the signs are positive – a newly elected Conservative government that is committed to delivering HS2 together with continuity of investment and recruitment of senior executives – but there are still a lot of unknowns," adds Kelly. "For instance, there will be a political backlash once the first CPOs [compulsory purchase orders] come out and we'll see a lot of NIMBY issues being raised that could rattle a government with what is still quite a slim majority."
And there are already signs of this. The decision not to extend HS2 into Scotland provoked a furious reaction from the SNP, its transport spokesman Drew Hendry describing it as a "snub" to Scotland that ignored the "undeniable economic case" of a new railway linking London  to Glasgow and Edinburgh.
The project has also come under fire for drafting in nearly 1,000 civil servants when other large projects, such as the £9.3bn 2012 Olympics and HS1 – better known as the Channel Tunnel Rail Link – have been built with only a few hundred civil servants during periods of peak workload. HS2 itself has pushed these objections aside, pointing out that enhancements to the existing track to Scotland would be more economic and that it is significantly larger than either HS1 or the Olympics. It is also, as it stated in it guidance to contractors in 2014, committed to using early contractor involvement (ECI), a twostage process starting with design development and construction planning leading to an agreed target price, with detailed design and construction in the second stage. The aim of ECI is to build the team, encourage innovation and ultimately deliver better value for money. Given the marked contrast between the fate of Network Rail's plans under CP5 and that of Crossrail, it is clear that delivering value for money, on time and within budget, will determine the fate of HS2 – and any other rail project.
This article first appeared in the July 2015 issue of The Construction Index magazine. To read the full magazine online, click here.
To receive you own hard copy each month in traditional paper format, you can subscribe at
http://www.theconstructionindex.co.uk/magazine#
Got a story? Email news@theconstructionindex.co.uk