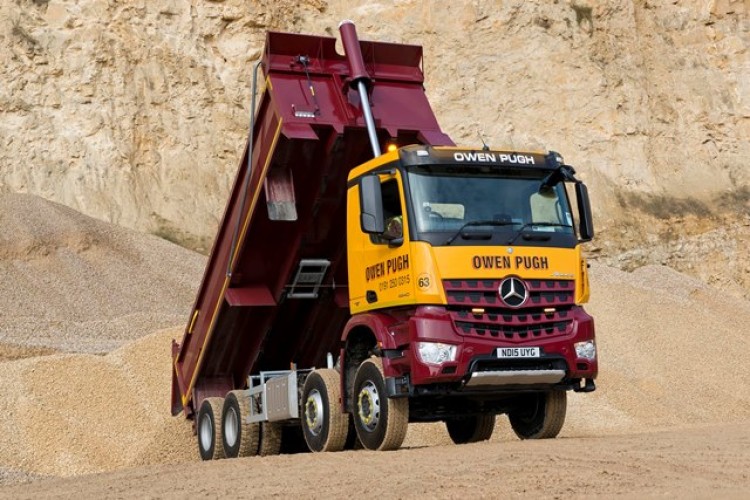 The first of the new 34 Mercedes-Benz Arocs 3240Ks are now at work in Owen Pugh colours.
It is the contractor's biggest single investment in its fleet. The order was placed through dealer Bell Truck & Van and most are fitted with steel tipping bodies by Lancashire Tippers, of Bolton.
Among the order are also three alloy-bodied tippers for delivery towards the end of the year, as well as a hook-loader and a tipper-grab, and two trucks with 'cheese wedge' plant bodies.
The Arocs replace older vehicles that are being stood down from the operator's fleet of 75 trucks. Owen Pugh evaluated six truck manufacturers before ordering.
General manager Paul Cockburn said: "We were only running three Mercedes-Benz trucks on the fleet previously, so we had no special loyalty to the brand. But Bell's Arocs demonstrator performed particularly strongly, outshining the competition by a margin. It was half a mile per gallon more fuel-efficient than anything else we tried, and was well received by our drivers, who liked the cab layout and high seating position, and preferred the Mercedes-Benz auto transmission to others."
He added: "The Arocs also offers a highly competitive payload. We will get a whisker over 18 and a half tonnes on the majority of our tippers, which is excellent given their heavy-duty steel bodies."
Owen Pugh's Arocs will be seen on several high-profile contracts, including the Morpeth Northern Bypass, where the company is undertaking earthworks on behalf of Carillion and transporting aggregates for Lafarge Tarmac.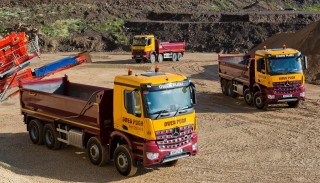 Got a story? Email news@theconstructionindex.co.uk