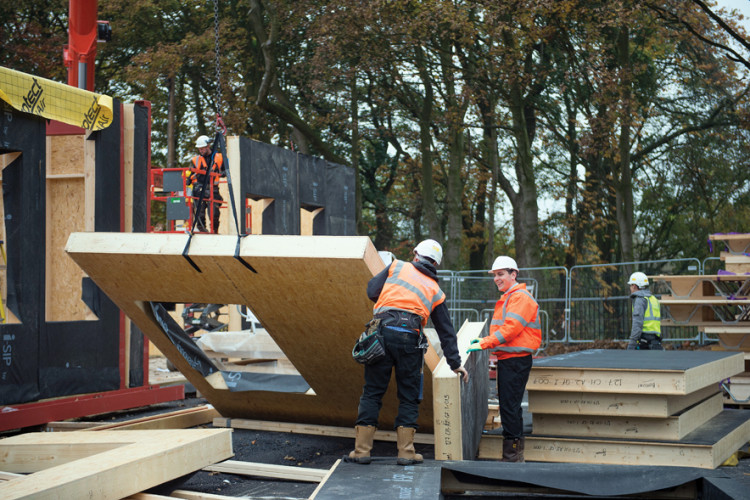 Remember Building Schools for the Future? The last Labour government's programme to build a new generation of secondary schools saw a rash of highly ambitious architect-designed buildings commissioned with PFI funding.
The idea seemed to be that posh, high-quality buildings would in some way infuse both staff and pupils with a sense of aspiration and that quality of education would thus rise to meet the quality of the surroundings.
Of course, it came at a price: typically of between £25-£30m with some schools costing more than £50m. A template was provided by the Sir Norman Foster-designed Bexley Business Academy, built in 2003 at a cost of £31m and incorporating high-end finishes including hand-crafted toilet seats and designer taps in what most pupils probably still called the 'bogs'.
The scheme was not a success (by 2007 Bexley Business Academy was languishing at the bottom of the schools league table) and after Labour's defeat in 2010 the incoming coalition government quickly put an end to it. Education secretary Michael Gove cancelled BSF and introduced an altogether more pragmatic programme, called the Priority School Building Programme (PSBP).
Under PSBP, schools could apply for funding from the new Education Funding Agency. As the scheme's title suggests, funding for school building projects would henceforth be allocated to those schools that could demonstrate the most need. Big name architects and expensive bespoke finishes were definitely not on the agenda; instead cost efficiency and speed of delivery were the driving factors.
One of the beneficiaries of the first phase of PSBP was Clough Hall Technology School in the North Staffordshire town of Kidsgrove. Planning permission for a new main school building was granted in December 2014 and Interserve was appointed as main contractor.
The new building is being built within the existing school grounds; students and staff were relocated into the lower site to allow demolition of the 1930s main block, on the site of which the new building is now being erected.
The new three-storey building will feature a modern hall with retractable theatre-style seating, open-plan learning resource centre, teaching rooms including six new science labs, purpose-designed vocational facilities including a bistro and training kitchen, hair & beauty salon, construction yard and media studio.
But despite the impressive facilities, this new building is budgeted to cost just £10m – less than half of a new school built under BSF.
One of the reasons for this reduction in costs is that Clough Hall school – which has already re-launched itself as a Church of England school called The King's – is being built using an off-site system based on Structural Insulated Panels, or SIPs, manufactured by Coventry-based Innovaré Systems.
SIPs is one of the so-called "modern methods of construction" so beloved of the Movement for Innovation and promoted prior to the onset of recession as a way of reforming the industry.
Lightweight, warm and requiring minimal on-site labour, these panels provide a quick and cost-effective method of constructing relatively simple, straightforward buildings to a high standard.
SIPs therefore have much to recommend them for school construction. These buildings are often repetitive in design, consistent in specification from project to project and easily achieved using prefabricated panels.
An added attraction is the supposed environmental benefit of SIPs, which are highly insulated for optimum energy efficiency.
The King's School is one of two secondary schools that Interserve is currently building in the Midlands using Innovaré's SIPs. The other is a new sixth form extension for Turves Green Boys School in the Northfield area of Birmingham. Erection of this SIPs-based building envelope started in early December.
"Most of the schools we've built so far have been primary schools or extensions to existing school buildings. Both King's School and Turves Green are secondary schools and they are much bigger projects," comments Innovaré managing director Peter Blunt.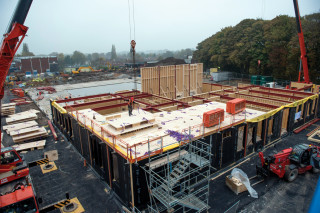 As with any off-site construction method, phased deliveries have to be planned with precision. "We try to plan it so that the SIPs are delivered on a just-in-time basis," says Blunt. "On these projects, where you're working on a live, working school, there's no space for materials storage," he adds.
This passes the buck upstream, so that any delays on site mean that Innovaré has to store finished panels temporarily at its factory in Coventry.
"We can have two or three schools sittings in our car park in kit-form. Its sounds strange, but it has happened," says Blunt. "We try to avoid that."
Since SIPs panels are made of little more than thick slabs of EPS foam sandwiched between an inner and outer skin of oriented strand board, they are extremely lightweight - a benefit not only when it comes to delivery and erection on site, but also in terms of foundation design.
The Kidsgrove school is a typical example: Interserve provides a concrete slab foundation and installs services and drainage. Innovaré then delivers the panels in sequence and it is then simply a case of assembling the kit. In addition to the SIPs panels which provide the external walls, Innovaré is also supplying the open panel cassettes for the flat roof structure and suspended floors: "It's a full structural solution," says Blunt.
"Everything we do is bespoke," he adds. "Each panel is produced with the necessary openings installed and any structural columns incorporated in the appropriate positions."
Innovaré tries to optimise the design so that each building comprises the minimum number of panels and so that each panel is as big as possible. "The largest of our SIPs measures 6m by 2.7m. We design them as big as possible because fewer components means fewer joints which means faster assembly and better performance," he says.
SIPs can certainly deliver impressive thermal performance. Innovaré's products vary in thickness and composition according to the specific project requirements, but thermal resistance ranges from 0.18W/m2K to 0.10W/m2K – equivalent to Passivhaus standard, says Blunt.
After erection of the building envelope, following trades install the mechanical and electrical services. Blunt believes this is an area where further rationalisation could be achieved. "We would like to build more into the panels – electrical and plumbing services for example – but at the moment, the lead-in period doesn't allow that level of integration.

"We are constantly looking to improve the product and service, though, and this is one aspect we are looking at," he adds.
Blunt says that, as with any construction project, a pragmatic approach is essential and while off-site manufacture has huge benefits, it is not an end in itself: "The key is to optimise the process by balancing off- and on-site activities," he says. "If there's no cost or efficiency benefit to building services or components into the panel then there's no point. You have to strike a balance."
The external wall finishes are all applied on-site. At ground floor level, the walls are finished with a brick skin fixed to battens to create a 50mm cavity. At first and second floor level, the SIPs are clad with a render finish applied over a carrier board.
Interserve secured the King's School and Turves Green projects with Innovaré already on board and with SIPs at the heart of the proposal. "We had prior experience of working with Interserve and they brought us in at tender stage as a differentiator. I wouldn't say we were their USP but we helped add value to the bid," says Blunt.
He adds that the SIPs concept has aroused a lot of interest within the education funding agency and that both the EFA chief executive and the agency's technical advisors have paid a visit to the Innovaré factory to see the production process for themselves.
"As a product, SIPs offer thermal and acoustic performance and speed of construction. But more important from our point of view is the service element," says Blunt. "We take a holistic view of the construction process – we don't just deliver the SIPs and say 'here are your panels – bye'.
"Our understanding of building physics and how buildings work – things like daylight, acoustics, thermal comfort – are massively important," he adds.
Kids get the environmental message
Last November, as Innovaré started phased delivery of the SIPs panels to their destination in Kidsgrove, it welcomed a visit from some of the 900 students from The King's School who came to see how their new school building was being created.
Besides watching the panels being made and prepared for delivery to site, the students took part in a panel signing ceremony, where they each signed a 'footprint' representing the carbon that will be saved over the lifetime of their new energy-efficient school.
Teachers and SIPs manufacturer alike expressed the hope that the exercise might encourage the youngsters to personally affirm their commitment to reducing their own carbon footprints.
Innovaré calculates that some 179,000kg of CO2 will be saved by using its SIPs panels compared to traditional construction methods.
Company background
Innovaré Systems was formed 10 years ago by contractor Geoffrey Osborne as a supply-chain integration division, buying-in SIPs and other materials to the parent company.
Osborne soon decided to move into manufacturing and in 2007 the division moved into its present 5,000m2 factory in Coventry and became a standalone business under the Innovaré Systems name.
Managing director Peter Blunt admits the move came at the worst possible time: "The recession hit just as we set up in the business of manufacturing construction products – the timing couldn't have been worse," he says.
"Things were difficult to begin with but we have doubled our turnover every year for the past three or four years," he adds.
The majority of SIPs manufacturers focus on the domestic self-build market, says Blunt. "But we actively avoid that. If you're building Mrs Goggins' house extension, she's only going to build it once. We need a steady flow of work so we are actively pursuing larger projects and long-term client relationships."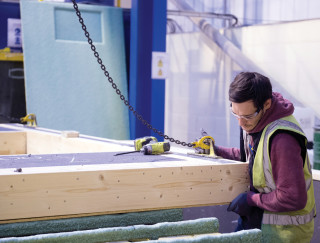 Construction partners
Interserve, which is building the new King's School in Kidsgrove, is one of a handful of major contractors that work regularly with Innovaré in the education sector. Others include Wates, Bowmer & Kirkland and Innovaré's parent company, Osborne.
"We now have three or four key clients with whom we have an ongoing relationship," says Innovaré managing director Peter Blunt. "Our key markets are education, residential and healthcare," he adds.
Innovaré recently completed what it claims is Europe's largest SIPs structure to date. Kingfisher Court - a £31m acute mental health unit for Hertfordshire Partnership NHS University Foundation Trust – was built by Osborne. Erected on site in just 23 weeks, the building used more than 24,000m2 of Innovaré SIPs - enough to cover five full-size football pitches, says the company.
Designed by Leeds-based P&HS Architects, Kingfisher Court was named Project of the Year at the 2015 Design in Mental Health Awards, proving that off-site systems don't have to be devoid of architectural flair.
Another recent project is an 18-storey student residential block, Mayflower Hall, in Southampton. Here, SIPs were used as infill panels within the building's reinforced concrete frame. "SIPs were chosen here largely for health and safety reasons, as we could install the infill quickly and close the building," says Blunt.
Innovaré SIPs panels were also used by contractor Bowmer & Kirkland for the recently-completed Reigate Primary School in Derby. "We erected the main structure in just six weeks and were able to hand the school over 14 weeks early," says Blunt.
Got a story? Email news@theconstructionindex.co.uk