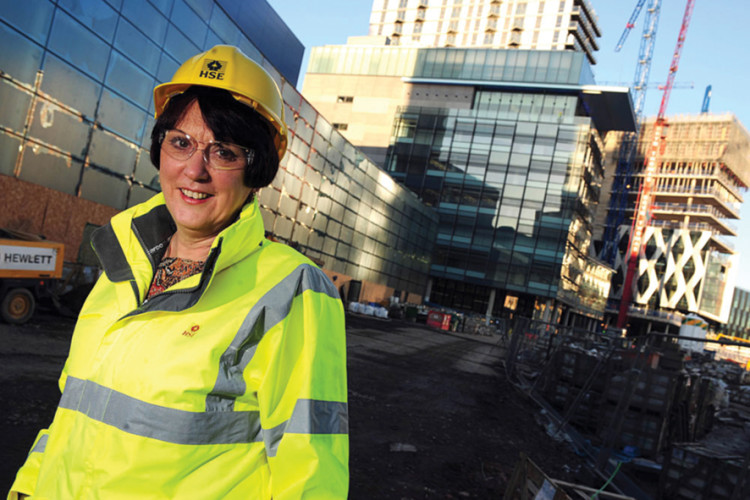 The Health & Safety Executive couldn't really claim that its 'Fee for Intervention' scheme was popular – except, perhaps, with its accountants. For many people, it's more to do with raising revenue than improving standards of health and safety on site.
But a report produced for the HSE has concluded that the FFI scheme is a good thing, that it has been administered fairly and that it has not changed the behavior of enforcement officers.
The report, described by HSE as 'independent', essentially concludes that the revenue-generating scheme should be retained as it works and there is no alternative.
The document was produced by a panel chaired by Alan Harding, professor of public policy at Liverpool University. Other participants were representatives of the GMB trade union, the Federation of Small Businesses and the Department for Work & Pensions.
FFI was introduced in October 2012 to take money off companies served with enforcement notices by HSE inspectors. The primary motive was to maintain adequate revenues at a time of public spending cuts. The rationale behind it was 'the polluter pays' principle. Those who break health and safety laws are liable for recovery of HSE's related costs, including inspection, investigation and taking enforcement action. While this may seem fair enough at first sight, the scheme has been controversial from the outset because it seems that the more faults that inspectors find on site visits, the more money the HSE makes. Inspectors might therefore be incentivised to find faults where a more reasonable person might not think they exist. What if inspectors starting behaving like those rogue wheel-clampers rather than the good, upstanding citizens that they have always previously been? The 2013 triennial review of the HSE, published in January 2014, concluded that the scheme should be scrapped because stakeholders felt it wrong that HSE should act as 'police, prosecutor, judge and jury' and there was widespread fear of induced behavioural change among inspectors. On the basis of this warning, the HSE set up its Independent FFI Review Panel. Its report, published in September, states that FFI has been effective, has not led to a change in behaviour or attitude among inspectors, and should therefore stay. Since the introduction of the scheme, one in three sites visited has generated an FFI invoice. Between its introduction in October 2012 and the end of May 2014, FFI had generated 26,849 invoices totalling more than £13.7m in aggregate value, making the average invoice £510. That is a lot of paperwork.
Of this total, £3.6m came from the construction industry where, with 9,813 invoices issued, the average invoice total was somewhat less at £369. According to the review panel, the much discussed concerns about FFI have not manifested themselves to any significant or serious extent. They found that "generally inspectors and dutyholders continue to work together in improving health and safety management". 
Their report says fears that FFI would be used to generate revenue have proven to be unfounded. It acknowledges that the scheme is not popular, even among inspectors themselves who don't like to be seen as industry's traffic wardens, but it concludes – critically – it is the only possible way forward.
It says: "Whilst there are challenges associated with FFI, it has proven effective in achieving the overarching policy aim of shifting the cost of health and safety regulation from the public purse to those businesses that break health and safety laws. We can see no viable alternative to it within the current environment for public expenditure and the constraints that continue to be imposed upon HSE." The review panel said that it "could find no compelling evidence to suggest that HSE is using FFI as a 'cash cow', solely to generate revenue. It is, however imperative that HSE continues to guard against this becoming, or being seen to become, the case in future."
It adds: "We acknowledge that FFI has not been popular with some inspectors and dutyholders. However, we conclude that it has been introduced and embedded effectively and applied consistently, despite being implemented during a period of huge change for HSE. The consistency of approach adopted by HSE inspectors has minimised the detrimental effects anticipated by the triennial review." However, if the aim or aspiration of FFI was not to raise funds for the HSE or Treasury coffers but rather to provide further incentive to organisations to improve their health & safety compliance, then it has evidently failed.

"We find no reason to conclude that the overall level of compliance with health and safety legislation has changed significantly as a result of the introduction of FFI," the review panel concluded.
The review panel does make some modest recommendations to the HSE. It suggests that some simpler guidance about the scheme should be published and that the HSE should redesign its standard Notification of Contravention letters "so that the health and safety contraventions and actions required are given greater prominence as against FFI legal considerations".
And while it was satisfied with the probity of the current regime, it recommended the disputes procedure should be "kept under review to ensure it remains independent". In other words, the risk of excessive zeal and/or outright corruption remains. Overall, however, it recommends that FFI continues as it is, with the same threshold for cost recovery and definition of material breach.
While there are doubtless some contractors that would like to see the back of FFI and will be disappointed by the review panel's conclusions, others have welcomed them. Steve Murphy, the general secretary of the construction trades union Ucatt, for example, said: "This report is important as it shows that FFI is being applied fairly. The only people who don't like it are employers who are being forced to pay for breaking safety laws and putting the lives of workers in danger. The message to employers must be stop breaking safety laws and putting workers at risk. If you break safety laws expect to be penalized for doing so."
HSE chair Judith Hackitt said of the review panel's report: "Both HSE and the government believe it is right that those who fail to meet their legal health and safety obligations should pay our costs, and acceptance of this principle is growing. This review gives us confidence that FFI is working effectively and should be retained. We will continue to monitor the performance of Fee for Intervention to ensure it remains consistent and fair."
This article first appeared in the October 2014 issue of The Construction Index magazine. To read the full magazine online, click here.
To receive you own hard copy each month in traditional paper format, you can subscribe at
http://www.theconstructionindex.co.uk/magazine#
Got a story? Email news@theconstructionindex.co.uk