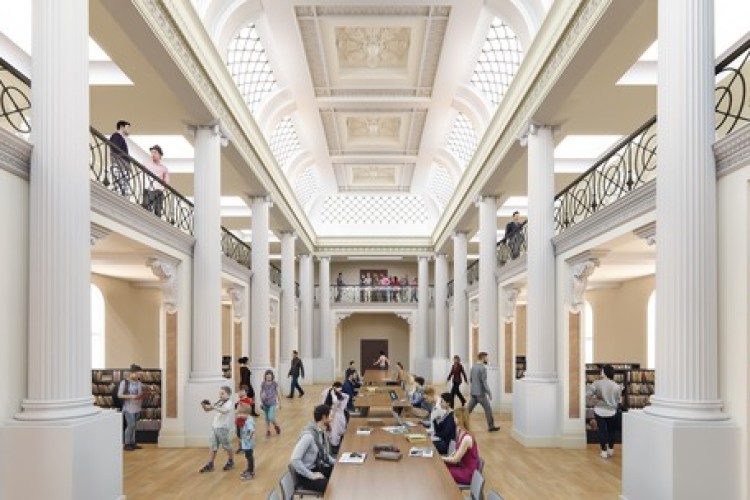 The AU$88.1m (£52m) scheme, Vision 2020, will return 40% more space to public use. Construction will start this year and is expected to conclude in 2020.
An international competition competition was held last year. The design is by Schmidt Hammer Lassen Architects and local partners Architectus and Andronas Conservation. The engineers are Irwin Consult, Steensen Varming and Arup; other consultants are ID Lab, McKenzie Group and Salus. Client for the scheme is Major Projects Victoria.
State Library Victoria is the oldest and busiest public library in Australia, attracting 1.9 million visitors and more than  four million online users each year. The architectural concept is designed to provide an open, accessible and welcoming experience for people of all ages and cultural backgrounds. During the design process, workshops were held to engage users – including children and teens - directly, with their input and feedback helping the design team to understand the future needs.
"Our goal is to create spaces that foster learning, exploration and innovation, expanding the Library's reach and relevance and transforming this popular landmark into a true urban hub - a place where people in Melbourne naturally gravitate to in order to engage, learn, socialise and be inspired," said Schmidt Hammer Lassen Architects founding partner Morten Schmidt.

The new design unlocks physical aspects of the Library in order to expand its functionality, he said. Spaces like the Ian Potter Queen's Hall and Galleries are literally "unlocked" and released to the public, while the Trescowthick Information Centre (TIC) and the Courtyards have been redesigned to bring their architectural and functional potential to life. "We are stripping off the layers and revealing the original architecture, of which we are being very respectful, so that State Library Victoria  can continue to function as a modern library," he said.
New spaces for children, families and youth will be created to nurture creative learning, literacy and play. The design also includes new technology-enabled spaces for entrepreneurship and innovation to support and stimulate the creative economy.
The library is over 160 years old, and the various renovations the building has undergone are characterised by distinct styles and approaches. "Our concept provides a strong 'design line' that will act as a framework to guide present and future works," concludes Morten Schmidt.
Got a story? Email news@theconstructionindex.co.uk