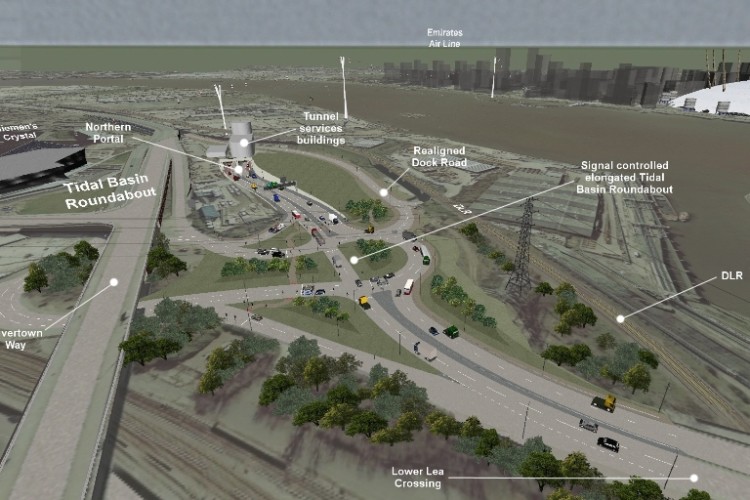 Transport for London has applied to the secretary of state for powers to build a twin bore road tunnel under the River Thames.
Under the terms of the Planning Act 2008, the secretary of state was supposed to make a decision by 11th October 2017. But there has been controversy about the traffic pollution that the tunnel could generate. London mayor Sadiq Khan had the plans tweaked before signing of his approval for the scheme last year; a special cycle-bus will carry cyclists and their bikes through the tunnel, rather than have them breathe unfiltered tunnel air. [See our previous report here.]
Transport minister Paul Maynard told the House of Commons yesterday: "The deadline for the decision is to be extended to 10th November 2017 (an extension of one month). This extension is to enable further consideration of the recent responses to the secretary of state consultations on the scheme which relate to the updated UK plan for tackling roadside nitrogen dioxide concentrations published by government on 26 July 2017."

He added: "The decision to set a new deadline is without prejudice to the decision on whether to give development consent."
If built, the Silvertown Tunnel will provide a new connection between the A102 Blackwall Tunnel southern approach and the Tidal Basin roundabout junction on the A1020 Lower Lea Crossing in London.
It was designated a nationally significant infrastructure project by the secretary of state for transport in 2012, which is why TfL had to apply for a development consent order (DCO) to build and operate the scheme.
Got a story? Email news@theconstructionindex.co.uk