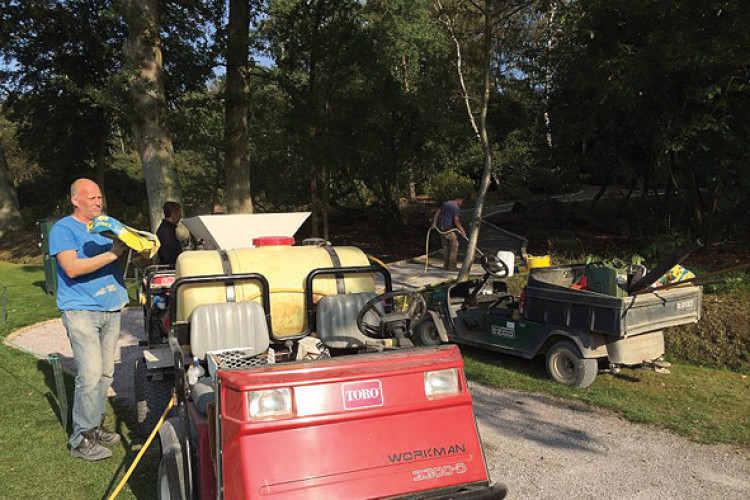 Surface water run-off is a major contributor to urban flooding – so much so that most new or replacement paving covering an area of more than 5m2 is no longer classified as "permitted development" and requires planning permission. Unless it's permeable paving, that is.
For most housing developers this should be no problem; they will have had to apply for planning permission in any case. But for many private householders – indeed for anybody who's thinking of adding an extra parking bay or laying down a footpath – this means extra cost and hassle. Planning authorities are likely to require complex and expensive drainage systems to accommodate run-off that is prevented from percolating into the ground naturally. And that's why porous paving systems are currently very much in vogue.
"The trouble is that most permeable surfaces are still quite expensive," says Ian Harper, director of new company Multisport Base Solutions. And – of course – he has an alternative. Multisport Base Solutions has spent the past two years developing a method of laying small-to-medium sized porous concrete surfaces quickly, cheaply and in all weathers.
The method involves spraying a cement-based mixture over a bed of granite chippings to produce a solid, but porous, concrete surface in situ. The idea is not entirely new: there have been other methods that employ the same basic principle but these either use a silicon solution rather than cement, or a cementitious mix that does not produce a porous surface.
These techniques have been used principally in the specialised field of sports surfaces and, in particular, for the construction of golf bunkers.
Porous paving is not a new idea, either. Both cement-based and bituminous paving has been produced in commercial quantities for many years, but always at a high price.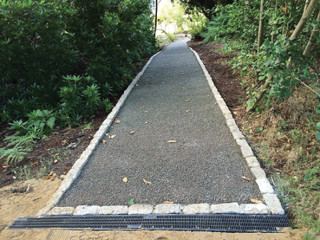 Durability has also been an issue. Harper's product – which he calls Bacement – combines cement and chemical admixtures to produce a sprayable slurry which, when laid over a prepared aggregate base, results in a strong, porous no-fines concrete.

An essential feature of Bacement is the special piece of plant developed by the company to apply the cement coating. This is based on a Toro all-terrain vehicle (or as Harper describes it, "a glorified golf-cart") equipped with pumping equipment and modified to carry chemicals and a tonne of cement.
"Our method involves spraying a cementbased mixture over granite to produce solid but pervious concrete. This enables us to supply concrete without the need to transport water," says Harper.
Water is just under half the total weight of concrete, and expensive to transport, he says. Concrete is also difficult to work with due to its reduced workability and quick setting time. "We eliminate these issues," he adds.
Because the Toro produces the material at the point of application, there is zero wastage, says Harper. He estimates that Bacement is up to 50% cheaper than other porous surfaces.
Though the original application was sports surfaces (still an important market), Harper now has his sights set on the building and construction industries.
Bacement can achieve high compressive strengths – up to 21.4N/mm2 – and Harper says his product will soon be patentprotected. "'Porous' seems to be the buzz-word in paving at the moment. There's a growing demand because of the new regulations and I think we have the solution," he says.
This article first appeared in the November 2014 issue of The Construction Index magazine. To read the full magazine online, click here.
To receive you own hard copy each month in traditional paper format, you can subscribe at http://www.theconstructionindex.co.uk/magazine#
Got a story? Email news@theconstructionindex.co.uk