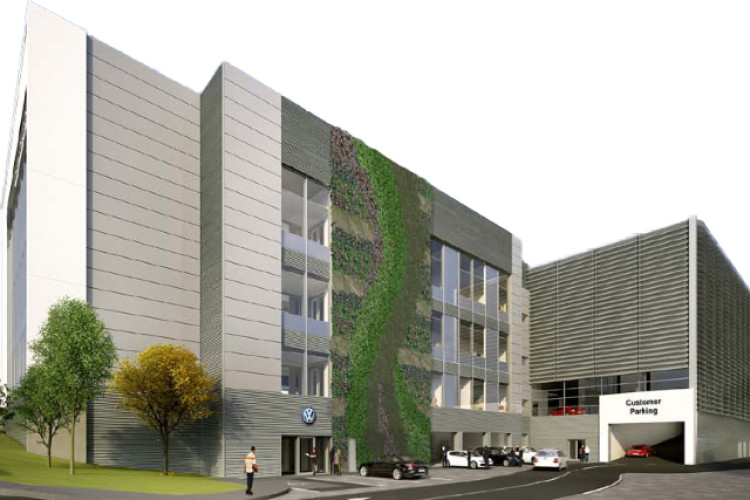 The new four storey 15,468sqm development,next to the M4 flyover in Brentford, will house car showrooms, workshops, servicing facilities, MOT bays and valet areas. It is the largest VW dealership in the UK.
During tendering Longcross proposed a three month reduction in the construction programme by using a pre-cast concrete construction method.
With no curing times to contend with and a reduced requirement for temporary support/propping of floor slabs, the internal fit out works can begin earlier than would be possible with a standard in-situ solution.
Another benefit to Volkswagen with this approach is that it provides a more certain construction timetable as wet weather or problems are less likely to impede progress, Longcross said.
The superstructure for the showroom and car park consists of a complete pre-cast frame from ground floor slab to roof, to be designed and manufactured by Tamworth-based specialist PCE.
The pre-cast reinforced concrete column and beam mainframe support the pre-stressed concrete flooring with internal clear spans of up to 16m – enabling the removal of two rows of columns from the original concept and creating a more open interior. 

Structural stability will come from three pre-cast stair and lift cores complete with flights and landings. 
The pre-cast elements are all manufactured off-site in factory controlled conditions using steel moulds that guarantee the quality and uniformity of concrete finish. Where the units will be visible they will be finished by hand.
Connections for all leading edge protection and temporary works systems, as well as M&E systems, curtain walling and cladding, are built into the pre-cast elements during manufacture.
Longcross will also put in a 'green wall' on the south facing elevation, with a link bridge for pedestrians off the A4, as well as other associated enabling works including access roads, infrastructure, sewer systems and landscaping.
Longcross senior projects manager Jonathan Williams said: "Volkswagen has made the decision to use Longcross Construction for the first time, at the same time as putting confidence in a new construction method.  The project has presented us with the ideal opportunity to showcase the key skills and expertise gained in other areas of construction, such as food retail, in the automotive retail sector."
Got a story? Email news@theconstructionindex.co.uk