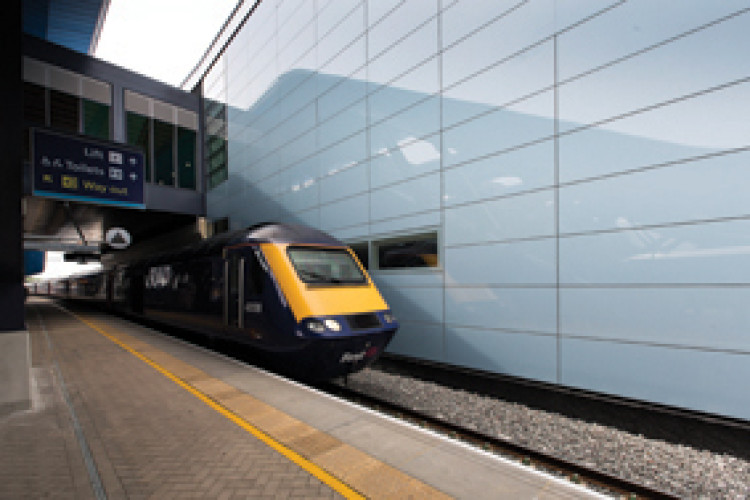 Because it supplies products for later stages of the building process, the economic downturn hit cladding and render specialist Sto slightly later than other parts of the construction supply chain. Back in 2008, when contractors were beginning to feel financial pain, Sto still had many projects in the pipeline. The company didn't start experiencing tougher trading conditions until the end of 2009.
But Sto is now emerging from this grim period with a strong order book, innovative products and a growing zeal for collaboration not only with architects but also with main contractors and applicators.
"We have seen a remarkable shift in the last six months and are looking forward to growth coming back through specification," says managing director Tim Deathridge, who has been with the company for around two and a half years. "There is a lot more money, both in the private and public sector. We are seeing a lot of investment particularly in big cities such as Manchester and London."
He is sitting in the company's newly opened exhibition and office building, Sto Werkstatt, in Clerkenwell, London. The recently renovated Victorian factory is visible evidence of Sto's keenness to broaden its relationships across the supply chain. The facility is being offered to specifiers and clients as a free meeting space and it will also host architecturally-themed exhibitions.
In the old days, Sto would have mostly worked with architects, but the company is increasingly reaching out to contractors, acknowledging their growing influence on the specification of building materials.
"We are now spending as much time having meetings with contractors on site as with architects during the initial specification stages," says Sto sales and marketing director, Wolfgang Görner. "We're advising contractors on any problems that might arise on the job and suggesting cost-effective solutions. We just want to make sure that we are covering all the bases."
Deathridge acknowledges that there can be tensions between the overarching aims of contractors and architect. Whereas designers may want to focus on sustainability, appearance and longevity of finish, installers' priorities could be driven more by productivity and cost.
"We have to tread a fine line between the [conflicting] needs of the architect and the applicator," agrees Deathridge, "but this is definitely influencing our product line. Previously we would have given the architect exactly what they wanted. Now we are collaborating on solutions that are easier to install. So it does change the way we think about things." One of the fruits of this closer collaboration is a product called Rotofix, a mechanical fixing system for rigid external wall insulation boards, launched two years ago.
"Rotofix has a reduced number of fixings, compared to traditional systems, so there is roughly 30% saving of time for installation, depending on the building design," Deathridge says.
The company also claims that its Lotus-Effect self-cleaning facade coatings are a world first, being the only superhydrophobic coating for facades on the market.
These coatings mimic the microstructure of a lotus leaf. Water and dirt are unable to stick to the surface and are naturally washed away by the rain.
Sto says that the coatings provide a natural protection from the growth of blue and green algae and have a much longer maintenance cycle than traditional masonry renders and paints.


But the company is particularly excited about its rain screen cladding range. The glass-based StoVentec system was launched in the UK last year and has already appeared on some high profile projects. Grimshaw Architects specified more than 1,200mÇ of smoky grey StoVentec Glass as part of the upgrade of Reading Station. The product is also cladding the new Canary Wharf station.
Deathridge is expecting that StoVentec could be specified on many new transport infrastructure projects. The product is a 30mmthick composite panel consisting of 6mm of toughened glass bonded to a carrier board and mounted on a stainless steel or aluminium subframe. It is one of the first glass-based facade systems that has undergone ISO 16933 blast and high explosives testing at the Spadeadam test site in Cumbria.
The StoVentec system shatters in the same way that a windscreen would on a car. Rather than disbursing in dangerous shards, the glass stays attached to the board. A comprehensive hanging system ensures that, by and large, the boards remain attached to the building. The system was tested against the blast of 20kg satchel bomb and a 100kg car bomb. "On the car bomb test, one of the panels dislodged and fell down the wall. All the other panels were shattered but remained intact," says Deathridge. "It all held together. Our tester said: 'that's not only a pass, it's a bloody good pass'." Deathridge, of course, is delighted.
He adds that interest in the StoVentec system is growing. Sto's order book is already double that of last year.
"Once we have made the impact in glass we will have the opportunity to move to other hard surfaces such as stone or terracotta [in our rainscreen systems]," Deathridge says. "This is will give specifiers and architects much more variety: building fashion is moving away from single material facades to combinations of glass and bricks or render."
Sto is increasing its training provision for contractors through its three facilities in Birmingham, Basingstoke and Glasgow. From the end of this year, the company will be promoting applicators that have undergone training courses through recommendations, possibly from its website, says Deathridge, although the details have yet to be finalised. 
"We could be appointing companies, a bit like a CORGI-registered scheme. Obviously anyone can buy our products. But if a client comes to us and asks who we should use, we could give recommendations. We will also be promoting our products through these appointed applicators."
He is encouraging any interested contractors to get in touch.
"We hope to have the scheme running by the end of the year, but if they want to come and train with us beforehand, they are naturally welcome to do that." 
• Sto, based in Germany, is active in 87 countries. It employs more than 4,000 people globally and has a sales turnover of €1bn. The company has been in the UK for the past 31 years.
This article first appeared in the June 2014 issue of The Construction Index magazine, which can be viewed in full at: http://epublishing.theconstructionindex.co.uk/magazine/june2014/
While the magazine is free to view online, a subscription is required to receive you own hard copy every month. This can be purchased for just £35 a year at http://www.theconstructionindex.co.uk/magazine
Got a story? Email news@theconstructionindex.co.uk