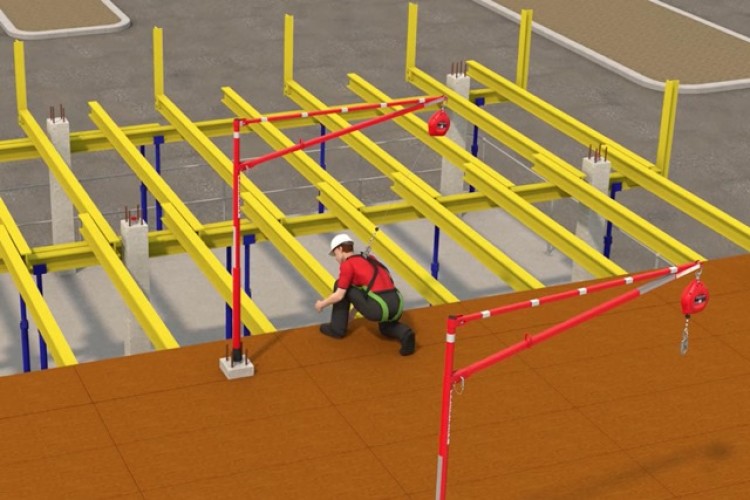 SkyReach Anchor has been tested and approved for use with the Miller Falcon product family of self-retracting lifelines that are can be used when fitting decking for horizontal formwork, loading and unloading vehicles or working on a leading edge.
"Our customers tell us about real limitations with traditional overhead fall arrest systems, namely that they require a crane not just to install but every time they need to be repositioned," said Combisafe product manager Wayne Kensett. "The beauty of the SkyReach Anchor is that it is lightweight and portable – so much so that it can be carried, installed and locked into position in seconds by a single worker without any need for a crane. Taking the system down or re-locating it is just as simple."
Weighing 25kg, the SkyReach Anchor is available in two attachment options: cast-in sleeve for use on concrete structures when decking formwork is being carried out (pictured above); and steel flange clamp for use as a fall arrest system when loading and unloading vehicles next to a steel structure (shown below).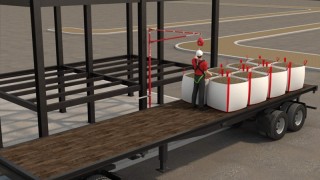 For formwork operations, the cast-in socket system provides 360 degree usability, the foldable boom and brace creating an 8.5-metre operating radius and a working surface area close to 230m2. When an area is completed, the operator can hook on to a neighbouring SkyReach Anchor before moving into a new work area.
The steel flange clamp can lock onto any steel column between 150mm and 450mm. Once in place, the SkyReach Anchor provides the worker with safe access to vehicle loading beds and gives additional security when working on a leading edge.
Combisafe says that SkyReach Anchor is also compliant with EN795:2012 Type B (PFPE Anchor Devices) and CE Certified by DEKRA EXAM GmbH.
Got a story? Email news@theconstructionindex.co.uk