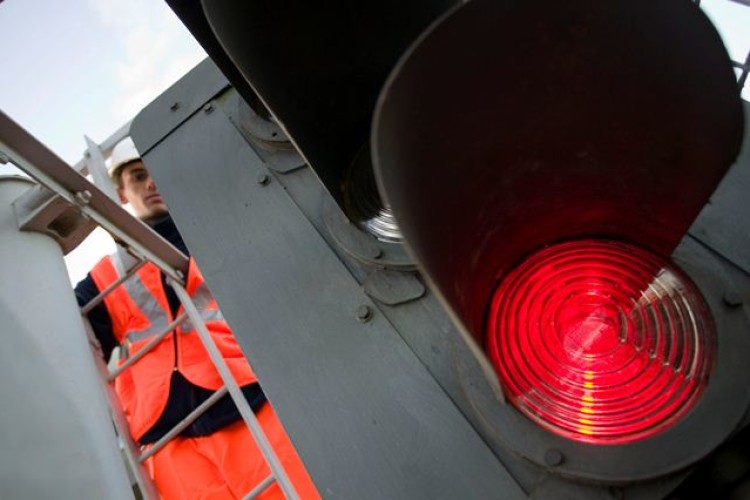 Transport secretary Patrick McLoughlin has stepped in after Network Rail appeared to lose control of its £38bn capital works programme.
The chairman has been removed, two key men put in to sort the mess out and work on two major projects 'paused' – which seems to mean axed for the foreseeable future.
A highly critical report earlier this month by the rail regulator said that at the end of 2014/15, Network Rail had missed 30 out of its 84 planned milestones with some projects facing delays or cost escalations. Track renewal is 7% behind plan; signalling renewals are 63% behind schedule; and overhead line renewals are 77% behind target.*
In a statement to Parliament, Mr McLoughlin said: "Electrification of the Great Western Line is a top priority. And I want Network Rail to concentrate its efforts on getting that right. On the Midland mainline better services can be delivered on that line before electrification, with things such as speed improvement works, so work on electrification will be paused. I want it to be done and done well. It will be part of our future plans for the route.
"Meanwhile, the next franchise for the Transpennine route between Leeds and Manchester will bring modern trains and additional capacity. Current work on electrification will be paused."
He also said that none of Network Rail's executive directors will be getting any bonus for the past year.
Chairman Richard Parry-Jones has been removed and replaced by current transport commissioner in London Sir Peter Hendy.
Former Eurostar chief executive Richard Brown, who is a non-executive member of the Department for Transport board, has been appointed 'special director' of Network Rail, to act as the secretary of state's eyes and ears within the organisation.
A third measure sees economist Dame Colette Bowe, a former Ofcom chairman, commissioned to look at lessons learned for Network Rail apparently screwing up its investment plans and to make recommendations for better investment planning in future. Her report will be published in the autumn, Mr McLoughlin said.
New chairman Sir Peter Hendy's first task is also to review the company's programme of rail investment and report back to the secretary of state on it in the autumn.

Sir Peter Hendy said: "Network Rail has a critical role in the railway industry and the whole British economy, by facilitating economic growth and enabling job creation. I am delighted to be asked to chair the board and help it, the executive team and the whole organisation fulfil Network Rail's full potential. I am looking forward to working with Mark Carne as he takes the organisation forward."
Sir Peter Hendy has been commissioner of Transport for London (TfL) since 2006, having previously served since 2001 as TfL's managing director of surface transport. He started his transport career in 1975 as a graduate trainee with London Transport.
Welcoming the appointment Mayor of London Boris Johnson said: "Peter Hendy has given 10 years of superb service to London. He has helped oversee the biggest programme of investment in transport since Victorian times - from Crossrail and the Tube upgrades to the cycle superhighways. He delivered a near perfect transport plan during the Olympic and Paralympic Games and earned TfL the admiration of passengers from around the world. It is quite right that those skills should be deployed on the national stage. I look forward to continuing to work closely with Peter on projects like Crossrail 2 and rail devolution that are of colossal importance for London and the UK economy."
Business groups were naturally concerned about the suspension of upgrade projects.
Civil Engineering Contractors Association chief executive Alasdair Reisner said: "The scale of the challenge to deliver CP5 is immense and the construction industry is aware of the daily difficulties faced by Network Rail in its aim to deliver as efficiently as possible. This substantial investment in our rail network comes at a time when our industry is primed to deliver world-class infrastructure.
"The CP5 programme was developed in response to record levels of demand on the network. This is not something that looks set to diminish. As such, it is vital that all of the projects planned for CP5 are delivered as promptly as possible. While it may be necessary to shift some works into the next control period, every effort must be made to ensure they are ready for delivery in 2019. A failure to do this will have a crippling impact on capacity for some of the UK's vital rail lines. As an industry, we need to work with Network Rail to help it overcome these challenges, and continue the momentum of investing in UK rail."
Freight Transport Association chief executive David Wells said: "The infrastructure enhancements are vital for making sure the UK can capitalise on use of rail for its freight needs, with all the environmental and safety benefits that will bring.  It is disappointing that Network Rail's programme has run into delays and increased costs, and FTA is glad that the secretary of state has taken these steps today to address the problem for the future. It is disappointing to see any upgrades to our rail network delayed, as it still suffers from historic underinvestment that prevents it playing its full role on our supply chain."
CBI business environment director Rhian Kelly said: "Given the complexity of large investments in railway projects, it's understandable that things don't always run to schedule. However, delivery of these projects is critical to continuing the process of upgrading the UK's rail network and providing a more efficient service for passengers. It's important that the government provides a clear signal as soon as possible about when these much-needed investments will go ahead."
* Office of Rail & Road's Network Rail Monitor for 2014/15 can be read at http://www.orr.gov.uk/__data/assets/pdf_file/0004/18157/network-rail-monitor-2014-15-q3-4.pdf
Got a story? Email news@theconstructionindex.co.uk