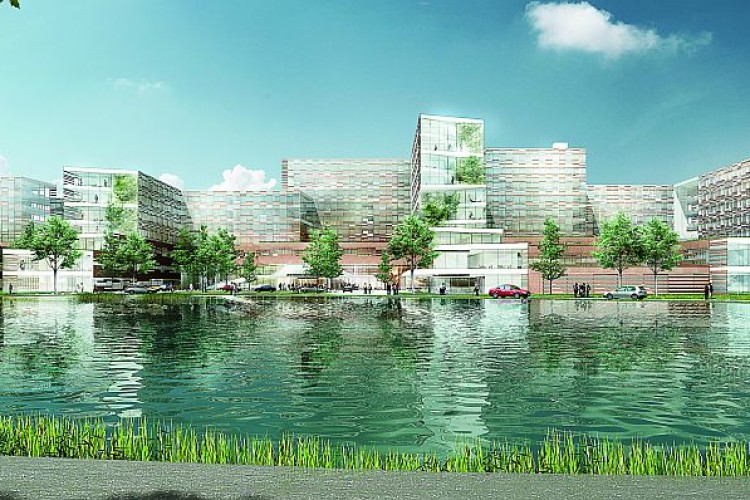 A new super-hospital will create a new district in the Danish city of Køge, which has a population of just under 40,000 people.
Køge University Hospital (USK) is an expansion of the existing Køge Hospital, which will be increased threefold to a total area of 177,000m².
"With a background in extensive interdisciplinary work, we have created a holistic project that integrates city and hospital, and thinks far beyond what one traditionally associates with a hospital," said project leader Hans Kragh. "A central part of the hospital is healing environments where all patients from the wards can experience landscape views towards the west or in the direction of Køge Bay. The super-hospital will make its mark as an integrated part of the landscape and also become work place of huge importance for the area."
The client, Region Zealand, described it as a visionary project, both in terms of architecture and functionality. There is a huge amount of flexibility in the organisation of hospital functions, which provides good opportunities to support our vision of coherent patient treatment."

The hospital is designed to be flexible for future needs in terms of technology, treatment types and working methods. The compactness of the building means there will be fewer corridors in the new hospital, and shorter distances for staff to walk. The relatively limited area required in relation to the building's size will make it possible to add new wings in all directions at a later time.
Mobile robots, or AGVs (automated guided vehicles), will be used to transport meals, linen, medicine and so on and a pneumatic tube postal system is designed to automate the internal logistics systems and release staff resources for the care and treatment of patients.
Construction is due to start in 2015 for completion in 2020 with it coming into full service in 2021.
Got a story? Email news@theconstructionindex.co.uk