During the third quarter of the year, a record net balance of 41% more respondents reported rises in privately-funded housing projects compared with the previous period (from +31% in Q2).
RICS said that it was significant that this was the first time that every part of the country reported growth since the beginning of the market crash six years ago. It demonstrates that the long-awaited upturn in numbers of new homes may finally be under way, RICS said.
Across the construction sector, workloads rose during the three months to September at their strongest rate since the summer of 2004 (net balance +31%). As well as house-building, this growth was largely driven by private commercial and industrial developments.
As the summer months drew to a close, there was also good news for employment prospects with a net balance of +49% expecting more jobs to be created in the sector over the next 12 months. However, this is inevitably accompanied by a jump in reported skill shortages.


Surveyors are expecting a sharp acceleration in business activity during the next 12 months. A net balance of 71% of respondents see the volume of work picking up speed, with output likely to rise by close to 4% over the period. This optimism was also reflected in positive predictions for company profits as the sector begins to dig its way out of the downturn.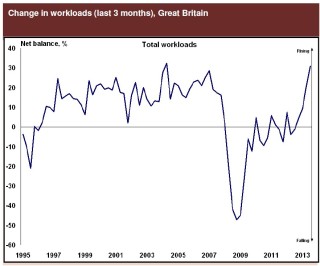 Above: Q3 RICS Construction Market Survey
RICS chief economist Simon Rubinsohn said: "While it's certainly good news that construction – and especially housebuilding – is finally on the rise right across the UK, we are certainly not out of the woods yet. Critically, we're still way behind in terms of building enough homes to meet the nation's growing housing need and overall construction projects are at a historical low. In the face of this challenge, it is a particularly concerning that we are already receiving reports of some skill shortages as well as capacity constraints for some building materials such as bricks."
Got a story? Email news@theconstructionindex.co.uk