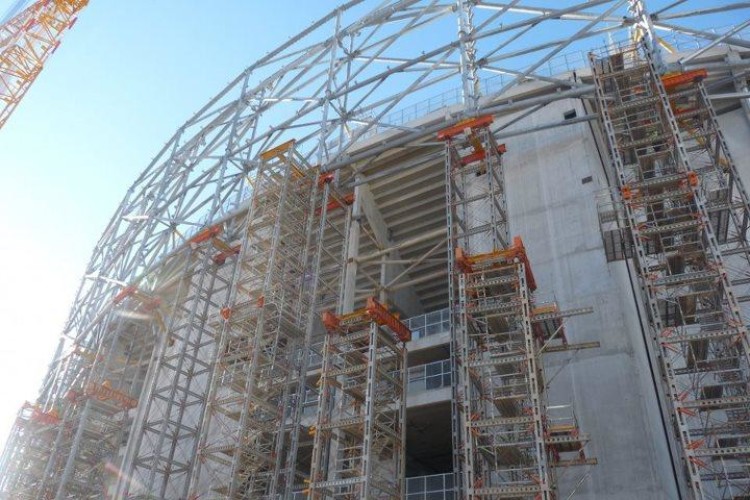 A new futuristic, self-supporting roof is being constructed at the stadium and the main Jean Buin Stand is being completely rebuilt. The three other stands are also being partially redeveloped to boost the capacity from 60,000 to 67,000 seats in preparation for the Euro 2016 football tournament.
The redeveloped 67,000-seater stadium has been designed to rectify criticism that was levelled at the stadium during the 1998 World Cup, for not providing sports fans with enough cover.  The new futuristic-looking roof has been designed to give spectators full protection from wind and rain. 
The stadium features 6,000 additional 'business seats' located in the VIP section as well as increased capacity for general spectators. It was important that pillars supporting the new roof would not affect visibility of the pitch.  To account for this, RMD Kwikform needed to devise an effective solution that would allow the new self-supporting roof structure to be completed for the 2014 deadline.
To support the extremely heavy self-supporting roof structure, a complex solution involving Megashor towers was devised by RMD Kwikform.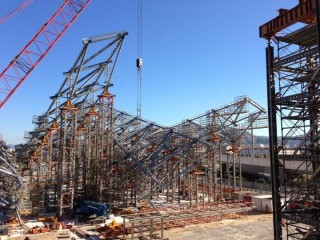 The towers were constructed around a portion of the stadium to support the roof structure and the steel lattice beam exterior. Steel beams placed at various heights were connected using specialist node points to further strengthen their structural integrity. To support the extreme horizontal and vertical loads produced by the installation of the roof structure, multiple sets of Megashor Towers were required.

In order to support the roof structure, specialist concrete bases were constructed around the stadium using piled cylindrical concrete with cast in-situ concrete beams. These would then house the main Megashor fixing plates, allowing the towers to be simply dropped into place and firmly secured.
Each Megashor tower could be assembled at ground level near the construction site, reducing the risks of working at height.  Starting with the concrete bases and fixing parts, mobile cranes and tower cranes were used to lift and fix the preassembled units into place, creating some of the world's tallest Megashor towers. To further support the load bearing capacity and wind resistance of the larger towers, steel Superslim soldier bracing was used to tie the towers together. 
Multiple Megashor towers were produced, each one housing a range of specially fabricated node points. These special node points could support up to six steel beams, protruding at specific angles, which would then connect to the main roof beam.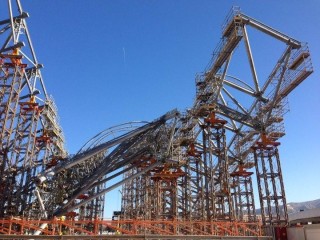 The use of 3D modelling allowed RMD Kwikform to visualise a solution that could be put in place. One of the main challenges was dealing with the scale of the stadium while needing to cut costs and speed up programme time. To overcome this, the solution has allowed reuse equipment from other parts of the stadium when it was no longer needed.
Got a story? Email news@theconstructionindex.co.uk