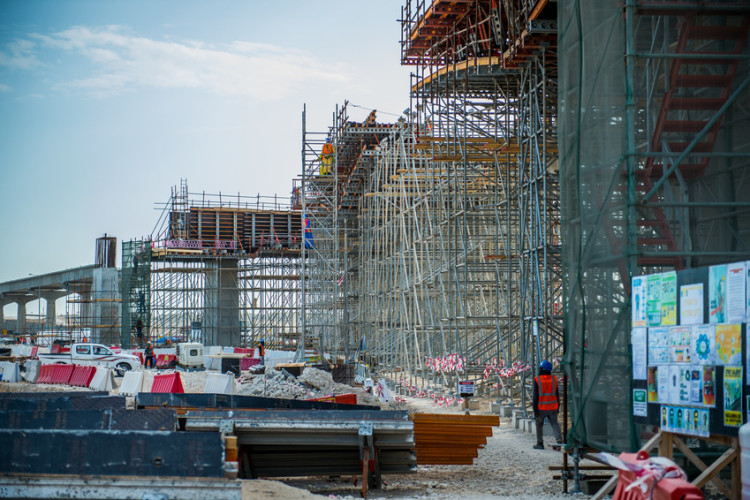 Phase one of the metro work is well under way and the construction of the Red Line South (RLS) elevated and at-grade section of the project is being led by the FYAP JV, consisting of FCC, Archirodon, Yuksel and Petroserv.
The RLS project includes the construction of a 5.8km viaduct, three elevated stations with one at grade and a 1km underpass structure. FYAP JV appointed RMD Kwikform to provide the systems to support the in situ bridges and stations.
Ahmed Awaly from RMD Kwikform said: "The overall design process was very complicated as the project was divided into several sub-projects, each with its own team and challenges. As the soffits sloped in all different directions across each section of the bridge, at tender stage, we worked closely with FYAP JV's technical, planning and construction teams to determine which system would accommodate every element of the project."
RMD Kwikform produced 3D designs and conducted 3D frame analysis to create a solution that was fit for all sub-project teams, using only standard components. In total RMD Kwikform has delivered 3,536t of equipment to site, including Megashor and Kwikstage, Rapidshor, GTX and Aluminium Beams, and Superslim Soldiers.
The heavy-duty Megashor system was provided to support the launching gantries during their erection. The system can be adjusted to support various heights and lengths, giving each team flexibility. For the large piers, Megashor legs were used and steel Superslim Soldiers to laterally support the permanent works.

"Rapidshor, Superslim Soldiers and Alform aluminium beams were also used in tandem to provide support for the construction of Al Wakra Station," said Awaly. "Using the Rapidshor tilting heads, the curvature and sloping segments of the bridge were accommodated without additional support or timber wedges."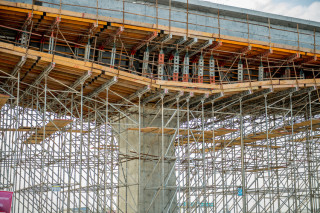 By using only 'standard' kit, instead of specially designed solutions, the site team were able to erect the equipment faster and safely; this was essential due to the strict project timelines and the close proximity to nearby busy streets in Doha and Al Wakra. The RMD Kwikform site assistance team also had a constant presence on site to provide training and ongoing support.
Awaly added: "Alongside the design complications, another challenge we faced was effectively managing the logistics and delivery of all equipment. On securing the project we assigned a dedicated team to manage each facet of the project, from engineering, training, customer service and logistics."
Got a story? Email news@theconstructionindex.co.uk