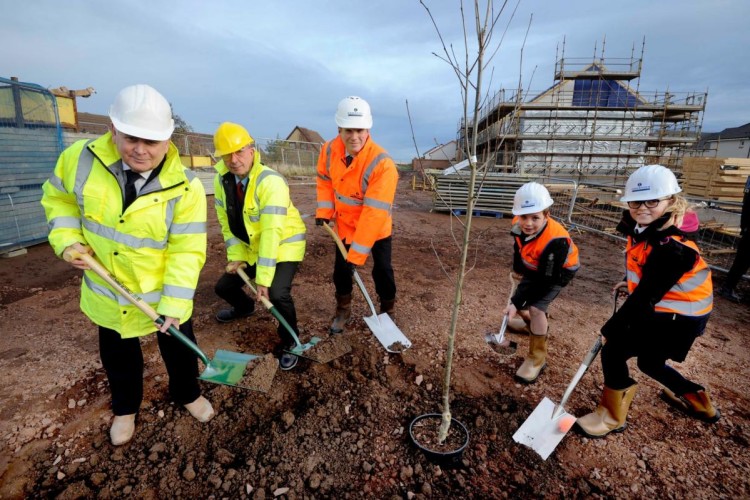 They are being built using a finance model developed by East Lothian Council and its partners.
East Lothian Council worked with Robertson Capital Projects (RCP) and Ross Development & Renewables (RDR) to create a mechanism that would allow the homes to be delivered using the council's long-term affordable rental income to underpin private sector funding.
The move has been welcomed by Scottish government cabinet secretary for finance, economy and fair work, Derek Macka, who said: "I am pleased to see work starting today on 60 affordable rented homes in Dunbar. 50 of these units will be built without any government subsidy, with this innovative funding model accessing an ethical pension fund."
He added: "I am also delighted to see the construction of a further 10 units for social rent by East Lothian Council, which will be supported by nearly £0.6m of Scottish Government Affordable Housing Supply Programme funding, and which will help us meet the target to deliver 50,000 affordable homes by 2021. This development demonstrates what can happen when the public sector and private sector work closely together."


Councillor Jim Goodfellow said: "I am delighted that East Lothian Council has been able to reach agreement with partners on this unique finance model, which means we are able to offer more social and mid-market rental properties in a key location next to good schools, public transport links, amenities and facilities, with a minimal capital outlay for the council.
"The fact that these homes will eventually revert to council ownership too means it's a sustainable option for the long-term as well as providing security of tenancies for our residents. It's a shining example of how working with partners can help shape our communities and give more access to affordable housing options."
Neil McCormick, managing director of Robertson Capital Projects, added: "We have been working incredibly hard for the last two years to make this delivery and funding model a reality because we understood the need for private sector support in order for local authorities to meet their key housing targets. I am confident that it will be the first of many. We are deeply proud to have played such a significant role in what will be deemed as a game changer in the affordable rental housing market for many other local authorities across Scotland."
Ken Ross, CEO at RDR and chair of 3H York, said: "We are delighted to be working in Scotland with a number of councils using this innovative funding model, which does not require a penny of public subsidy. This means that the private sector takes responsibility for acquiring land, procurement, programming and funding and there is no reliance on grant funding to deliver these new affordable homes. The council can therefore accelerate its programme for much needed projects where no alternative funding solution exists, and it also means that the council acquires the homes at the end of the lease for a nominal fee resulting in ownership of a significant asset with no capital cost."
Got a story? Email news@theconstructionindex.co.uk