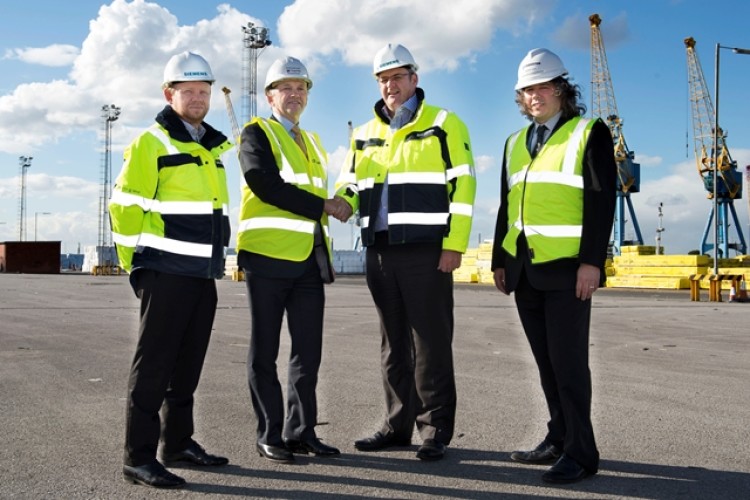 The 12,300m2 development will support the wind turbine blade factory that VolkerFitzpatrick is currently building at the site. It will provide facilities for the service and maintenance of wind turbines as well as a storage depot for parts and equipment required in pre-assembly and operational phases. It will also be the logistics hub for Siemens' UK onshore and offshore service business.
Shaun Cray, Siemens' general manager for the Hull project, said: "Clugston supplied the most competitive bid, in terms of programme and price, as well as proposing an innovative engineering solution to deliver enhanced value to Siemens, in order to secure this contract against significant competition from other high-quality regional and national construction companies."
Construction of the facility will begin in November and is scheduled to be completed in early autumn 2016.

Mr Cray added: "The Clugston appointment is the final piece in the development jigsaw for the Hull project. The harbour regeneration works being delivered by contractors appointed by ABP are well advanced and VolkerFitzpatrick is making good progress on the blade factory. With this appointment we have completed the pre-construction activities and are now into the phase of delivering the harbour and buildings ready for operational start in autumn 2016. Everything is now in place to deliver all the Hull facilities within our project timeframe."
Clugston Construction managing director Steve Radcliffe said: "As a local business whose involvement in the Humber area stretches back almost 80 years, we are excited to be playing a part in building this facility which will play such an important role in the growth of the offshore wind industry and establishing the region as the centre of renewable energy in the UK."
Clugston was founded in 1937 by the father of the present chairman, John Clugston, and this year recorded the highest turnover in its history at just over £250m.
Got a story? Email news@theconstructionindex.co.uk