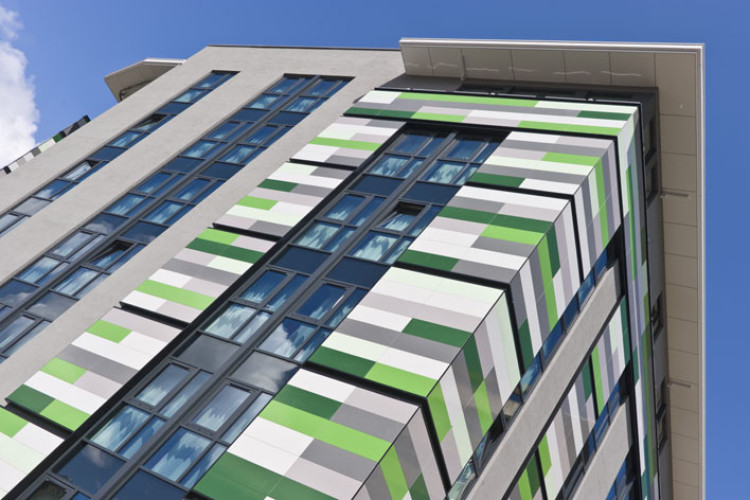 To both enhance the character of the surrounding area whilst developing a distinctive corporate image and presence for Ronald McDonald House Charities
through the form of the building and the imaginative use of materials and colours.  To turn the intricate plan into reality, Carea, market leading producer of facade solutions, provided its Acantha cladding system, part of its extensive range of cladding systems. 
Ronald McDonald House Charities is an independent charity which provides free accommodation for families with children in hospitals and hospices across the UK, helping to keep family units together and encouraging families to support one another through what can be an emotionally challenging time. 
It is the largest purpose-built centre that the charity has developed, with a mixture of administrative facilities and day visitor rooms at ground floor, with the upper floors providing not only 60 private rooms for families to sleep, but also communal spaces for families to meet with others and communal kitchens where meals are prepared and eaten.
Main contractor Bowmer & Kirkland oversaw the build whilst specialist contractor ECL Contracts was called in to install the facade. 
The high quality rainscreen system provides a flexible, crisp finish to each element and plane, whilst a smooth render finish to the secondary layer creates a contrasting and neutral backdrop. Given the use of the building and its association to a children's charity, the use of colour has been carefully considered both in terms of aesthetics and also its psychological effect. Eight different colours of Carea's cladding system were selected for the exterior, including three greens, three greys, a white and a black. Supplied in varying matt and gloss finishes the colours were chosen to match specified RAL colours. The greens were selected for their association with nature and inherent calming qualities, whilst the grey and silver tones providing security, neutrality and substance. The introduction of colour into the scheme provides a very animated building and gives it a unique identity which the Charity is keen to promote throughout their national building programme. 
The logistical management of such a complex exterior required careful planning as in addition to the various different colours, 521 different panel sizes were required to create the desired pattern. The challenge of producing the cladding materials was met by Carea, whilst ECL Contract's wealth of technical and project management expertise was key to meeting the architect's vision. 
As well as providing a stunning exterior for the Ronald McDonald House, the insulated rainscreen system clad with 14mm thick Carea panels offered superb thermal insulation, protecting the building against changes in temperature and removing thermal bridging. The Carea rainscreen system also provides excellent acoustic insulation, providing peace and tranquillity within the family bedrooms and communal living accommodation. 
Alongside excellent performance qualities, Carea cladding panels are long lasting, offering superb economy. Resistant to climate, they are also unaffected by graffiti due to their non-porous composition. Being grooved panels, they are also easy to install and fit securely in place. 
The Carea cladding system was held firmly in place with a cladding support system provided by Eurofox Engineering. Following the installation of Eurofox Engineering's vertical aluminium rails and rigid insulation boards to further optimise the hospital's thermal efficiency, the Carea cladding was installed in layers up the height of the building, with great care taken to match the architect's vision. 
Now complete, the Ronald McDonald House at Birmingham Children's Hospital has a striking and eye catching exterior. Not only a local landmark, the Carea facade is a prime example of the potential of aesthetics to play a key role in the function of buildings – in this case helping to provide a calm and relaxing environment for parents whilst their children are in hospital.
Got a story? Email news@theconstructionindex.co.uk