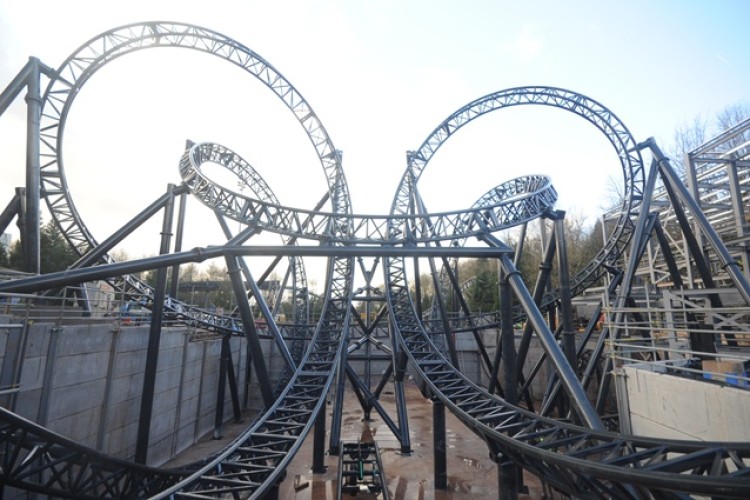 Alton Towers' latest greatest ride is set to open in May. Called The Smiler, it has been designed to stir all the senses and 'marmalise' the minds of all who ride on it, with 30-metre drops and secret psychological tricks built in.
Costing £18m to build, it represents the park's biggest single investment.
Some 700 tonnes of steelwork were delivered to site for assembly, but not before concrete footings were laid and tested.
Under the instruction of TG Cruse Groundworks, Kiwa CMT Testing sampled and tested the concrete used for the bases that support the structure.
With coaster cars twisting and turning at speeds of up to 52mph, it was down to Kiwa CMT to ensure that, once in place, the mix used will withstand the many stresses that will occur during the lifetime of the ride.
As the fresh concrete was delivered to site, periodic samples were taken. A slump test determined the workability of the concrete sample.
Test cubes were compacted and returned to the laboratory in Derby. After overnight setting, the samples were then cured in accordance with BS EN12390-2:2009. The density and compressive strengths were tested to
BS EN 12390-7:2009 and BS EN 12390-1:2000 respectively.
In its tests, Kiwa CMT is checking for any loss of strength. For each 1% loss of compaction, between 5% and 10% of potential strength of the concrete is lost. Correct and early curing is critical because as much as 50% of seven-day strength and 10% of 28-day strength may be lost by incorrect procedures.
Got a story? Email news@theconstructionindex.co.uk