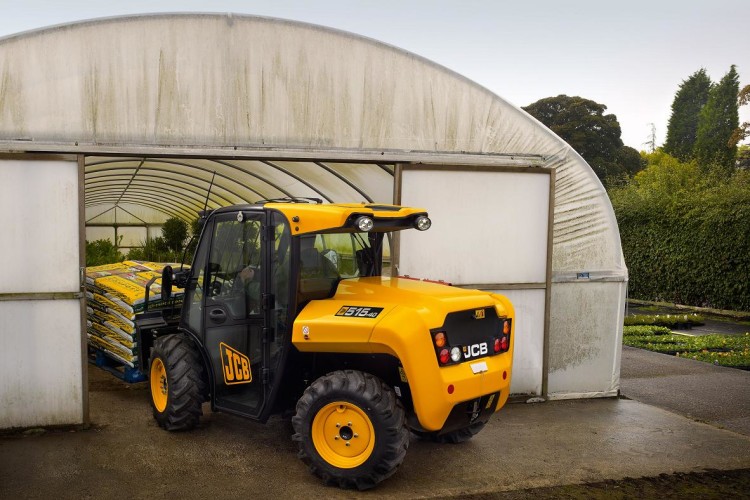 The new small but mighty 515-40 model is 1.8m high, 2.97m long and weighs less than 3.5 tonnes. Delivering powerful performance despite these compact dimensions, the machine will bring the benefits of JCB's market-leading Loadall range to previously inaccessible construction and industrial applications.
For the horticulture industry, the versatile new model is able to perform many of the on-site tasks which may have previously required several different machines and will prove ideal for commercial growers, garden centres and nurseries.

At the heart of the JCB 515-40 is an innovative, patented chassis design. To achieve the lowest possible working height, JCB has challenged conventional design concepts to develop this unique, off-set, single-spine chassis with the machine's cab then occupying the resulting space.

As a result, the machine boasts a spacious operator environment, with easy access, yet the overall height of the machine is reduced to less than two metres - a barrier which has previously prevented compact telescopic handlers performing in many otherwise suitable applications.

Designed for efficient manoeuvrability in restricted spaces and difficult ground conditions, the JCB 515-40 features 4-wheel drive, 4-wheel steering and a hydrostatic transmission. Powered by a 50hp Deutz engine, the JCB model can handle a 1500kg payload at a 4-metre lift height. For added versatility it can be specified with a compact Loadall or skid steer Quickhitch, opening up a vast range of compatible attachments. This extra functionality, combined with ease of operation makes the machine highly attractive to plant hirers.                                
Also on show at Saltex will be JCB's 6x4 and 4x4 versions of its successful Groundhog utility vehicles.  The JCB Groundhog 4x4 is tough, versatile and reliable - opening up a vast range of potential applications in the agricultural, estate management, golf course management, construction and landscaping sectors.

Building on the success of the popular JCB Groundhog 6x4, it boasts many of the same key features such as high payload, versatility and the availability of road legal kits. It is powered by a 19.5kW (26hp) diesel engine, delivering impressive torque and a top speed of 50kph (31mph). The result is unrivalled performance and handling whether in arduous ground conditions, on hilly terrain or road travelling between sites. 4x4 CVT transmission with high/low gear range and engine braking give easy driving and control, while all-wheel hydraulic disc brakes with split circuit and a twin calliper parking brake provide excellent stopping power and safety.

The JCB Groundhog 4x4 features fully independent suspension at each wheel, with high ground clearance and progressive rate springs at the rear - giving impressive road holding and a smooth ride in rough terrain - whether laden or unladen.

Ideal for transporting people across rough and delicate ground – the JCB 6x4 Groundhog utility vehicle has already proved extremely popular in a wide range of markets including: country estates, agriculture, specialist hire companies, sports venues, utility companies, golf courses and grounds maintenance contractors.

The permanent 4-wheel drive utility vehicle is powered by a 768cc, liquid-cooled, 20 hp (14.9kW) diesel engine. It features CVT transmission including manual differential lock with a Kevlar drive belt for enhanced durability. The machine delivers class-leading performance with a max travel speed of 18 mph (29 km/h), max payload of 500kg and a towing capacity of 500kg.
Got a story? Email news@theconstructionindex.co.uk