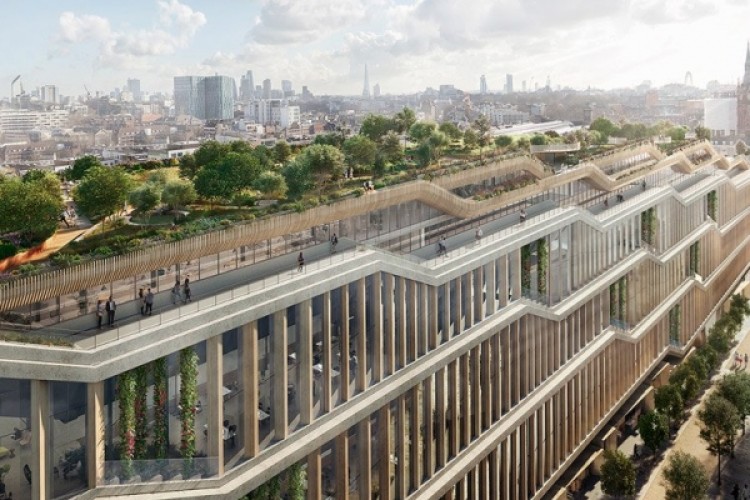 Steelwork for the new Tottenham Hotspur stadium, the retractable roof on Wimbledon Number One Court and the 22 Bishopsgate tower in London have all contributed to growing profits and revenue for Severfield.
It is now about to start work fulfilling an order for nearly 16,000 tonnes of structural steelwork for Google's 11-storey head office building at Kings Cross in London. This £50m order was secured in December 2017 and is scheduled to start in the second half of the current financial year, which runs to end of March 2019.
Google's new 92,000m2 London headquarters has been designed by Bjarke Ingels Group and Heatherwick Studios. It will run parallel to the platforms of King's Cross railway station, with a length of 330 metres. Lendlease was selected as main contractor for the project in February 2017.
Severfield has reported interim revenue of £149.1m for the six month period to 30th September 2018. This was an increase of £12.0m (9%) on the same period last year, predominantly reflecting an increase in order flow and production activity during the period.
Underlying profit before tax was up 2% to £13.1m against a particularly strong 2017 first-half profit of £12.9m that included higher than normal profits from certain project completions, the board said.
The year 2018 has seen changes to Severfield production facilities. In January 2018, it reorganised factory operations in North Yorkshire, consolidating steel fabrication at Dalton and Sherburn into the Dalton facility. "This combined facility is now operating at scale and the reorganisation of our operational footprint has contributed to increased operational efficiencies which are benefitting operating margins," chief executive Alan Dunsmore said.
The huge Google contract notwithstanding, the UK order book of £230m at 1st November 2018 (1st June 2018: £237m) now comprising more small, lower risk projects, Severfield said.

There is also good news from the company's Indian joint venture, which after a slow start is bearing fruit, contributing £400,000 to profits (2017 H1: £100,000).
It all represents a strong bounce-back from a company that incurred heavy losses not long ago on the Leadenhall Building – better known as the Cheesegrater – in London. Severfield lost £10m on the construction and then in November 2014, just a month after it had finished, massive bolts started breaking off, costing another £6m to put right. Tests found that bolts were fracturing due to hydrogen embrittlement, a material failure mechanism within the bolt material. The legal dispute between Severfield, developer British Land, main contractor Laing O'Rourke and structural engineer Arup still continues.
"Discussions remain ongoing with all stakeholders to determine where the financial liability for the remedial costs should rest," Mr Dunsmore said.
This aside, the outlook is bright. "Our continued operational and strategic progress has resulted in another period of growth for the group," he said. "In addition to a high quality and stable UK order book, we continue to see good progress in India and have established exciting new organic opportunities for growth. With our market-leading position, we are well placed to deliver on our strategic objectives and generate enhanced value for our shareholders."
He said: "Overall, the UK market continues to appear stable, with modest economic growth forecast, in tandem with our pipeline of potential future orders which also remains stable. We continue to see good opportunities across the commercial office, industrial and distribution, data centre and infrastructure sectors, together with those in Europe and the Republic of Ireland. Whilst we are currently seeing some lower tender margins on projects that we are bidding we have been able to offset these with efficiency improvements and other contract execution gains.
"Looking further ahead, we continue to pursue a number of significant infrastructure opportunities, particularly in the transport sector, which are being driven by the UK government's investment in infrastructure commitment which is targeted to increase over the next few years. This will include projects such as HS2 (both stations and bridges) and the expansion of Heathrow airport. In addition, we also see good opportunities from the government's ongoing Network Rail and Highways England investment programmes. The combination of the group's historical track record in transport infrastructure, together with our in-house bridge operations, leaves us well positioned to win work from such projects, all of which have significant steelwork content."
Got a story? Email news@theconstructionindex.co.uk