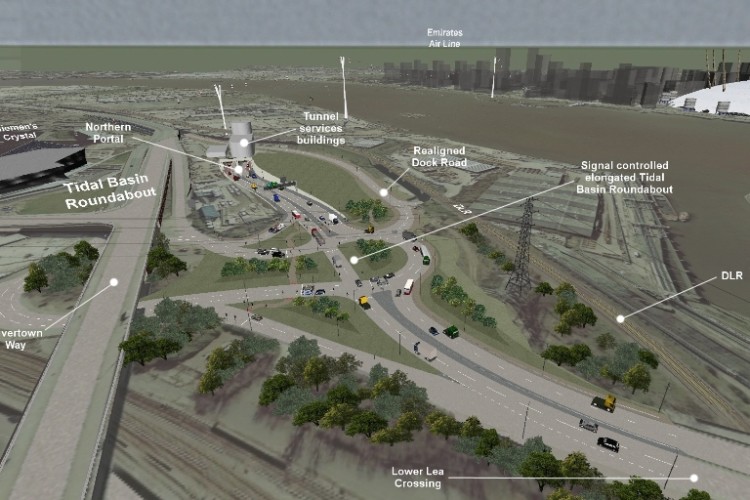 Transport for London has applied to the secretary of state for powers to build a twin bore road tunnel under the River Thames. Under the terms of the Planning Act 2008, the secretary of state was supposed to make a decision by 11th October 2017, but he pushed it back by a month. Now that deadline has been and gone he has said that he needs another six months to decide.
The deadline for the decision is to be extended to 10th May 2018 to enable further consideration of the effect of the scheme on air quality, including its compliance with the updated UK plan for tackling roadside nitrogen dioxide concentrations published by government in July 2017.
The delay was criticised by Lord Adonis, chairman of the National Infrastructure Commission, a government advisory body.
This project was one of 12 that the chairman of the National Infrastructure Commission, Lord Adonis, identified after the general election in June as crucial for the new government to press ahead with urgently.

On hearing that the Silvertown tunnel decision was to be further delayed, Lord Adonis said: "Another Thames crossing is desperately needed to ease congestion, improve air quality and support the further development of east London. Today's announcement to further delay a decision on the proposed Silvertown tunnel is very disappointing, halting progress and leaving communities in limbo.
"I strongly urge ministers to act swiftly and to bring an end to this latest delay much more quickly than in six months' time, so we can make progress on this much needed crossing."
The Silvertown Tunnel, as planned, is a twin bore road tunnel under the River Thames, providing a new connection between the A102 Blackwall Tunnel Southern Approach and the Tidal Basin roundabout junction on the A1020 Lower Lea Crossing in London. It was designated a nationally significant infrastructure project by the secretary of state for transport in 2012, which is why TfL had to apply for a development consent order (DCO) to build and operate the scheme.
Got a story? Email news@theconstructionindex.co.uk