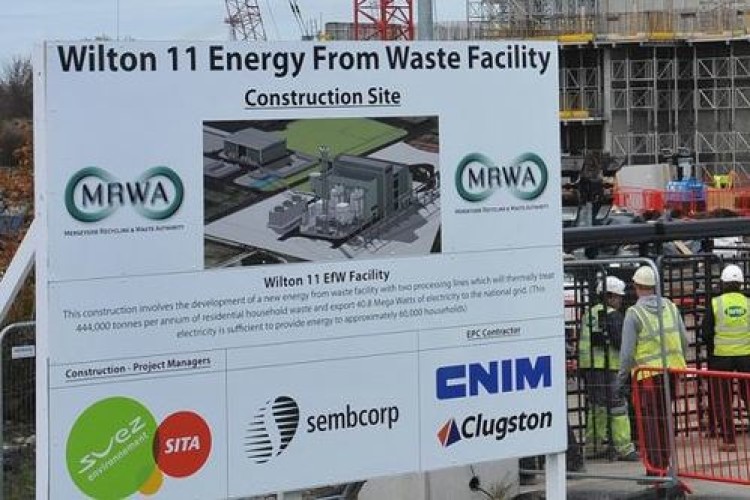 The £200m project has been the focus of union interest for months. GMB, Unite and Ucatt are concerned about the pay and conditions of the immigrant labour on site. It is alleged that local labour has been steadily let go and more immigrant labour shipped in to cut costs.
For some, the issue is local jobs for local people; for others it is the exploitation of immigrant workers enduring substandard pay and conditions.
Construction activities are being managed by joint venture company CNIM Clugston Wilton Ltd for client Sita Sembcorp.
Investigating further, the three unions employed independent interpreters to interview workers. They found that while they were getting above the statutory minimum wage, they faced deductions by umbrella companies that technically employ them and conditions were significantly below national agreements for unionised construction workers.
The site visit took place on Monday 17th August 2015 with three interpreters – one Croatian, one Punjabi and one Polish. Each interpreter was also fluent in a number of other languages.
GMB regional officer Michael Blench said: "After visiting the SITA site I was appalled to find the treatment of the migrant labour."


He said that there appears to be little consistency of pay rates on site. Mechanical fitters are paid €9 or €10 an hour (£6.60 to £7.30). The best paid are a couple of welders who get €13 an hour, he said. Most of them said that their lodgings in Stockton were paid for by the company Bilfinger Duro Jackewiz. A few said there were deductions for lodgings which were taken off their wages. There was no holiday pay for anybody interviewed. After three months, some got paid leave to visit home and some did not.
Croatians and Bosnians are treated differently. Bosnians have to pay 20% off wages to an agent when they returned home. There was multiple and excessive use of umbrella companies with everyone on different rates, the unions found.
Unite regional officer Steve Cason said: "We have suspected all along that the undercutting of pay and the exploitative use of umbrella companies is taking place on the site.
Now we know it's true and that a coach and horses is being ridden through national agreements established to maintain standards and ensure workers are paid a fair days pay for a fair days.
"This race to the bottom and exploitation of workers has got to stop with Sita and Sembcorp intervening to ensure people are paid in line with national agreements."
Ucatt regional secretary Denis Doody said: "The level of exploitation being suffered by workers at Wilton is disgusting. The employers undertaking this exploitation have no shame or morality. They are just interested in making large profits as quickly as possible. Sita and Sembcorp can no longer turn a blind eye and most intervene to end this workplace misery."
Got a story? Email news@theconstructionindex.co.uk