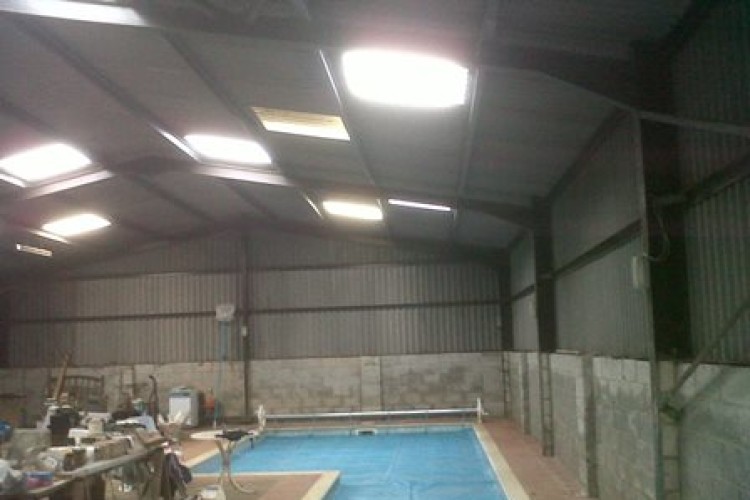 The worker, from Ashford, fractured his shin and a vertebra in the incident at Elvington Lane in Hawkinge on 30th April 2013.
The roof light the 32-year-old man crashed through was on an outbuilding housing a swimming pool. Although the water partially cushioned his fall, he made a heavy impact with the side around the pool, and was unable to return to work for nearly three years and only then on a part-time basis.
Glasgow-based PV Solar UK Ltd was sentenced at Canterbury Crown Court this week after an investigation by the Health & Safety Executive (HSE) found that more could and should have been done to prevent the fall.
The court had heard in a hearing in January 2016, when the company pleaded guilty to three health and safety offences, that the injured worker was part of a three-man team working on the pool building to replace faulty solar panels that were initially installed by the same company in April 2011.
The fragile roof also contained eight roof lights and he fell through one of these as he walked on the roof while carrying a panel.
HSE established that a scaffold tower, ladder and safety harness had been provided for the panel replacement work. However, none of the installation team had received any formal training or instruction on how to use them. This effectively rendered the equipment useless. Other measures could also have been taken, such as providing full scaffolding or hard covers for the rooflights.

HSE established that although the initial installation work in 2011 was completed without incident, the safety equipment provided on that occasion was also lacking, which again had placed workers at risk.
The court had also been told that PV Solar was served with a prohibition notice by the HSE to stop unsafe work on a fragile roof in Bristol in May 2011. Therefore the company was aware of the need to ensure that adequate provisions were in place to prevent or mitigate falls during work at height.
PV Solar UK Ltd, of Cambuslang Road, Glasgow, was fined a total of £153,000 and ordered to pay a further £29,480 in costs after pleading guilty to three separate breaches of the Work at Height Regulations 2005.
HSE Inspector Melvyn Stancliffe said after the hearing: "The injured worker suffered serious injury in the fall and could have been killed. He and his colleagues were effectively left to their own devices with equipment that was not wholly suited for the task at hand. In short, better equipment, training and supervision should have been provided.
"Working on or near a fragile roof or materials is not a task to be undertaken without proper planning, and without having the appropriate safety measures in place at all times. There is considerable free guidance available from the HSE regarding the precautions needed when working at height, including on or near fragile roof coverings."
Got a story? Email news@theconstructionindex.co.uk