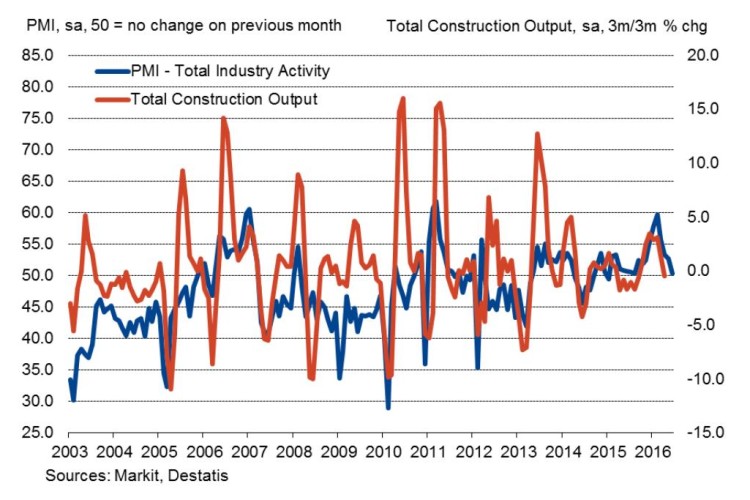 June's data pointed from the Purchasing Managers' Index (PMI) pointed to a near-stagnation of output in Germany, as both commercial building and civil engineering activity declined.
New business levels were unchanged since the previous month and the level of positive sentiment fell. However, companies continued to raise their buying activity and workforce numbers further.
The data also pointed to pressure on supply chains, with suppliers' delivery times rising at the fastest pace since the summer of 2007.
The seasonally adjusted PMI – which is based on a single question asking respondents to report on the actual change in their total construction activity compared to one month ago – fell from May's 52.7 to 50.4 in June, thereby signalling a further slowing in the rate of output growth at German building firms. Although construction activity rose for the seventeenth consecutive month, the latest expansion was only marginal overall.
Latest survey data signalled a second successive monthly decline in civil engineering activity. The rate of contraction was moderate, but nonetheless the most marked since last August.
Commercial activity also fell during the month, thereby ending a 16-month sequence of continuous growth. As was the case for civil engineering, the rate of decline was modest.

Meanwhile, residential building output rose for the twenty-first month running in June. However, the rate of increase slowed further from February's record-high and was slight.
The amount of new work placed with German constructors broadly stagnated at the end of the second quarter, thereby ending a six-month period of expansion
Inflationary pressures also continued to build, with higher steel prices and raw material shortages  resulting in the sharpest rise in input costs since May 2012. Almost one-third of the survey panel reported increased input prices.
Building companies in Germany on average expect activity at their units to rise over the next 12 months. However, the level of positive sentiment fell to a six-month low.
Oliver Kolodseike, economist at Markit said: "The recovery in Germany's construction sector appears to be losing its legs at the end of the second quarter, with latest survey results pointing to a marked slowdown in growth of German building activity. The PMI is now close to a level that is normally consistent with a stagnation of construction output, dragged down by declines in both commercial building and civil engineering activity. Although housing shortages and the inflow of refugees should help maintain growth of residential building activity in the near-term, companies were the least optimistic about their future since the end of last year."
Got a story? Email news@theconstructionindex.co.uk