The world of construction fixings is a small and very specialised one – but within it there's a bewildering array of clever designs. Go into any builders' merchant or DIY store and you'll find dozens of different expanding plugs, toggle bolts, anchors, screws and drywall fixings – many of which are minor masterpieces of industrial design.
One company that has prospered considerably from one single stroke of design genius is Excalibur Screwbolts. This small Essex-based company employs only six people but it supplies its fixings to the global engineering and construction industries on projects that include tunnelling, scaffolding, formwork and railways.
Excalibur's core product is the eponymous high-strength, twin helix threaded anchor screwbolt which, while patent-protected, is today much-emulated if not actually copied directly.
Designed by company founder Charles Bickford (now 82 but still active) the Excalibur screwbolt is made from high-tensile boron steel and is screwedinto place without the need for any grout or resin to create a bond. And unlike resin-bonded fixings, it can be easily removed by unscrewing, leaving the hole and surrounding substrate intact and undamaged.
The product has proved so effective that it has now gained worldwide success with millions of Excalibur Screwbolts in use across a range of industries where a reliable and firm fixing is required into hard and difficult materials. As a result, the company has won a number of major UK and international contracts that include fixing and securing services within, amongst others, the Channel Tunnel Rail Link and the St. Gothard rail tunnel under the Alps.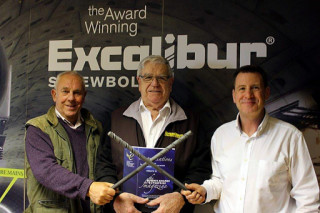 In 2009 Excalibur Screwbolts won a Queen's Award for Enterprise (Innovation) in recognition of its success.
And now the company has completed another landmark contract, supplying a specially-designed screwbolt – the Excalibur Screwbolt Plus  - for fitting components and services to the sprayed concrete tunnel lining at several Crossrail stations.
It was first used on Crossrail (aka the Elizabeth Line) in the installation of the steelwork to support the platform edge screens at the new Tottenham Court Road station. It has since been used for the same purposes at four other Elizabeth Line stations: Bond Street, Farringdon, Liverpool Street and Whitechapel. 
The Crossrail specification stipulated a fixing with a design life of 120 years, and required it to be longer than any standard bolt that had been manufactured at that time. Excalibur responded by designing the Screwbolt Plus, an extra-long high-strength bolt.

"We were prepared to go the extra mile," declares Excalibur's sales director John Stevens. "After all, it's in our DNA to innovate. We're flexible and prepared to do whatever it takes.
"Our small size means we've been able to give Crossrail the service and flexibility they require, as well as the attention to detail across the lifecycle of the project," he adds.
The Screwbolt Plus, used in Crossrail, has proved to be another unqualified success and in 2016 it won Excalibur a second Queen's Award for Enterprise.
Excalibur is essentially a design and marketing operation; manufacturing, engineering and technical development is outsourced to specialists located in the West Midlands. But Stevens says that Excalibur is committed to supporting, as well as being supported by, business in the UK.  "We are, and wish to remain, a UK designer and manufacturer and are committed to supporting the UK economy for all our future prosperity," he says.
Support for Excalibur's R&D has come from inward investment and business support agency Invest Essex, a champion of SMEs within the county. As well as offering support on the management and planning side, Invest Essex has intervened on Excalibur's behalf with car manufacturer Ford, which made its high-tech test facility in Dagenham available in the development of the Screwbolt Plus.
Invest Essex Locations Services Director David Rooke sees Excalibur as a perfect example of the capability of small businesses within the county, pointing out that over 60% of Crossrail contracts have been awarded to small or medium-sized businesses. Rooke says: "Essex is home to a wealth of construction and engineering industry talent. By engaging SMEs such as Excalibur for engineering projects, Crossrail is fuelling innovation and entrepreneurship across the construction industry."
For more information relating to Excalibur please follow this link https://www.investessex.co.uk/case-studies/excalibur-screwbolts-2/
This article was first published in the July/August 2018 issue of The Construction Index magazine, which you can read for free at http://epublishing.theconstructionindex.co.uk/magazine/july2018/
UK readers can have their own copy of the magazine, in real paper, posted through their letterbox each month by taking out an annual subscription for just £50 a year. See www.theconstructionindex.co.uk/magazine for details.
Got a story? Email news@theconstructionindex.co.uk