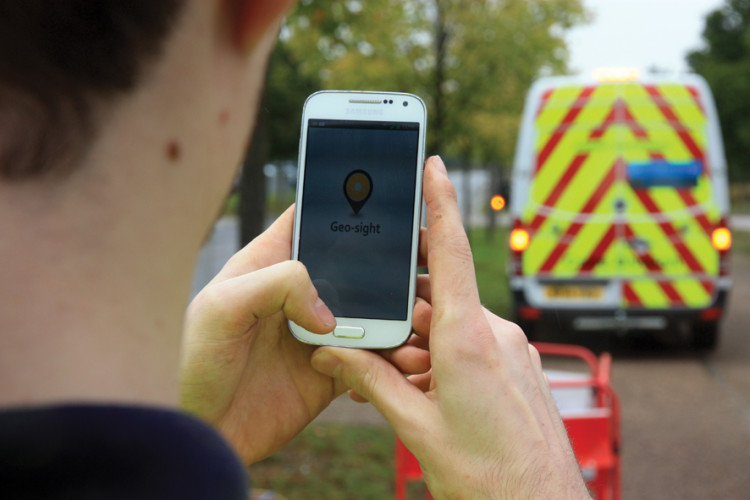 Mobile technology is so much part of our daily lives that it is surely no surprise that it is now starting to make a difference to the management of construction site health and safety.
Two new systems have recently come onto the market using smartphone apps and cloud-based computing to manage site health and safety. One is Geo-Sight, a new smartphone app developed by Cambridgeshire building and civil engineering contractor John Henry Group.
Geo-Sight lets workers record live images on their phones which are then digitally tagged to a location map and time- and date-stamped before being sent to a central database for company records.
Developed initially for highways and utility works, Geo-Sight allows more efficient monitoring of work and a rapid response to site information.
Geo-Sight enables you to track and monitor works as they happen in real time, from the office or anywhere with an internet connection.
Using their own smartphones, the workforce can capture detailed, locationspecific records to document the progress of a project through its entire life-cycle and upload them to a remote server.
This process can cover the user legally as well as provide a second line of defence to stop workplace injury. It enables site operatives to capture detailed records of key milestones and provide proof of compliance and quality.
It also helps ensure workforce safety and productivity, allows real-time feedback between site and head office, lets managers track crews on site and even permits realtime inspection from a remote location. "Construction sites can be dangerous places for both members of the public and for on-site workers," says Rob Andrews, marketing manager for the John Henry Group. "It's important for us to be able to show we are working both safely and effectively.
"It's also a great way of measuring employee performance and an effective way of measuring the development of construction projects, particularly public projects, as they develop," says Andrews. The main benefit, though, is health and safety. "Because the images captured by workers are sent to a central database, it also allows a second opinion from health and safety experts – meaning a decision can be made on whether it's safe to go on site or whether the site has been left in a safe manner, also minimising risk to members of the public," explains Andrews. "We think it could be a huge step forward in health and safety," he adds. Development of the Geo-Sight app was led by John Henry Group IT manager James Carson, who drafted in specialist software developers to help translate the basic concept into a commercial product. Development of the app took the best part of a year - "It was no small job," he says. Following successful in-house trials during the past six months, the app is now commercially available to download from both Apple's iStore and Google's Android app store, although a licence is required to record site information.
"Considering that more than 80% of the UK uses smart phones, it means that they are an excellent platform to use Geo-Sight to deliver and create awareness about the importance of health and safety," says Andrews.

The Geo-Sight developers are now working on enhancements to the basic system which are likely to include the ability to extract dimensions and measurements from the image and optical character recognition (OCR) to capture paperwork filled in on site so that it can be processed immediately.
Another firm using mobile technology to improve health and safety is Reactec, maker of the HAVmeter and a specialist in hand-arm vibration (HAV) risk management. The HAVmeter, which has been available for a couple of years, is a small device which the user attaches to the radio frequency identification (RFID) chip that most tool manufacturers now fit to their products. The RFID tag is primarily used to provide information about tool usage and enable stolen tools to be tracked down.
The HAVmeter calculates the amount of vibration to which the user is exposed from actual vibration levels and the time the tool is in use. The data is stored in the HAVmeter and saved to an SD card when the HAVmeter is placed in its base station. This data can be uploaded from the SD card to a computer and displayed using the firm's online software. The operative can switch the HAVmeter from one tool to another during the day so it can calculate the cumulative vibration exposure.
Reactec has now streamlined this capability with its Reactec Analytic Platform, which combines the HAVmeter with a new cloud-based reporting platform and automated data collation to deliver a more practical and effective solution.
Instead of manually uploading the data each time, the new system automates the whole process, from real-time calculation of worker exposure in the field to processing the data and making it available online. The online system provides company-wide access to individual HAVS exposure reports, helping managers, team leaders and operators to work together and manage their HAVS risk more effectively. With just a few clicks, employers can view individual and company-wide exposure trends and see which workers have exceeded HSE daily thresholds and tool exposure levels.
Information on tool rotation activity, tool performance and even over-utilisation can also be viewed. Besides helping manage vibration exposure, the analytics platform also provides a means of monitoring tool usage. By tracking tool "trigger time", the system eradicates guesswork and helps avoid premature equipment maintenance or replacement. It can also alert managers to over-use or over-reliance on specific tools. Reactec CEO Jacqui McLaughlin says that the new analytics platform is "a significant improvement to the way in which businesses can manage and monitor HAVS risk and equipment performance. "This system gives health and safety teams the knowledge to reduce HAVS risk while also educating and informing the operators, team leaders and other managers," she adds.
This article first appeared in the October 2014 issue of The Construction Index magazine.
To read the full magazine online, click here.
To receive you own hard copy each month in traditional paper format, you can subscribe at
http://www.theconstructionindex.co.uk/magazine#
Got a story? Email news@theconstructionindex.co.uk