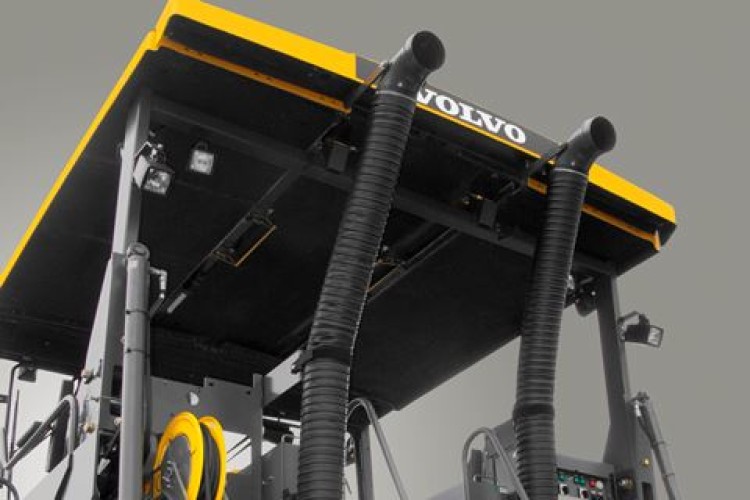 The fume extraction system simply uses a fan to move fumes through a couple of tubes and out of the top of the paver.
It is available as an option on Volvo's C-series ABG pavers, including the P6870C ABG tracked asphalt paver that was launched at Bauma this year and subsequently shown at Plantworx last month.
With a Stage IIIB Volvo D6 engine, it is quieter, more productive, and up to 30% more fuel efficient while also reducing CO2 emissions, Volvo says.
The P6870C is geared to take on jobs ranging from housing estates to major highways, with a wide band of reserve power for paving in difficult conditions or at maximum widths.
It has three drive modes: paving, shunting and transport. In paving mode, smart power mode is the default setting. Smart power lowers noise and fuel consumption by up to 30%, it is claimed. Full engine rpm can be selected if paving conditions require full power.
The shunting mode is for manoeuvring, loading and unloading. In this mode, paving functions are deactivated, and active steering is engaged for a 2.5m turning radius.Transport mode gives full travel speed, although automatic idle kicks in when the paver is not moving. Both shunting and transport modes regulate engine speed proportionally for fuel economy. From the driver's seat there is a 360o view of the entire paving process, as well as into the hopper and auger. The seat can slide out beyond the outer edge of the paver for an improved view.

The electronic paver management II (EPM II) system guides the operator through working functions and includes onboard diagnostics notifications and the ability to save operating parameters for repeat paving further down the road to get consistent results.
Further quality control comes from the high tractive force of the Volvo drive system. The P6870C ABG has a fully independent, no-axle, six-wheel drive system, with the larger rear wheels delivering power, while the four front wheels provide assistance and steer with hydrostatic drive.
The Variomatic screed extends hydraulically, with optional add-on extensions for paving of widths up to 9m. The extensions attach with a hydraulic quick-coupling system. Volvo screeds are available with electric or gas heating.
The P6870C ABG is part of a big push by Volvo in road construction machinery. Its introduction comes on the back of other recent launches such as the P7820C and P8820C ABG tracked asphalt pavers and DD25 double drum compactor.
"By 2016 Volvo CE will have launched more than 60 new road products," says Sam Wyant, program manager of Volvo Construction Equipment's global road programme. "We will be in a position to offer highway contractors everything, from a skid steer loader to an excavator, a truck, a paver, a milling machine, a wheel loader or articulated hauler – pretty much everything that is used in the building of new roads and in the refurbishment and maintenance of existing ones."
Got a story? Email news@theconstructionindex.co.uk