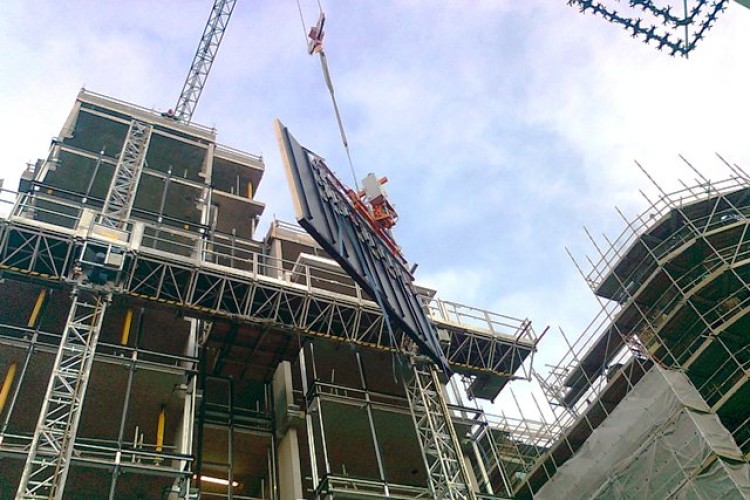 Curtain walling specialist Charles Henshaw & Sons, working for Sir Robert McAlpine, needed just five operatives and 10 days to install 1,000m2 of engineered façade for a luxury seven-storey apartment block in central Edinburgh.
Kingspan's Benchmark Konnect engineered system was key to the speed of installation, along with a new lifting attachment.
Meadows View Q20 includes a range of one- to four-bedroom upmarket apartments and is topped with a penthouse, offering views across The Meadows to the South, and Edinburgh Castle to the North. It forms the latest stage in Gladedale Capital's Quartermile development, transforming the former Royal Infirmary site into a mixture of apartments, offices, cafes and shops.
The apartment block's exterior combines large glass windows with metal façade panels, installed on more than 1,000m2 of the Konnect engineered System. Architects Foster & Partners specified Konnect to help shave three weeks off the installation schedule. The factory pre-engineered, unitised system comprises highly insulated, multi spanning modules. These provide a platform for a wide range of façades and also come fit-out ready for internal plasterboard, eliminating the need for additional internal framing.
Henshaw installation supervisor Robert Donkin said: "We found that Benchmark Konnect Engineered System could be installed far faster than other systems currently on the market. Using a crane and specially developed sucker system, we were able to lift the units from vertical to horizontal and quickly transport them up the building. Our team then fastened most of the panels into place from an external mast climber system.
"In certain cases where access was tight and it wasn't possible to use the mast climber, we were able to position and bolt the panels internally without any external scaffolding, thanks to Benchmark Konnect's design, saving both time and cost. Overall our team of five operatives were able to install all the modules in only 10 days."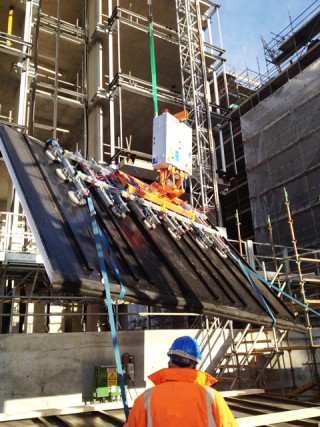 The specially developed sucker system was the Ultra-Clad 1000 vacuum lifter, supplied by GGR Group. This 30-pad sucker boasts a 1,000kg lifting capacity and has a 3.2m-wide frame, making it the biggest lifting attachment in GGR's equipment fleet. The Quartermile Q20 project was its first outing.
The Ultra-Clad 1000 tilted each oversized Benchmark Konnect module from a horizontal to vertical position using its powerful 90° tilt mechanism controlled by radio remote.  Where deep overhangs proved to be an obstacle for fitting some units around the construction, a Libro 500 counterbalanced beam (pictured below) was used to help move the lifter closer to the building's structure.

Suitable for both new build and retrofit projects, Benchmark Konnect Engineered System modules can be up to 7m high, and incorporate an integral cavity for ventilation and services. The top and bottom of the modules are fixed internally to floor shims and mounting angles, allowing fast-track installations without external scaffolding.
The Ultra-Clad 1000 is one of three new lifting attachments introduced this year by GGR for cladding and glazing applications.
The company claims that the dual circuit Mini-Clad is the industry's "most powerful configuration-free cladding lifter". It is also one of the lightest and slimmest models in its range.
Then there is the Fork Lift Hydra-Clad, which, as its names suggests, is designed for use with forklifts or telehandlers.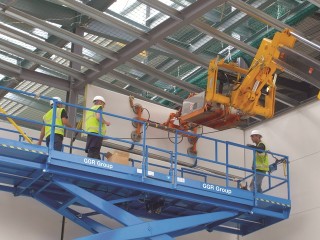 The Mini-Clad (above) has a quad-pad suction frame with a dual-circuit vacuum system for added safety. It can lift up to 400kg and can comfortably lift vertical wall panels up to 18m, horizontal panels up to 8m and roof panels up to 5m long. It offers 90° tilt and 360° rotation and can be used with either crane or telehandler.
The Fork Lift Hydra-Clad (below) has a hydraulic tilt and swivel function for horizontal wall and ceiling panel installation. It can slew hydraulically through 60° and tilt through 180° for easier manipulation of loads. Capacity is again 400kg.
In standard version it can handle horizontal wall panels up to 12m long and ceiling panels up to 8m. With the addition of optional extensions, it can manage panels up to 15m long.
Got a story? Email news@theconstructionindex.co.uk