The bill for Spurs' new stadium has gone up from £400m to £800m, the club has said, with the fall in the pound adding 20% to construction costs.
"It's worth remembering that the original cost quoted for the stadium was some seven years ago," executive director Donna Cullen emailed a fan, HotspurSam. "This new 'estimated' figure relates predominantly to the stadium with some elements of substructure for the other builds particularly the Tottenham Experience."
The email was posted on www.skyscrapercity.com, where there is a forum dedicated to scrutinising the details of the project.
In it, Donna Cullen says: "Brexit has added a straight 20% on costs for foreign goods due to the exchange rate, overtime working and increased construction costs similarly. Revised basement works also added to the cost. We are constantly managing costs and will continue to do so throughout the process along with funding plans to ensure the viability of the scheme."
Meanwhile new photos released by the club reveal substantial progress with the build programme.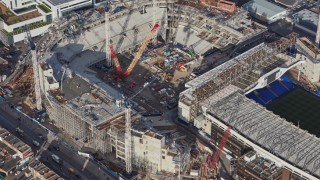 An estimated 3,000 construction jobs are expected to have been delivered by the time the new stadium opens in August 2018 and 72,000 m2 of concrete will have been poured.
Spurs' new stadium is being built adjacent to its current White Hart Lane home, with Mace as main contractor. Designed by Populous, it will have a capacity of 61,000, incorporating the UK's largest single tier stand, the home southern end, which will be able to hold up to 17,000 spectators.
It will also have a retracting pitch to make it suitable for American football after the club signed a commercial deal with the NFL.
Spurs chairman Daniel Levy has described the project as "the most complex private build in Europe at this time".
Got a story? Email news@theconstructionindex.co.uk