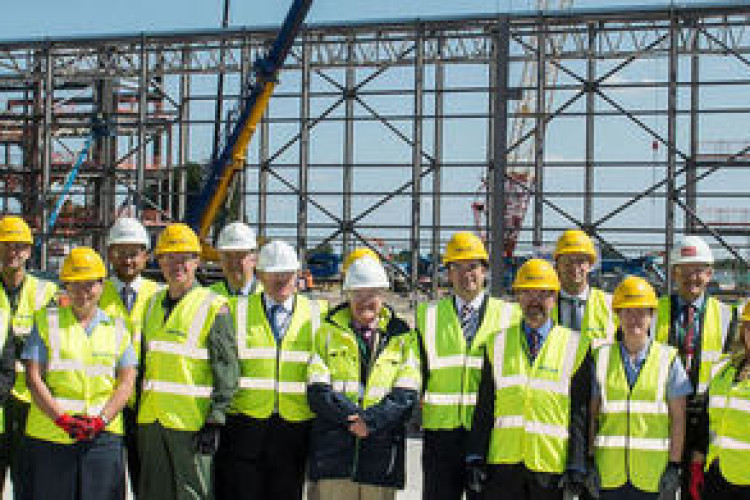 The hangar will be used to maintain Airbus A400 Atlas four-engine military transport aircraft.
Main contractor for the Defence Infrastructure Organisation is Balfour Beatty; Billington has the steelworks subcontract. The hangar will cover 24,000 square metres and require 3,000 tonnes of steel.
Billington has now lifted into place the first of the 90-tonne, 10m-deep primary trusses, using a complex tandem lift requiring two lattice boom crawler cranes.
This is the third phase of the four-phase project. Phase 1 involved the relocation of a colony of great crested newts and provision of new emergency water storage. Costing £750,000, this was completed in June 2013.
Phase 2 cost £13.2m and covered risk mitigation works comprising site clearance, ground works to remediate and level site, service diversions, relocation and provision of new storm water attenuation tanks and new pavement-quality concrete aprons. This work was completed in March 2015.
Phase 3 is costing £42m and involves construction of the hangar, gantry cranes, aircraft ground equipment store, forward support stores including engine and tyre bays and a three-story office block. Completion due date is May 2016.
The hangar is the first construction contract DIO awarded under its Next Generation Estates Contracts (NGEC) national framework, which procures building and civil engineering projects valued at up to £50m.

In the final Phase 4, Defence Equipment & Support and Airbus will complete internal fit-out.
The RAF has bought 22 Atlas planes to replace its C130K Hercules transport aircraft. The Atlas can fly almost twice as fast, twice as far and carry almost twice as much cargo than the Hercules.
The three-bay hangar is designed also to accommodate C17 freight and A330 personnel aircraft.
Balfour Beatty regional managing director Andy Duff said: "We have extensive experience of working in the defence sector and at RAF Brize Norton. The start of the 3,000-tonne hangar and office steel frame is a major milestone on this strategically important [project]. The overall planning, design and procurement of the job are very well progressed. Hopefully the good weather will stay with us to enable rapid construction through to handover."
DIO project manager Denis Williams said: "This is a significant project as part of DIO's work to enhance the UK's military capability. We are looking forward to working with Balfour Beatty and the RAF to get this new hangar ready on time and on budget.
"Given the scale of the project and the need to keep all this work from interfering with Brize Norton's on-going operational role, the project would not have been possible without the close collaboration between DIO, the RAF, Defence Equipment & Support, Airbus Military and our contractors and their supply chains. Everyone has worked very hard to get to this stage, and we are all enthusiastic about the next phase."
Got a story? Email news@theconstructionindex.co.uk