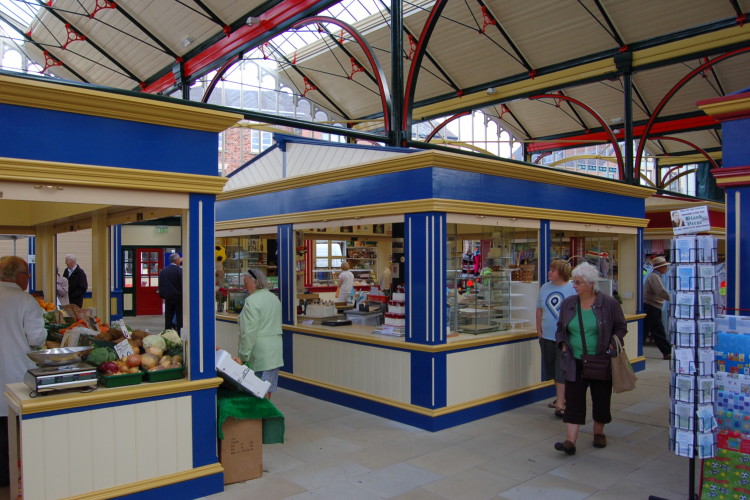 Stockport Covered Market has been awarded an RICS North West Award, winning the regeneration category.The award calls for projects that have made exceptional improvements to urban, rural or coastal areas and that have improved the built or natural environment in a way that has contributed to the viability of the area.
Main Contractors Quadriga were part of an outstanding team who worked conscientiously, on restoring this beautiful Grade II listed building's original features & character. The annual RICS awards were held this year at the Monastery in Gorton. This stunning building, which was the winner of the BBC television programme "Restoration", providing a perfect backdrop for a truly inspirational evening. The evening, hosted by Bill Turnbull from BBC Breakfast, celebrated the cream of the North West's innovation. Quadriga's Managing Director Mark Pearson and Project Manager Keith Illman, who were responsible for running the project, attended the event with members of Buttress Fuller Alsop Williams and Stockport Council. The team were proud to have worked on such an important regeneration project, and delighted for their work to have been recognised in this way.
The Regeneration Project Team previously secured a Heritage Lottery Fund grant of just under £1 million in 2006 to implement the scheme and work was split into two phases to enable the market to continue trading throughout the works from January to November 2008.
Stockport Market had fallen into a poor state of repair and was overcrowded with small stalls inadequate for traders needs having also lost much of its original Victorian character. The overall project included the restoration and repair of the external envelope and interior of the historic building.

New market stalls have been designed taking precedent over the original historic stalls that have been restored. The new layout improves circulation throughout and creates long views through the market, highlighting the newly restored architectural features. A new community events space has been created at one end of the market and comprehensive disabled facilities have been incorporated to enable accessibility and encourage greater use of the building by traders, customers and the public.. The added seating & community areas, cafes and disabled facilities have helped to rejuvenate this area of Stockport.
So far, the project has won a Conservation Award under Stockport's Conservation & Design Awards 2009 and has been awarded commendations for Best Indoor Market (NABMA 2009), Regeneration Project (Government Business Awards 2009), NW Royal Town Planners Institute 2009. The project was also a finalist for the Heritage Award under the Royal Town Planners Institute 2009 national awards.
Quadriga is a company dedicated to preserving our English heritage and with the team's combined talent, commitment and experience; the work they produce is of exceptional quality and to the highest standard.
Got a story? Email news@theconstructionindex.co.uk