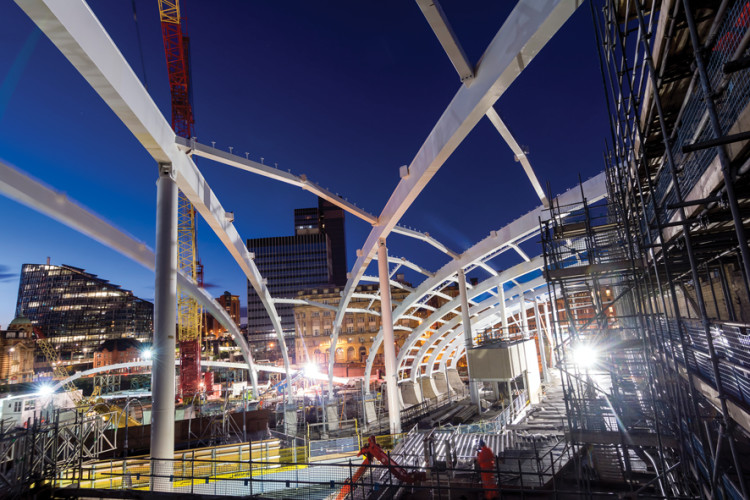 As one of the most visible bellwethers of the economy, the fortunes of the structural steel industry are all too evident. It is a commonplace of everyday economics that you can tell how prosperous a city is by the number of tower cranes you can spot from the train station. Those tower cranes would often be working on steel framed buildings and so, during the recent recession, they either stopped moving or disappeared entirely. Well, the tower cranes are back and the UK industry is bullish about its prospects, even though its ranks have been thinned out as the downturn took its toll.
Newport-based Rowecord was the highest profile casualty, entering administration in May 2013 beset by cashflow problems, contract disputes and a weakened order book, despite delivering major landmarks such as the Aquatics Centre for the London 2012 Olympics, 107 Cheapside in London, the Paddington Station Crossrail redevelopment and Cardiff City FC's stadium. As recently as February this year West Sussex-based Graham Wood Structural also went into administration, despite having worked with blue-chip contractors such as Costain, HBG, ISG Kier, Warings, Wates and Willmott Dixon. Even the UK industry's champion, then known as Severfield-Rowen, ran into problems that required a £40m-plus rights issue, redundancies, a re-brand and a new chief executive (see opposite) to set it back on course.
But still, according to Sarah McCann-Bartlett, director general of the British Constructional Steelwork Association (BCSA), it could have been a lot worse.
"The sector has survived the recession and downturn better than many would have expected because companies took very early action and reduced capacity at the beginning of the downturn so there have been far fewer insolvencies," she says.
There are three factors that have helped the sector survive: quick reactions, family ownership and, to a degree, the way that main contractors registered that they needed to support the specialist companies in their supply chains.
The industry could reduce capacity quickly because it is very flexible, as Geoffrey Taylor, a director of Caunton Engineering, points out. "We can expand or shrink very quickly because we're totally machine-led and not as dependent upon people as, say, main contractors."
Many of the UK's structural steel companies are family-owned, while only a minority are publicly quoted, so most are not bound to the short-term interests of shareholders and can invest for the long-term. Mabey Bridge, for instance, decided that the downturn in demand was an opportunity to build a new factory that could manufacture the wind turbine towers for the renewable energy industry. It also recruited a raft of staff from Rowecord (the former sales and proposals director, technical director and ex-Rowecord engineers, estimators and technical staff) to set up Mabey Steel Structures, which manufactures for stadiums, health and commercial schemes. As the downturn continued the main contractors became aware that aggressively negotiated contracts could be counterproductive. "The big customers particularly have realised that if you brutalise the supply chain you might end up doing too much damage and lose some important capacity," remarked one observer. And Mabey Bridge's Tim Outteridge says this is a trend that is thankfully growing: "The way we're doing business now is far more collaborative as leading clients are digging deeper into their supply chains and trying to understand its drivers. They're focussing on security of delivery and making sure that the capacity is there for when they need it."
Now, as the economy picks up, the future is looking prosperous and stable for those companies that have survived, with some reporting full order books while sales leads are growing. In August, for instance, Severfield issued a statement to the Stock Exchange stating it had an order book of £171m, saying there were continued signs of improvement in the UK market, but it "remains likely to be later in the financial year before there is any notable impact on the size or mix of the order book". "The construction market has come back and, although it's strongly led by housing which doesn't tend to use much structural steel, we're seeing volumes start to pick up and prices are beginning to firm," says McCann- Bartlett. To put the situation in perspective, BCSA figures show that the industry output averages out at around one million tonnes of steel per annum and hit a peak of 1.4 million tonnes during the boom. Last year, in 2013, industry output hit a low of just 776,000 tonnes – half its peak output – and this year is expected to grow by 5-6% to 820,000 tonnes
Encouragingly, the growth in the market is spread among a variety of sectors within the economy rather than being dependent on one unusually buoyant area. Commercial office development in London remains one of the most important elements of the UK market and is becoming progressively more optimistic. Ian Lawson of Severfield, one of the major players in this market, says: "We are certainly seeing a number of new opportunities that are coming to market now or in the near future where the developers are either doing speculative construction or have actually got tenants for particular schemes and are eager to get cracking." Among the flagship projects now scheduled to transfer from the drawing board to take their place on the London skyline are the Google offices (the £1bn 11-storey building at King's Cross that will house 4,500 people along with a climbing wall, a rooftop pool and an indoor football pitch) and Foster + Partners' £300m headquarters for media giant Bloomberg in the City of London.
An improving economy is also injecting some much-needed life into the retail development market with a number of schemes reaching lift-off. In the South East, for instance, Severfield is involved in the £1bn scheme to extend the 1.6 million ft2Westfield London shopping centre at White City by a further 800,000 ft2 of shops and leisure facilities in derelict land north of the site.
Australian-based Westfield has also formed a joint venture with the Anglo-French developer Hammerson to redevelop and combine the two main Croydon shopping centres, the Whitgift Centre and Centrale, in another £1bn mixed-use development that will include offices, shops and leisure outlets.
But it is not just the South East that I  affected – the improving economy has even touched Bradford, where a 10 acre site locally dubbed "The Hole" after spending a decade undeveloped, is now to become the £275m Broadway Shopping Centre. The 570,000ft2 development - a scaled-down version of the project Westfield originally proposed – will include a 106,000ft2 Debenhams department store and a 63,000ft2 Marks & Spencer, plus 70 more shops, restaurants and cafes, including Next, River Island, Top Shop, Top Man and Sainsbury's. Severfield, the preferred contractor when the development was first mooted a decade ago, is now back on site.

Growth in the retail sector is also creating demand for distribution warehouses for online commerce and the discounters such as Lidl and Aldi, as they increase their share of the UK market. There is also a trend where the less price-sensitive, upmarket supermarkets are putting their out-of-town developments on hold and instead focusing upon refurbishing their town-centre estate.
Education is now a strong sector too. The schools building programme was trimmed right back in 2012/13 but now the government's flagship Priority Schools Building Programme is gathering pace, with the Education Funding Agency recently announcing a fresh wave of £2bn of  funding. The new schools will be more streamlined and less of an 'architectural statement' than the previous round in order to meet the latest cost guidelines. Importantly, this programme is regional in approach and so will benefit local companies.
The energy sector is also firing up on several fronts. The Waste to Energy programme has kept a number of companies occupied - Caunton Engineering, for instance, has been involved in a number of schemes in Lincolnshire and Essex — while renewable energy has proved a strong growth business for Mabey Bridge (see above) with strong demand in Scotland and Northern England for wind turbine towers. Meanwhile the nuclear power market is beginning to stir, with some work already taking place at Sizewell, but a strong pipeline of work is expected when the programme of new power stations is announced. The larger companies will take the major works but there are ancillary projects that will keep the smaller players busy too, according to McCann-Bartlett. The rail industry is also an important source of business for structural steelwork, providing infrastructure such as steel bridges and station extensions. The biggest news in the sector is that Network Rail has embarked upon CP5 (Control Period 5), an ambitious five-year £38bn spending and investment programme that promises to transform hundreds of stations around the country including London Bridge, Manchester Victoria, Birmingham New Street and Glasgow Queen Street. As well as CP5, the high speed rail link HS2 and Crossrail are underway – and sometimes even open up opportunities as a spin-off. Caunton, for instance, recently built a distribution warehouse that consisted 2,000 tonnes of steel for a client that had moved from Birmingham to Coventry because of HS2.
While all this activity favours the structural steel industry its customers might worry that demand might push up prices. Apparently not, according to the BCSA. It says structural steelwork prices will increase steadily, in contrast to other construction materials which are seeing sharp jumps in price, making steelwork relatively more competitive as a framing material.
"Unlike other construction products, where we're seeing shortages, long lead times and price spikes, demand and supply in the structural steel market is more balanced. While we do expect to see a firming of prices, this will be relatively slow and steady," says McCann-Bartlett.
Or as Geoffrey Taylor puts it: "Margins will go up but only very slowly because there is always someone looking for work."
This is the industry's major problem – its margins are, to quote one company director, "notoriously thin. One small mistake can take out a big chunk of profit". As a result the City tends to steer shy of companies in the sector, one reason that family-owned businesses predominate. But margins must rise for the industry to be stable and to reflect its true nature, says Ian Lawson of Severfield.
"Sometimes people think we're contractors and should be happy on a margin of 2 or 3% but we're also a manufacturing business – we prefabricate in our factories – and no manufacturer would get out of bed for those margins," he notes. As the largest player in the UK market, Severfield has skills and experience that make improved margins a realistic goal but, in common with some other companies, it is looking abroad. Transport is a relatively minor cost so exports are perfectly feasible. On the European front, for instance, Severfield is working on the Microsoft Data Centre in Amsterdam and the Paris Philharmonic with Bouygues and has strong working relations with contractors such as BAM and Skanska. Other UK companies are also working in Eastern Europe where their sophisticated engineering and quality of work can earn a premium. Beyond Europe, there are a number of options. Severfield now has an Indian joint venture while William Hare works throughout the world and has subsidiaries in the Middle East and in India. Mabey Bridge has representatives in Singapore, the Philippines and Sri Lanka and exports modular bridges.
These explorations of the export market do mean, though, that the UK industry has sufficient capacity to cope with any domestic demand for the foreseeable future while margins and prices will remain relatively stable.
This article first appeared in the September 2014 issue of The Construction Index magazine. To read the full magazine online, click here.
To receive you own hard copy each month in traditional paper format, you can subscribe at http://www.theconstructionindex.co.uk/magazine#
Got a story? Email news@theconstructionindex.co.uk