To ensure that the UK's rail infrastructure is equipped to meet increased capacity demand and new train technologies, Network Rail is undertaking a huge investment programme to improve services nationwide.
In Manchester, this has included a major scheme to alleviate congestion in some of the North West's biggest train stations. The Ordsall Chord will connect the city's Victoria, Piccadilly and Oxford Road stations.
But building an elevated 300m section of railway through the centre of one of the country's biggest cities presented challenges to the whole project team. The extensive works included: a new bridge over the River Irwell; two new bridges over Water Street; a bridge over Trinity Way (Manchester's Inner Ring Road and a dual carriageway); widening of the existing Grade II listed Castlefield Viaduct; and a major refurbishment of the Grade I listed Stephenson Bridge.
Not least of the challenges was ensuring consistent delivery of thousands of tonnes of high-performance concrete to support construction on a project with ambitious timescales. Work began in February 2016 and continued through to autumn 2017. The workforce was in action 24 hours a day and seven days a week during the busiest phases of the works, which involved three major network closures.
Successfully completing this crucial upgrade to a major rail hub naturally involved operating working hours that had as little impact on the national transport network as possible.
With a project of this scale and importance, close communication between the principal contractors and subcontractors from the earliest stages was key to success. Tarmac was brought on board by the principal contractor, a Skanska/BAM Nuttall joint venture, to supply both concrete and aggregates.
To meet the challenging demands of the fast-track programme, Tarmac provided specialist support through a range of bespoke mix designs.  The concrete it delivered was used for all aspects of the project, including foundations, bridge construction, abutments, tracks, infills and other associated building elements.
The company identified high-early-strength concrete as a means of dealing with the project's challenging architectural concrete requirements. 
Whereas a traditional concrete requires anywhere up to 28 days to reach full strength, high-early-strength concrete can achieve this in just 48 hours. This therefore helps speed up project delivery and improves efficiency by enabling the next phase of construction to commence sooner. Tarmac's ready-mix business manager, James Macintosh, explains:
"We worked closely with the principal contractor and other subcontractors to make sure that we understood their bespoke requirements and were able to recommend a range of concrete solutions to meet their programme.
"Using our high-early-strength concrete, Toproc Rapid, meant that we could help them to complete key time-critical aspects of the project more quickly, such as those associated with preparing the track beds.
"This helped to reduce the overall programme time and saved labour, while minimising disruption to the rail network," adds Macintosh.
The use of high-early-strength concrete was just one of a number of bespoke concrete solutions that were delivered for the project team. Each mix went through stringent trials before approval to use on site, with the company's technical experts providing full back-up and support for the tests.
For the sections of the bridge installations that required infilling, a self-compacting concrete called TopFlow was identified as the most appropriate option. This could be poured and cured quickly, while delivering a resilient, hard-wearing finish with improved crack control and ensuring that the material was fully compacted.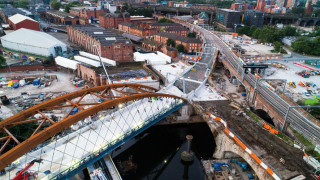 Elsewhere, a specialist coloured concrete, Toptint, in a grey Welsh slate finish was used for aesthetic reasons to help the new structures blend into the existing landscape and structures around East Ordsall Lane.

Tarmac also supplied its lightweight aggregate, Lytag, to reduce deadweight on the new bridges. This helped to improve on design and save construction costs by reducing the weight of the bridge deck without compromising the structural integrity.
The weight reduction meant there was no need to strengthen the existing bridge steelwork. This gave the principal contractor a design that saved significant bridge replacement costs and provided an engineering solution that saved time on a critical area of the project.
Equally critical to supporting the Ordsall project's complex supply requirements and meticulous timings was the ability to rely on the supply chain's local infrastructure and logistical capabilities.
"The Ordsall Chord was a hugely ambitious project with a number of contractors working continually in different locations," comments Macintosh. "We had to make sure our infrastructure was in place to supply the required concrete and aggregates at significant milestones in the project timetable, getting the materials exactly where they were needed, when they were needed."
To achieve this, Tarmac's existing network of plants was crucial, allowing multiple plants – including those at Trafford Park, Salford and Stockport – to be deployed, ensuring reliability and consistency of supply.
The project team even devised a bespoke solution to upgrade the Salford batching plant with a hot water facility. This protective measure was put in place to cope with seasonal cold snaps and guaranteed that supplies of quality-assured concrete could be consistently delivered during winter months.
Alongside this, the firm established an out-of-hours service, allowing concrete to be delivered around the clock. Both solutions helped to meet the demands of the construction timetable and keep the programme firmly on track.
Brian Price, senior buyer for the Skanska/Bam Nuttall JV, comments: "Tarmac was chosen to deliver this project after extensive research into the capability, capacity and the technical expertise to deliver this complex project.
"Its support on this project has been crucial to its success and the way the local team communicated with construction team has been a major factor in this," adds Price.
With the Ordsall Chord completed, all of the new bridges, refurbishments and a new footbridge are now in place. Throughout the duration of the works, Tarmac poured enough concrete to fill almost six Olympic-sized swimming pools.
"In order to really deliver value on a project this complex and high-profile it's important to establish a collaborative approach across the project team and get under the skin of the client's challenges and requirements," says Macintosh.
"This meant not only working with them to recommend innovative materials, but also drawing upon our plant network and logistics capabilities to make sure we got the right product in the right place at the right time. The dedication of everyone involved in the project has been obvious to see and is no small part of why the project's worked so effectively."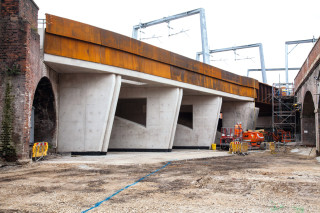 This article was first published in the March 2018 issue of The Construction Index magazine, which you can read for free at http://epublishing.theconstructionindex.co.uk/magazine/march2018/
UK readers can have their own copy of the magazine, in real paper, posted through their letterbox each month by taking out an annual subscription for just £50 a year. See www.theconstructionindex.co.uk/magazine for details.
Got a story? Email news@theconstructionindex.co.uk