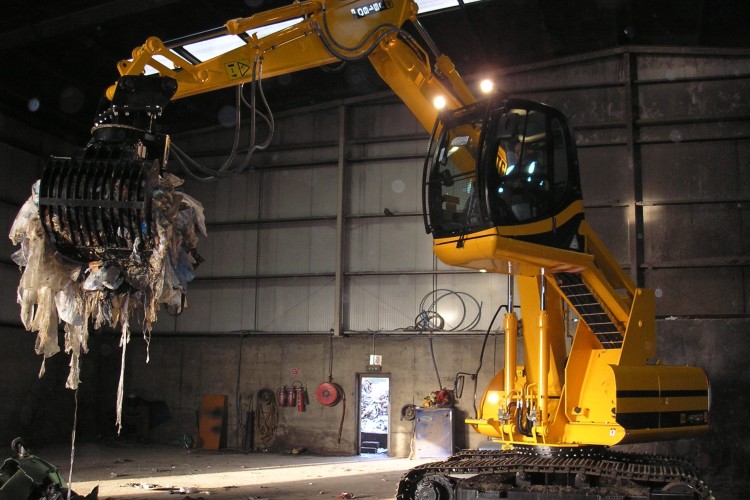 Construction and civil engineering professionals will be able to find all they need to know about resource management, recycling and carbon reduction under one roof this summer when London ExCeL plays host to Futuresource 2010, Europe's sustainability event, for three days in June. 
Organised by CIWM (Chartered Institution of Wastes Management) and ESA (Environmental Services Association), the event brings together the sustainable waste management, recycling and resource efficiency sector and its major client base under one roof. With some 300 exhibitors, a full conference programme and an expected 9,000 attendees from across the UK and Europe, it provides the ideal platform for public, private and third sector professionals to come together to debate and help shape the future of waste, recycling and resource management. 
Once again this year, there is a strong crossover with the construction industry, from an array of kit and solutions for handling and recycling construction, demolition and excavation (CD&E) waste, to seminars on the role of building design in improving recycling provision and encouraging wider sustainable behavior, and bioremediation of contaminated land. 
And with infrastructure development being acknowledged as one of the biggest challenges facing the sector, the 2010 exhibitor line-up also underlines the growing interest in the sector from construction, civil engineering and utility companies and the finance sector. AMEC Global Renewables, Balfour Beatty, BAM Nuttall, Costain Ltd, Clugston Construction, May Gurney Ltd, McArdle, Raymond Brown Group, United Utilities, Vinci Environment UK, and Volker Fitzpatrick, have already signed up, as well as financial institutions including Bank of Ireland and Clydesdale Bank plc. 
The Waste & Resources Action Programme (WRAP), meanwhile, will be on hand to discuss its Halving Waste to Landfill commitment. The organisation estimates that it has already secured sufficient signatories to divert a potential 3 million tonnes of CD&E waste from landfill – more than a quarter of the total target of 11 million tonnes by 2012 – and will be happy to provide advice to anyone is interested in cutting construction waste, boosting profits through resource efficiency and better site waste management. 
There will be over 50 free seminar sessions on highly topical issues; from food waste to finance options, and from exports to energy from waste (EfW). Taking place in two Information Theatres located on the exhibition floor, the programme is supported by a range of organisations including the Energy Institute and London Thames Gateway (LTG) and will include sessions on developing energy from waste (EfW) infrastructure, LTG's Cleantech Infrastructure strategy, and on planning and technology choice from United Utilities. New also to the show is the United Utilities bar which is an ideal area for networking and will provide Futuresource visitors with a relaxing haven away from the bustle of the show. 
In the Plant & Vehicle Zone, leading OEMs are showing the very latest 'green machines', providing solutions to economic and environmental challenges in the automotive and material handling sectors.  In addition, taking centre stage this year is the ZEV Zone, an interactive demonstration arena dedicated to low and 'zero emission' vehicles and plant for the waste and recycling sector. Visitors will be able to inspect the new equipment, see it in action and test their operating skills on a number of the vehicles. 
The new ZEV Zone will have something for everyone, from materials handling to street cleansing. One of the star attractions will be the new all-electric Solmec 360 materials handler. This is very the first time this Italian-built unit has been seen in the UK. At the other end of the scale will be road-going electric vehicles from specialist manufacturers such as Bradshaw, who will have the FB3 3-tonne platform truck on display amongst other models, right down to the Zally's labour saving electric dumpers that are ideal for transporting waste materials without physical effort. 
A further highlight will be a seminar hosted by UK Trade & Industry entitled 'Low Carbon London 2012'. As well as a speaker from the Olympic Delivery Authority, Mike Mulvey of London Business Network will outline the 2012 CompeteFor contracting process and Philip Johnson of Populous will present a case study on the aspects of Reuse, Reduce and Recycle used in the 2012 Games main stadium. Also invited to speak is Marcio Santa Rosa from Brazil who has been tasked by the Brazilian Olympic Committee to develop the environment and sustainable management plan for the 2016 Rio Games. 
Strong exhibitor line-up from the sector: 
AMEC Global Renewables UK Ltd will be promoting its UR-3R Process, a mechanical biological treatment (MBT) solution for the management of municipal solid waste which combines sorting, percolation, anaerobic digestion, composting and bio-drying technology to enhance the recovery of recyclables and improve end product quality. Information on Global Renewables' FRESH Process® for food waste will also be available. The process can treat high volumes and varied organic wastes, converting them into renewable heat, power and quality recycled products. 
Davis Langdon LLP will be focusing on 'Minimising Risk and Maximising Value' in waste and energy investments. They aim to help deliver commercially viable waste and energy infrastructure by focusing on achieving best value in procurement, project and risk management, and funding and investment advice. The company is developing strategies with clients to reduce their carbon footprint, not only in built assets but also in operation. With achieving 'more from less' being a hot topic at the show, the firm will be demonstrating how this can be achieved  by strategically defining desired outcomes over large programmes of projects, whether infrastructure related or through more efficient management techniques. 
BAM Nuttall Ltd provides a full range of civil engineering solutions for the waste industry. According to the company, it has the capability to construct the new generation of waste processing facilities required across the UK, which it will be promoting at this year's show. These facilities include biomass energy plants, MBT, EfW, materials recycling, gas extraction, anaerobic digestion and transfer stations. 
Scott Wilson Ltd, a leading environment consultancy will be on hand to offer a wide range of skills and experience to deliver professional and innovative advice to clients in the UK and internationally. The company says its core strength lies in its expertise in major infrastructure schemes in the transportation, property and natural resources sectors. 
Mott MacDonald, voted 8th in Sunday Times Best Big Companies and third time winner of the NCE's International Firms Award, will be showcasing its 40-years experience in the waste sector, offering advisory and design services to central government, local waste disposal authorities, waste collection authorities, regulatory authorities and banks, waste management companies, technology providers and other private organizations for integrated waste and environmental management. 
Costain Group plc is delivering business services at this year's show, encompassing investment, project development and aftercare. According to the firm, its focus is on blue-chip customers looking for solutions to enhance each phase of their assets' life-cycle. 
VINCI Construction UK has been operating in the waste market for 30 years and has designed and built 50 plants throughout Europe. In the UK, the firm is working with the key operators in an EPC capacity on many waste PFIs and have expertise in designing all aspects of EfW and MBT processes – and says that this track record, together with its construction and project Management background, provides a fully integrated construction package. 
Raymond Brown Construction Ltd, part of the £70m Raymond Brown group, offer a diverse range of services for the waste industry, including the construction of recycling and reprocessing facilities, landfill engineering and infrastructure for organics and renewable energy schemes.  With a wide range of experience and in-house resources, the firm believes it is in a strong position to offer a valuable contribution on waste infrastructure, either as Principal contractor or in a supply-chain/partnership role. 
Raymond Brown Minerals & Recycling Ltd, meanwhile, specializes in the recycling/reprocessing and marketing/distribution of construction materials, secondary aggregates, soil-washing and reprocessing of municipal and commercial inert waste materials. It also owns and operates specialised reprocessing plant dealing with IBA residue from major waste plants and manages the resale of IBAA in the construction market.
Got a story? Email news@theconstructionindex.co.uk