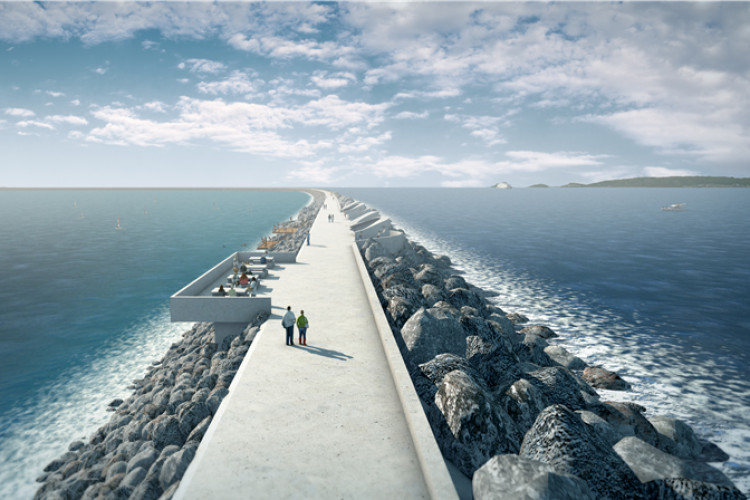 With planning permission granted by the government, construction of the Swansea Bay Tidal Lagoon is on course to start next spring.
However the financial viability of the project has yet to be determined. Negotiations between developer Tidal Lagoon Power Ltd and the Department of Energy & Climate Change (DECC) are continuing over the fixed price at which the energy will be sold – the so-called Contract for Difference (CFD), which is effectively state aid. Only this will establish whether the tidal lagoon project at Swansea Bay is affordable.
On securing planning permission, Mark Shorrock, chief executive of Tidal Lagoon Swansea Bay Plc, said: "Wales led the way providing the fuel for the industrial revolution. We are now entering the era of the climate change revolution – de-carbonising our world in time to avoid two degrees of global warming – Wales can now lead this next revolution."
He said: "From Rugby to Pembroke Dock, from Sheffield to Swansea Bay, from Chepstow to Port Talbot, companies are working in the supply chain to prepare for the delivery of a new approach to energy infrastructure. Through a single project we have the opportunity to create a whole new industry.  And in a single step, that project can take us to low cost, renewable energy on a nuclear scale.
 "We see it as a game-changer, a scalable blueprint, paving the way for a fleet of lagoons that can work in harmony with nature to help secure the nation's electricity for generations to come.  The tidal lagoons that follow – at Cardiff, at Newport, elsewhere in the UK and overseas – must each make their own compelling social, environmental and economic case to proceed.  But they have a pilot project to guide them and a blossoming technical and industrial network to support them."
He concluded: "We now have some further permissions to secure and must successfully conclude CFD negotiations on our way to financial close, but the vision is now closer to reality than ever before and our delivery team is readying itself to start on site and start delivering for Swansea Bay next spring."
Lawyer Robbie Owen, head of infrastructure planning and government affairs at Pinsent Masons, commented: "The UK's still relatively new planning system for nationally significant infrastructure projects has shown that it is able to consider and deliver consent for a large, complex and innovative project like this within 18 months, which was unheard of under the old system.  This will doubtless encourage the other tidal lagoons to be progressed through planning."

He added: "Tidal Lagoon Swansea Bay clearly marks a firm beginning of the UK's ambition and commitment to harnessing clean energy of the tides around its shores."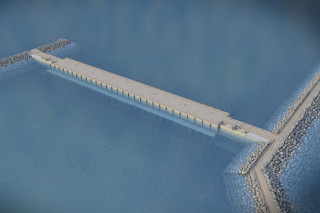 As previously reported Swansea Bay Tidal Lagoon has named China Harbour Engineering Company (CHEC) its preferred bidder for the £300m contract to build the six-mile lagoon wall in Swansea Bay and Laing O'Rourke has been chosen for the £200m contract to build the 410-metre turbine house and sluice gate structure, pictured above.
Robbie Owen seemed unsurprised by the Chinese involvement. "The UK energy sector will be the biggest target for Chinese capital, with investment in projects including nuclear energy, wind power generation and photovoltaic power generation set to reach £43.5 billion by 2025.  
"We expect to see major Chinese infrastructure companies such as China Harbour Engineering Company becoming a key component in the development of clean energy in the UK. As to the Tidal Lagoon Swansea Bay project and potentially a number of similar UK projects, Chinese dredging capability will bring greater competition into an area which has traditionally been the safe haven of a number of European players."
Mr Owen said: "Four out of five of the world's largest construction and engineering companies are now Chinese with a growing appetite for infrastructure investment and with the potential to invest vast amounts of capital in advanced economies in Europe, as well as construct, and provide material and equipment from China. 
"The UK is very well placed to take advantage of this given its stable currency, government and rule of law coupled with the potential for upskilling Chinese businesses in technology and management expertise.  This is why we can expect to see interest in the UK continue and indeed increase. Chinese investors have also indicated that they hope to build similar lagoons in China and elsewhere in Asia."
Project Film for Tidal Lagoon Swansea Bay
Got a story? Email news@theconstructionindex.co.uk